She said what she said!
Andrea Brillantes (aka Blythe) may be one of the most outspoken females of her generation. Who's to say there's anything wrong with speaking your mind? Despite being in the business for as long as she has, it doesn't always equate to developing thick skin. Even if bashers are part and parcel of being in the public eye, Andrea Brillantes admits that it still stings at times. However, she's no longer afraid to face them all. Heck, she even made videos of herself reading hate comments and assumptions about her. How can you not stan? At the end of the day, she still wins and knows when to keep her head up. Scroll down below for our favorite clapbacks from Andrea Brillantes.
READ MORE: Andrea Brillantes Reveals Her Battle With Anxiety, Insomnia, and the Shocking Reality of Growing Up As A Child Star
1. WHEN A BASHER CALLED HER OUT FOR WEARING A BABY BRA
Whether it was a music festival or not, who are we to have an opinion about what girls wear? In a past tweet, Andrea shared that she was supposed to apologize for wearing an attire that others saw as inappropriate, but then realized, why should she? It's perfectly normal.
2. ANDREA'S RESPONSE TO BEING CALLED A "RETOKADA"
We're pretty sure this isn't the first time Andrea's been pressed about this question. But when she answered people's assumptions of her in a vlog, she finally addressed this misconception in the sassiest way. "Hindi po ako retokada pero thanks for thinking that. Ibig sabihin may maganda sa mukha ko para isipin niyo na retokada ako." Tell 'em!
3. WHEN SOMEONE JUST DIDN'T KNOW HOW TO MIND THEIR OWN BUSINESS
When you're young, it's no secret that other folks will poke fun at you no matter how you try to be yourself. When Andrea posted this gorgeous photo of her wearing a 70s-inspired 'fit (as she should!), someone just couldn't help but share their two cents about it. Even she was as confused as we are.
4. WHEN SHE WAS A VICTIM OF CANCEL CULTURE AT THE AGE OF 12
Growing up in the spotlight is never easy. At the age of 12, Andrea already experienced being bashed, being called a "bandwagon fan" for liking artists like BTS, Ariana Grande, and 1D. She also shared in a media con that she was being sent death threats as well. She recounted the experience and felt scared to even admire her idols afterwards, but realized and said, "Ngayon, wala na akong pake actually. Na-realize ko na lahat ng mamahalin ko, lahat ng magiging fan ako ng something, ihe-hate nila ako, so hamu na lang, wala na akong pake." Period.
5. ANDREA BRILLANTES CLAPS BACK AT A BASHER WHO CALLED HER A "SQUATTER"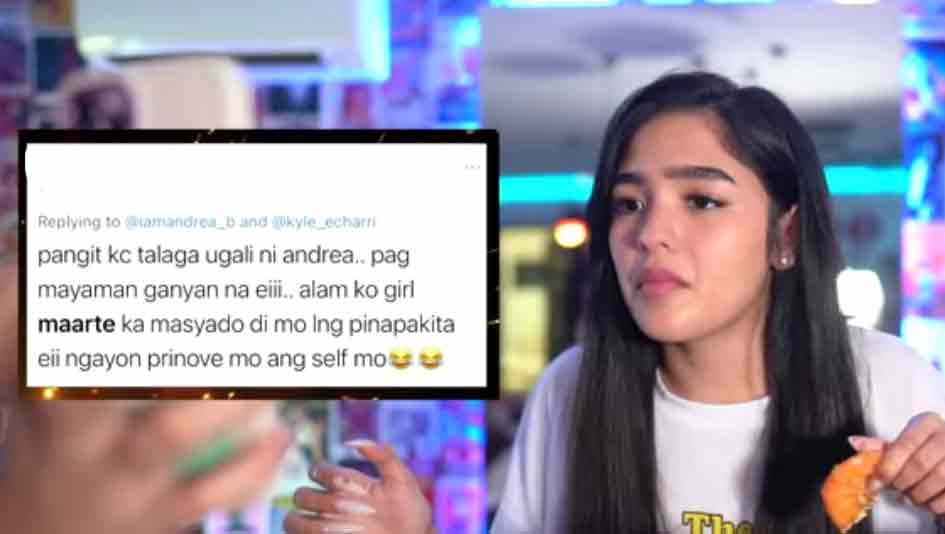 Andrea's response? "First of all thank you for calling me rich. That was the goal." She further explains in her mukbang vlog that she's not ashamed of her upbringing, admitting that she wasn't born with a silver spoon. Unbothered queen.
7. WHEN SHE RESPONDED TO A BASHER WHO SHAMED HER FOR MAKING THE FIRST MOVE
Very recently, her and real life BF Ricci Rivero trended on social media for her romantic promposal with the help of no other than the girls of Blackpink during their Born Pink world tour. Despite the sweet gesture, she was met with mixed reactions especially from K-Pop fans and casuals alike, calling her "papansin" or "epal" for being noticed. But one basher in particular couldn't stop her from responding to a non-sensical comment. The person left a comment on her Facebook page and said, "baliktad na pala ngayon, babae na ang nagyaya." Best believe Andrea wasn't too fond of this and said, "it's high time we stop shaming girls for making the first move even on other instances," and she's right. Nothing else makes a woman more beautiful than going after what she wants.
CONTINUE READING: 18 Times Andrea Brillantes Made Major Headlines