Can't thing of anything to do with your barkada this weekend? Then consider these activities to add to your itinerary.
Related: 9 Filipino-Made Video Games That Are Worth The Download
It's an age old question that every barkada asks themselves: what do you want to do? As simple as it may seem to some, it's a choice that not always easily answered. There are so many things that you can do with your barkada under the sun that it's almost paralyzing. You end up racking your brain thinking about your next hangout. While there are the typical options you can choose from, going to a bar, eating out, chill at a friend's house, watching a movie, there are also other experiences out there that you may want to check out with your friends. Here then are some of our suggestions for activities to do and places to visit to add to your weekend itinerary.
BOOK A STAY AT SALARO STAYCATION
If ever you and your friends are looking for that next staycation spot on Airbnb, check out SaLaro staycation. This location is filled with everything you need to have a good and relaxing time with the barkada, a PS4, more than 200 board games, a projector, wi-fi, massage chair, and even karaoke (that's available only until 10 PM). This Airbnb is also located along Maginhawa street, which puts you in the heart in one of the best food spots in Quezon City.
VISIT GREENHILLS SKYLINE
When you think of Greenhills, you probably think of shopping all sorts of goods. But the place is also home to a new al fresco recreational space that you may want to check out. Greenhills Skyline has a variety of things that you can do such as grabbing a drink at the Sunset Bar, getting your daily dose of coffee at Kape Imperial, enjoying the many alfresco dining spots, and admiring nature with their urban garden You can even do karting at the space with Pedway Go Kart.
CHECK OUT EKART RACEWAY
An electric kart racing track that you don't have to travel far to visit? Yes please. Located at SM City North Edsa, EKart Raceway is a multi-level karting track that uses electric karts instead of the typical ones you find in other karting places. If the idea of driving a kart intimidates you though, don't worry as the place is designed to be welcoming to people from all skill levels.
BRAVE NIGHTMARES MANILA
From the people that brought you Asylum Manila comes Nightmares Manila, the hottest new haunted attraction in the city. With multiple haunted house courses, escape rooms, and a shooting gallery, Nightmares Manila has a variety of attractions to satisfy any horror fan. They even have a café in the place so that you can de-stress after experiencing those frights. And with Halloween coming up, you may want to plan that trip to Parañaque City to visit Nightmares soon.
GO BOWLING AT STUDIO 300
Why go to a regular old bowling alley when you can go to one in style? That's what Studio 300 offers. The boutique bowling alley, which is located in Pioneer Center in Pasig, also offers billiards, darts, and KTV. And to top it all off, they also allow you to reserve the place for private events. Birthday party at the bowling alley anyone?
VISIT THE KOREAN CULTURAL CENTER OF THE PHILIPPINES
If you and your barkada are looking to deepen your knowledge of Korean culture but don't have the budget (yet) to fly to Korea, the Korean Cultural Center in Taguig is the place to be. Aside from regularly holding events, the center's itself is also worth the visit, especially now that they opened their newly renovated six floor building. Among the many things you can find at KCC PH include a Cultural Experience Hall, Library, Language and Cultural Classroom, Cooking Class Area, and even a K-studio.
GO ROLLER BLADING AT ROLLER DISCO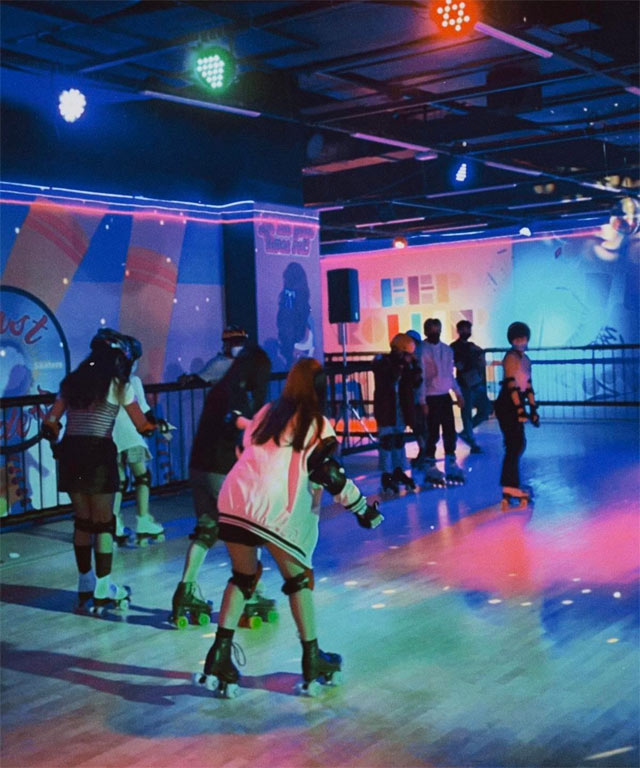 What was once old is now new again these 2020s, which means roller blading is once again a trendy activity. And if you're looking to live out those roller blading fantasies ala Stranger Things (minus the violence of course), then check out Roller Disco. Located at both Fisher Mall branches in Quezon City and Malabon, Roller Disco is exactly as the name suggest, a roller disco. 130 pesos gets you 30 minutes on the rink while 350 pesos lets you go for an unlimited time as you try to recreate that scene from Beyonce's Blow music video.
EXPLORE PHILIPPINE FOKLORE IN TALES OF ILLUMINA
Add some Philippine mythology to your weekend barkada hangouts with Tales Of Illumina, an indoor theme park and art installation dedicated to all things Philippine folklore. Ever since it opened its door in late 2021, the place has been a hot attraction thanks to its multi-sensory displays, installations, and other attention-grabbing visuals. An entire theme park dedicated to Philippine folklore, what's not to love about that right? The park, which is located in Quezon City, is a feast for the eyes, and a great spot to take Instagram pics.
GET SLIMED AT GOOTOPIA
An entire location dedicated to slime, and no, we aren't talking about Nickelodeon. We're talking about the newly opened Gootopia, which saw its doors open this past August. Manila's first-ever slime attraction has a variety of fun activities and booths designed to have guests get down and dirty, and slimed. They even have a lab where you can make your own slime and see for yourself why people love doing it. If you want to experience Gootopia for yourself, you can visit them at SM Mall of Asia, level 3.
GET YOUR FITNESS ON
If you're that type of person who is looking to have some fun with your friends and break a sweat, there are definitely some things you can do. And no, it's not just going to the gym. You can try indoor rock climbing at places like Climb Central and The Bouldering Hive. Try your hand at obstacle course racing at Obstacle Central, Galleria Obstacle Zone, and Pretty Huge PH. Places like Bare Manila offer workouts that's both effective and fun. Boxing might just become your next favorite sport which you can try out in places like UltraBoxx. It can even be as simple as a jog around the UP Diliman oval with your friends.
EXPERIENCE A DIY BAKING CLASS
Cooking with friends can be quite fun, especially if you like to bake. But if you don't consider yourself a baking pro or don't have the tools for baking, there are multiple locations around the metro that make the process easier and accessible. Some of the most popular spots include Bakebe in SM Aura and I Did It Myself DIY Bakery in SM Megamall, which allows visitors to bake all kinds of treats and desserts. The best part is that all the kitchen tools, ingredients, and recipes are provided for you. All you have to do is follow the steps.
SHOOT AT A SELF-SHOOT STUDIO
Self-shoot studios have definitely been one of the hottest new trends this 2022, with multiple locations popping up in and around Manila. Strike multiple poses with your barkada by visiting a self-shoot studio. Not only do you get professional looking pics, but you also don't have to pay that high of a price as compared to renting an actual professional studio.
VISIT A DOG PARK
What's better than hanging out with your barkada? Hanging out with your barkada and their dogs, that's what. Recently opened parks such as Dog Town in Pasig and Central Bark in BGC offer open spaces, play areas, and activities for you and your fur baby to have a fun time. Who knows, you might even become friends with the other dog owners there.
GO ON A BINONDO FOOD TRIP
To many, Binondo is not just Manila's Chinatown, it also is a mecca for Chinese cuisine and delicacies. There are decades worth of history that is located inside the place which you can discover through its many culinary wonders. It definitely is a trip worth making with friends as you explore the many restaurants, shops, and kitchens in Binondo. If that may seem overwhelming, you can also book a tour, such as the Binondo Food Crawl by Don't Skip Manila and Chinatown Museum, for a more guided experience.
WATCH A MOVIE AT THE A-GIANT SCREEN
There's nothing like watching a movie in the cinemas. But if you really want to bring your movie viewing experience to the next level, then Ayala Malls' A-Giant Screen should be on your visit list. First opening right before the pandemic began, these giant screens are ready to welcome back viewers. Just how big are these giant screens? About four times larger than your average cinema screen. These large screens also come with a bevy of improvements such as high contrast, bright pictures, an immersive sound, and more comfortable seats. They also offer Skybox seating for that enhanced experience. The A-Giant Screens are located at Ayala Malls Manila Bay and Ayala Malls Vertis North. Do note though that they only show select films to make sure to check out the cinema schedule to know what's playing.
TRY BUTTERBOY'S WEEKLY DRAG BRUNCH
If you don't know drag brunches are, they're basically brunches with a drag performance part of the package. And Butterboy Bakehouse's popular drag brunches are a must-visit if you want to experience this in Manila. Not only do you get to enjoy a hearty meal and pastry, but also live drag performances that truly make for a fun and unforgettable experience. And while we are on the topic of drag, you may also want to try attending a Drag Race Philippines viewing party if you are into that. Multiple locations, such as Nectar Nightclub, Gureisu Okawari, and Bekenemen, hold viewing parties, often with appearances from the queens themselves, that can be great fun.