These reunions from the past year were some of the best throwbacks we could have asked for.
Related: 5 Celebrity Crossovers That We Didn't Expect This Year
Who doesn't love a reunion? It serves as a great time to meet and reconnect with people you hold dear to your heart that you haven't seen in a long time. The memories, fun times, and even chismis are all there. And it's a vibe that celebrities feel as well when they reunite with their co-stars long after the project they were in was over.
Not only do these stars get to have a fun time, but so do the fans who get to reminisce on the memories and see their faves together once again. It all makes for a throwback we're more than happy to experience. Let's take a look at some of our favorite celeb reunions from 2022 that may have been unexpected, but more than welcome to have happened.
ERASERHEADS
For the longest time, Eheads have begged and waited for the OPM icons to reunite after years apart. And 2022 was the year those prayers were finally answered when the band shook the Philippines with the announcement of their highly anticipated reunion concert, Ang Huling El Bimbo. It's been more than a decade since the Eraserheads hit the stage for a proper concert, so this moment is not one to be missed. With over 50,000 fans set to converge at the SMDC Festival Grounds on December 22 with thousands more watching via livestream, the reunion concert will be one for the books.
DIMPLES ROMANA, FRANCINE DIAZ, AND ANDREA BRILLANTES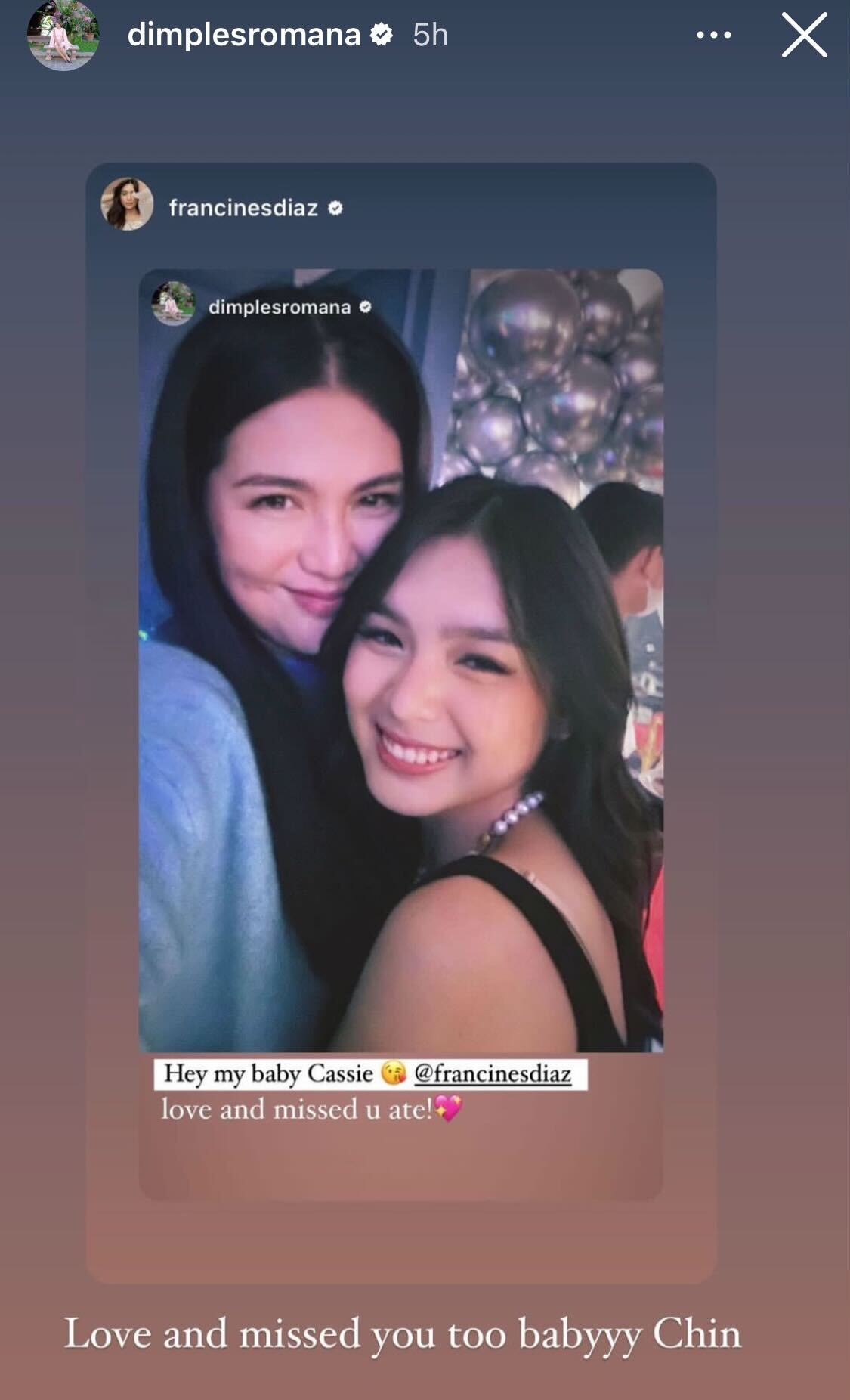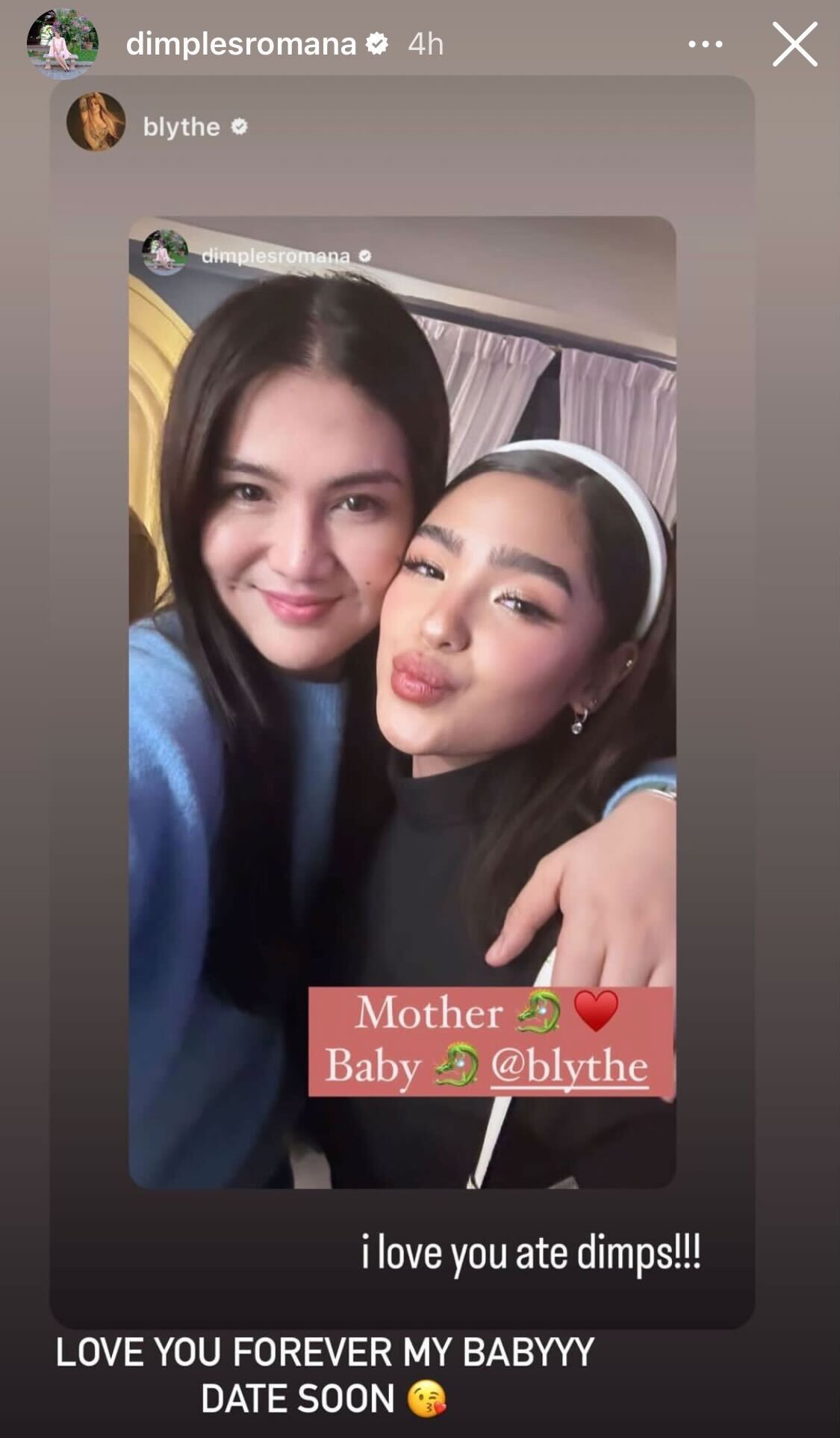 A Kadenang Ginto reunion? Yes, that actually happened, and it's all thanks to Dimples Romana who snapped pics with her girls Francine Diaz and Andrea Brillantes at Deo Endrinal's birthday party. While she reunited with each of them separately, we're just happy to see the Mondragon family back together again, this time without the fighting.
THE CAST OF SUPER INGGO
If you remember watching the 2006 series Super Inggo on TV, you're a real one. The show is credited as serving as Kathryn Bernardo's first big break in showbiz. But even if she's already seen as a superstar, she doesn't forget where she came from. This is why, as shared by her mom Min Bernardo, most of the show's cast, including Kathryn and Joshua Dionisio, met up at Kath's studio for a fun get-together.
IV OF SPADES
Let's start by saying that the band has yet to formally announce that they're back to making music as a group. But recent moves by the members have us feeling hopeful of a possible IV Of Spades return. First, all the members were spotted together watching a gig in December. Then, Paolo Valenciano got social media riled up when he shared that Unique, Zild, Blaster, and Badjao were all together to watch Eraserheads rehearse for their concert. Even if we still don't have new music from them (yet), just seeing all of them together is making us happy.
FOUR SISTERS BEFORE THE WEDDING LEAD STARS
Alexa Ilacad, Belle Mariano, Charlie Dizon, and Gillian Vicencio became fast friends when they filmed Four Sisters Before The Wedding. It's a bond that has remained strong even if their careers blew up after the movie's release. This is why it made for the sweetest of reunions when all four girls found time in their busy schedules to reunite and have a night out for themselves. That's bestie goals right there.
HEART EVANGELISTA AND CAMILLE PRATTS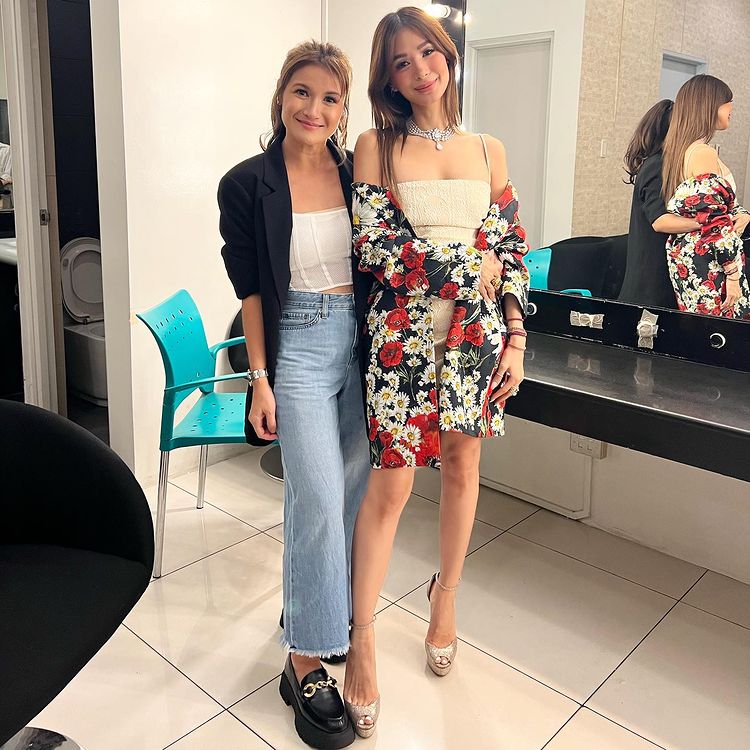 G-mik was and still is an iconic show that was a staple of the 90s and served as a launching pad for a slew of A-list stars. And would you know it, two of those stars reunited for a short but sweet moment. Heart Evangelista and Camille Pratts, who played Missy and Roni respectively, made many G-mik fans happy with their reunion earlier this year at a dressing room.
DIMPLES ROMANA, KATHRYN BERNARDO, AND JULIA MONTES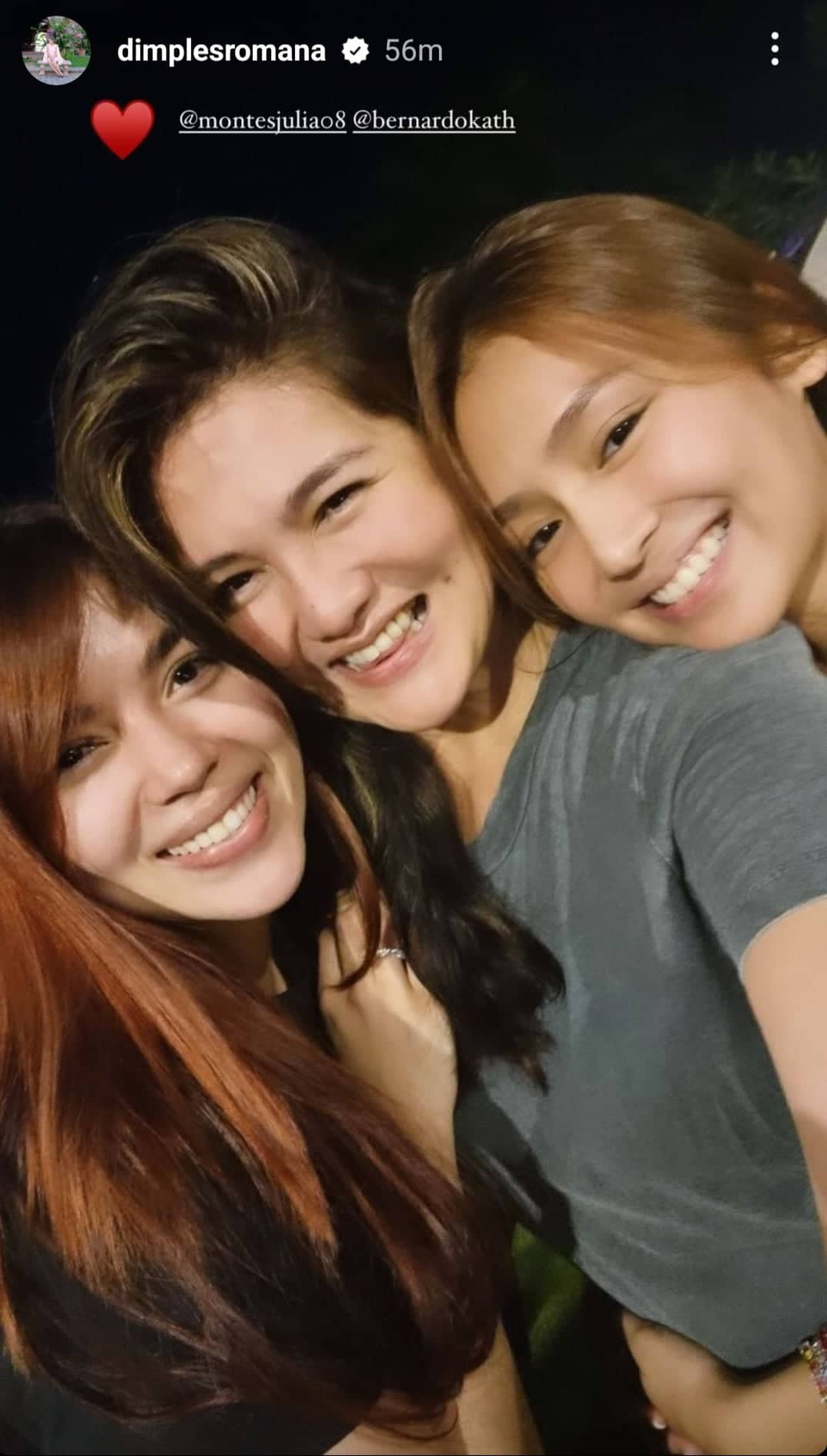 Our Mara Clara hearts were shaking when Dimples Romana, who played Alvira del Valle in the 2010 reboot, shared on her Instagram that she met up with the show's lead stars, Kathryn Bernardo and Julia Montes. It's been over a decade since the show aired so it warms the heart knowing that they're still close, especially since the show helped Kathryn and Julia reach their superstar status. Even after all these years, Alvira's motherly instincts are still there.
KRISTEL FULGAR AND ELIZA PINEDA
You really are best friends when you can spend years apart, but reunite as if little time has changed. That's the case when Kristel Fulgar and Eliza Pineda, aka Wilma and Maria from Maria Flordeluna, met up back in May to spend a few days at the Ellada Hot Spring in Laguna. Aside from enjoying the pool and catching up, the two BFFs and former co-stars also reacted to some of their old pics together and even reenacted one of their fight scenes from the show.
ANGEL LOCSIN AND FRANCIS MAGUNDAYO
Attending a rally and reuniting with your co-star? That's the situation Francis Magundayo found himself in when he attended Leni Robredo's Pasig rally back in March. During the event, crossed paths with Angel Locsin. Both were in the 2005 Darna series with Angel playing the titular character and Francis playing her little brother Iking. Even after all these years, the two are still fighting the good fight.
JUDY ANN SANTOS, G TONGI, AND MYLENE DIZON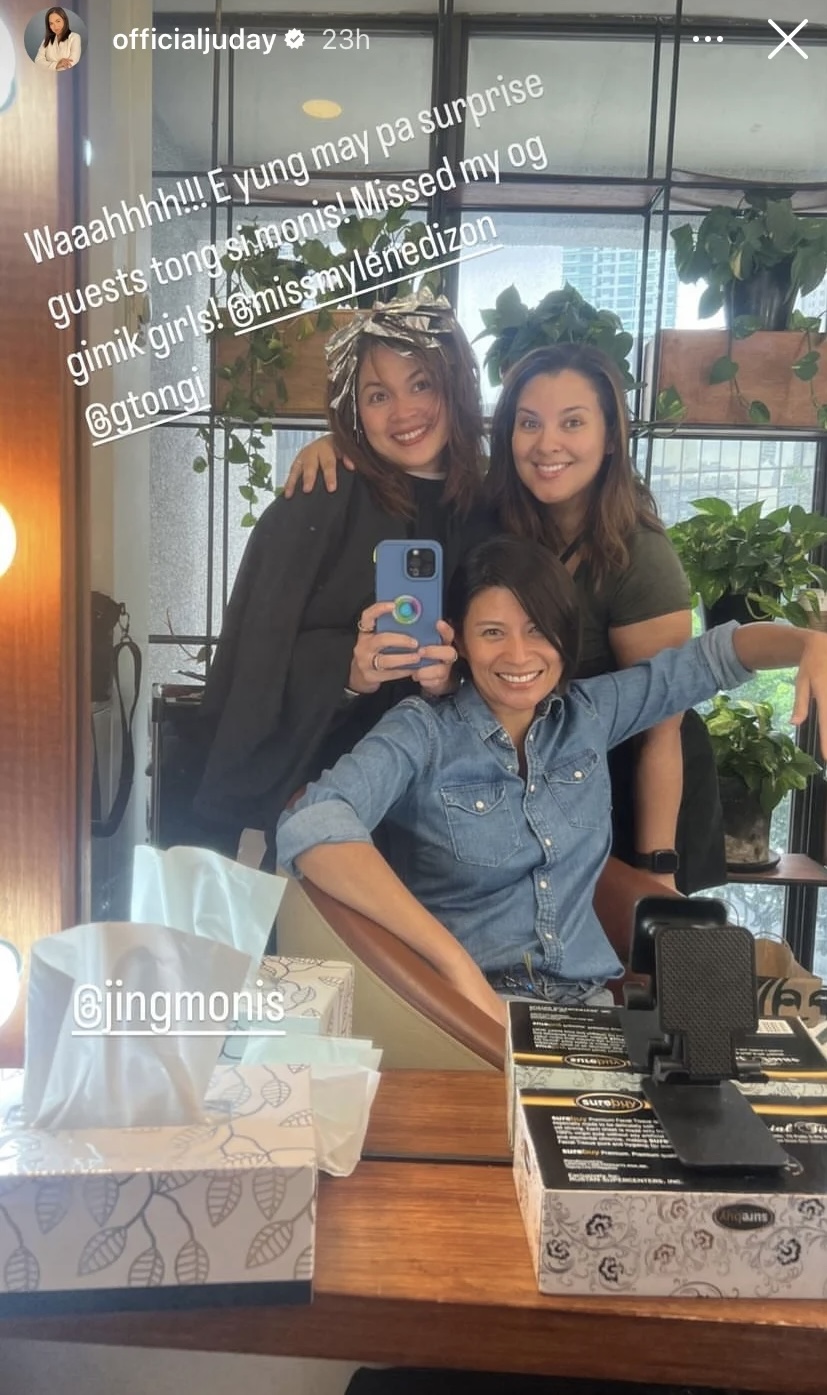 Life can be so random sometimes. One day you're having your appointment at the salon, and the next you reunite with two of your co-stars. That's what happened with Judy Ann Santos, G Tongi, and Mylene Dizon who so happened to all have the same hair appointment at the same salon. The surpise was actually organized in secret by the salons' owner Jing Monis. We're very much here for this surprise Gimik throwback.
STARSTRUCK ALUMNI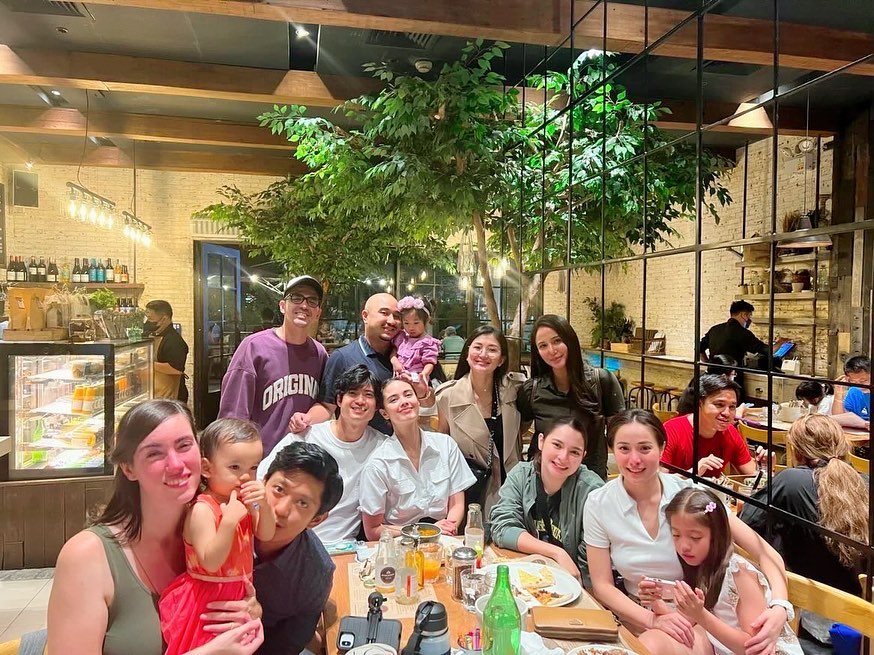 One of the OG talent search shows in the Philippines, Starstruck has produced some of the top stars of today. And those stars just so happened to have reunited earlier this year. Starstruck season one contestants Mark Herras, Katrina Halili, Christian Esteban, Sheena Halili, and Cristine Reyes were joined by season two alums Megan Young and Ryza Cenon for a meal out. It definitely is something to see how far they all have come from their Starstruck days as young people hoping to make it big.
Continue Reading: Wildcats In The House: We Finally Getting *THAT* High School Musical Reunion