There's nothing like the magic of creepy, demented, or haunted dolls in horror movies to unsettle your skin.
Related: 5 Psychological Horror Movies To Watch On Your Spooky Nights
Horror movies have used so many objects to scare viewers that they could fill an entire IKEA warehouse. But time and time again, it seems as if dolls, puppets, and other similar objects continue to be a favorite of horror. As far back as 1929's The Great Gabbo, horror cinema used dolls as a way to manifest our deepest fears. Dolls are supposed to be comforting companions that are usually modeled around human facial features.
And honestly, we love it because demonic or twisted dolls never fail to give us the creeps. If the recent viral trailer for the upcoming horror movie M3GAN has taught us anything, it's that horror movies and dolls go together like sisig and beer. Let's take a look at some of cinema's best movies that made dolls the last thing we wanted in our homes.
CHILD'S PLAY
Even after all these decades, Chucky is still that demented doll with a sick sense of humor. 1988's Child's Play introduced the world to one of horror cinema's most iconic villains in the form of this ginger-haired killer. On the run from the police, murderer Charles Lee Ray hides in a toy store and sees a Good Guy doll. He grabs one, and right as he's about to be shot to death by the police, transfers his sole into the doll via ancient ritual. Just like that, a horror icon was born that has continued to terrorize children and adults from the late 80s until now. Chucky has even introduced other dolls into his schemes such as his wife, Tiffany.
ANNABELLE: CREATION
When you talk about dolls in horror movies, you can't forget the queen herself. The Conjuring franchise has given us quite a few villains, but Annabelle stands out as one of the best. What started as a side villain during the intro for the first The Conjuring has become a phenomenon in her own right. Annabelle, based on a real doll, is all kinds of evil which is best seen in the thrilling 2017 prequel, Annabelle: Creation. To think, the doll was originally made for a couple to grieve their deceased daughter.
SHAKE, RATTLE, AND ROLL XII
As the longest-running horror anthology series in the country, it's not a surprise that Shake Rattle and Roll would involve a segment featuring a haunted doll. In the twelfth installment of the movie franchise, one of its vignettes is called Mamanyika and revolves around two women, Ara (Shaina Magdayo) and Abigail (Elijah Alejo). One day, after visiting their mother's grave, Abigail sees a half-buried doll in the cemetery and decides to pick it up because why not. As expected, the doll becomes their biggest nightmare as it becomes possessed by their mom's spirit and tries to kill them. Note to self, never pick up dolls we find in the cemetery.
SAW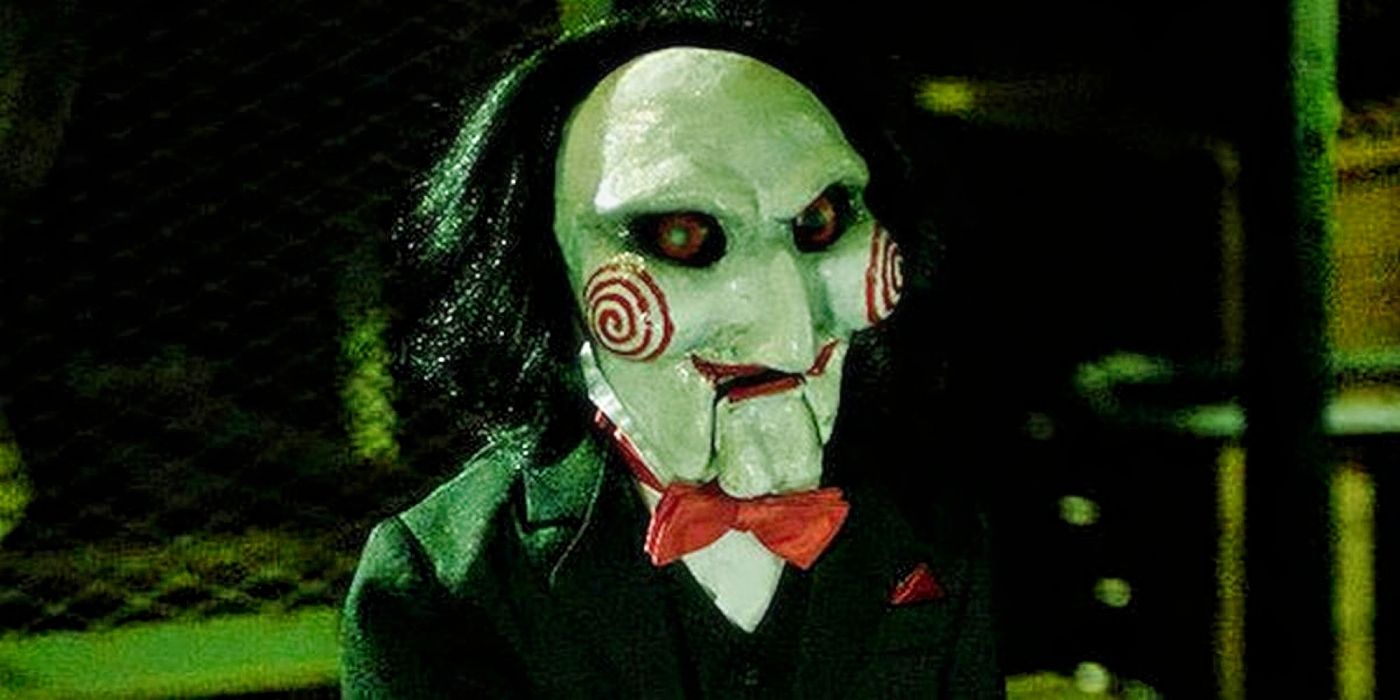 Aside from leg amputations and one of horror cinema's best endings, 2004's Saw will always be remembered for giving the world to Billy the puppet. With its suit, red eyes, white skin, and red spirals on its cheeks, Billy is as iconic as he is scary. When you see that doll on a TV screen or roll up in his tricycle and hear its signature low voice asking you if you want to play a game, know that you're in for a world of hurt.
MARIA, LEONORA, TERESA
This 2014 Star Cinema horror film centers on three parents, Faith (Iza Calzado), Julio (Zanjoe Marudo), and Stella (Jodi Sta. Maria). All three of them tragically lose their daughters during a school field trip. In mourning, the trio turns to a psychiatrist for help. The psychiatrist then comes up with a Nobel Prize-winning idea; he gives them each a white porcelain skin that they can use to cope with their tragedy. But when the dolls begin to exhibit killer tendencies, the parents learn that they aren't dealing with regular dolls anymore.
DEAD SILENCE
While horror master James Wan is more known for projects like The Conjuring and Insidious, his 2007 effort, Dead Silence, is an underrated gem. It's a thrilling ride with a twist ending that will creep you out. Meanwhile, the doll at its center, Billy, is unsettling to look at. The film starts when James comes home to see his wife killed after a mysterious package containing the ventriloquist doll was sent to their home. To clear his name and find answers, James travels to his hometown of Raven's Fair. But when he arrives, James realizes that a homecoming is not the only thing that's waiting for him.
THE BOY
Dolls are sometimes used as ways for parents to cope with child loss. In The Boy, the 2016 horror film takes that concept to demented levels. American nanny Greta Evans travels to England thinking she'll take care of an eight-year-old boy. But when she arrives at the home of the elderly couple that hired her, she's shocked to discover that their son is a life-sized doll.
This is the couple's way to cope with the loss of their actual son 20 years ago. Greta is given a strict set of rules to follow to take care of the doll. Naturally, she doesn't take it seriously. And when she violates one of the rules, her worst nightmares become real as the doll may be alive after all.
Continue Reading: 9 Horror Movies That Will Keep You Up All Night On Halloween