The Kings of the Road are here to stay, and they did it in the most artistic way.
SB19 just keeps on carving their own path in OPM, digging even deeper in their roots. As if their well-rounded and astounding new EP, Pagsibol, wasn't enough, the boys, together with Spotify Asia, decided to promote it Filipino-style. (You know, just not the usual K-Pop blueprint that they were once expected to follow.) What better way to celebrate this major milestone in Philippine music than to collaborate with local visual artists to paint jeepneys that are inspired by SB19's new bops, ballads, and bangers? Yes, they did that.
They enlisted the help of notable names in the art scene such as Ang Gerilya, Soleil Ignacio, Nelz Yumul, Jappy Agoncillo, Anina Rubio, and June Digan. Imagine how immersive the experience would've been if there was an actual exhibit of these jeepneys during Pagsibol's launch if it weren't for the pandemic? But even if we're just living the experience through our screens, SB19 made sure that we'd be aware of how they will always wear their hearts on their sleeves all while raising the flag wherever they go. Scroll down to read more about the amazing hand-picked Filipino artists.
READ MORE: Breaking New Ground, SB19 Takes Root and Grows Even More With Pagsibol
ANG GERILYA FOR "WHAT?"
Complete with the SB19 flag that was famously seen in their phenomenal music video for WHAT?, they collaborated with art Ang Gerilya, an art collective known for their street art, graffiti and of course, their guerilla works. They take inspiration mostly from Philippine history and social commentary, but usually interpreted with comic relief.
SOLEIL IGNACIO FOR "MAPA"
SB19's song, MAPA, still has us in our feelings every time. An emotional tribute to their mama and papa, Filipina illustrator Soleil Ignacio was tasked to pour all those feels with her signature intricate details of flora and fauna created together with Stell. The jeepney was in full bloom with the heart-warming lyrics of the song.
NELZ YUMUL FOR "MANA"
Illustrator Nelz Yumul definitely went beast mode on the MANA jeepney along with Ken. The song speaks of how SB19 likens their passion to an aswang who transforms at dawn, fights crab mentality, yet still manages to keep a part of themselves on the ground and Nelz did not disappoint. He also made use of the airbrush technique that our jeepneys are known for.
JAPPY AGONCILLO FOR "BAZINGA"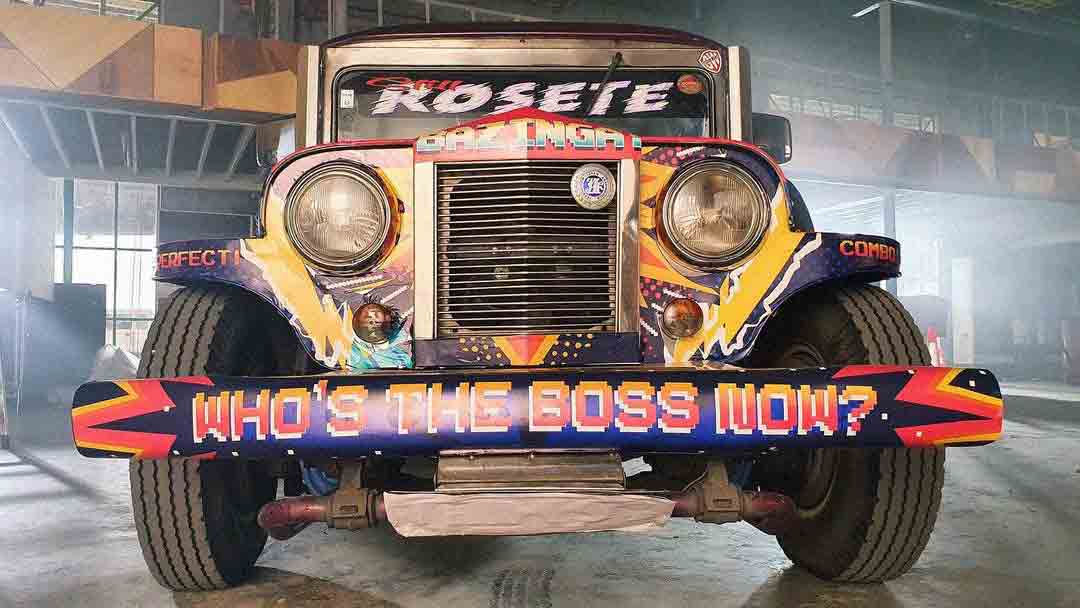 If anything, SB19 loves a little poetic justice. For their track Bazinga" they enlisted the help of artist, Jappy Agoncillo, who's known for his murals centered on pop culture. Together with Josh and his love for video games, they envisioned the jeepney to have elements of Marvel vs Capcom that emulated the playful vibe of the song. "Who's the boss now?" was a sassy touch.
ANINA RUBIO FOR "IKAKO"
A peek into Anina Rubio's body of work and you'll immediately realize her advocacies for nature and sustainability. Designed with Justin, the SB19 song, Ikako, was their homage to all the frontliners and Filipinos who have been surviving in these crazy times. Babangon tayo, padayon!
JUNE DIGAN FOR "SLMT"
SB19 wouldn't be the same without their beloved A'TIN who have been supportive every step of the way. Filipina artist June Digan and Pablo collaborated on this jeepney mural that paints the boys together with their fans on top of a hill, including an image of an eagle soaring high. June's whimsical style was the perfect choice to paint this intimate connection between SB19 and A'TIN.
Stream Pagsibol here.
READ MORE: Sure, The Shoes Are Cool. But Can We Talk About the Art Inside the New Jordan Store in Manila?