The North Star Boys, also known by their musical moniker NSB, are young creators helping fill in that often empty void of Asian-American representation.
Related: Rising Vietnamese Artist thuy Might Just Be Your Next R&B Obsession
The rise of social media has democratized the way people can make a name for themselves. Where you needed connections in the industry in order to make it big before, you can now build a following right at the comfort of your own room. With how accessible it is, it also brought to the forefront a new generation of creators, many of whom are from diverse backgrounds who you normally wouldn't see in mainstream media. Social media is how the members of North Star Boys got their start. And this new gen approach to representation is the main pillar behind the first ever Asian-American content group making strides in a field that's often put people like them to the side.
MEET NSB
Composed of members Oliver Moy, Sebastian Moy, Regie Macalino, Ryan Nguyen, Justin Phan, Darren Liang, and Kane Ratan, these young men came together because they weren't seeing Asian-Americans like them growing up. They took matters into their own hands and what came together as NSB, which made its official debut in August 2021. "We are simply a group of best friends who came together to achieve a shared dream in the hopes of inspiring others along the way,' says Kane.
Their name is taken from The North Star, an important spot in the sky that guides travelers on their destination. That's what NSB hopes to become to their followers, inspirations and guides in a time when proper representation is what's needed. Of course, they are doing all of this through the lens of Gen Z creatives who are in their late teens to early 20s.
One thing needs to be made clear though, NSB is not just a boy group, band, or NCT Hollywood. They describe themselves as a content group, which means their work touches on many different areas. "Originally, the group was formed around creating content on platforms such as YouTube, TikTok, Instagram, Snapchat, and other online platforms," explains Oliver. "Now, we are content creators at our core but have diversified into other passions such as music, fashion, business, and more."
FOLLOWING THE NORTH STAR
NSB can thank its origins to brothers Oliver and Sebastian Moy. Prior to the group's inception, the Moy brothers already had a strong following on social media. But Sebastian felt that something more could be done. "I came to Oliver one night after having a dream, describing to him that we could impact the world in amazing ways. Shortly after, we got straight to work to build this project and meet the right people to make it happen. We met the other boys after taking a last minute trip and instantly felt the chemistry."
Once the pieces were in place, NSB was born with young Asian-American men who can from different backgrounds, such as Regie who was born and raised in the Philippines before he and his family moved to the US when he was 13. All seven members have built their own following, but as Ryan says, it's more fun to do the things you love with friends. "Pursuing your passion is always more fun and fulfilling doing it alongside the people you love."
YOUNG AND ASIAN-AMERICAN
While hype houses, content creation groups, and creator squads aren't anything new, it's not often you see one composed entirely of Asian-Americans. NSB is the first of its kind after all. And being able to operate in a space that historically has not given opportunities for people like them is something they see as a blessing. "It is a blessing to be able to make the impact that we do on others and have been given the opportunity to pave a way and inspire others through what we do," expresses Darren. They add "We feel honored to be in a position where we can impact and inspire so many others in such a great way."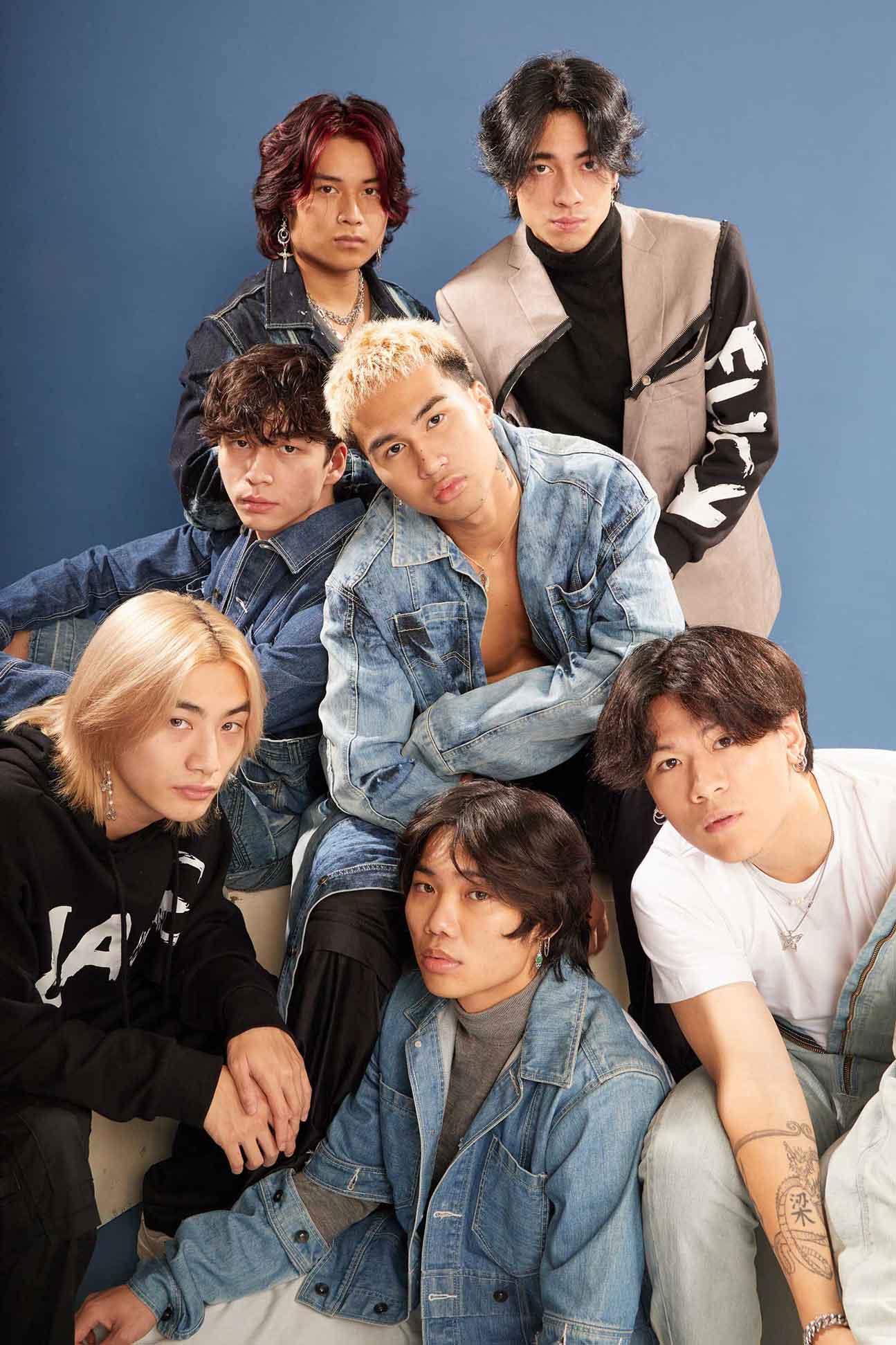 Despite what some may say, these seven men did not come together to just clout chase and film TikToks. They all came from unique backgrounds, with different interest and skills. Their unique perspective on life is what they consider a major asset. "Having members from different backgrounds such as entertainment, business, and even those who were in school helps ensure that our creativity never runs out," explains Justin. "The diversified perspectives and backgrounds allow us to tackle the entertainment industry in ways that have never been done before."
Their unique story and approach to their content, such as impromptu meet and greets like the one they recently held in Manila has definitely endeared them to many fans. Despite being in the game for just one year, they've already amassed millions of followers, proving that there is indeed a space for young Asian-American creators like them. According to Oliver, "The reason for our success is truly our supporters, our 'Stars' [the name of their fans]. Without their support, we wouldn't be where we are today. They support us through every single one of our endeavors, whether it be our newest venture in Boba, Mu Tea, our newest single, SUNSHINE; we can count on our stars to pull through and join us in making a positive impact on the world."
BEING THAT SUNSHINE
Speaking of their endeavors, as a content group, NSB has their hands in many different fields. One of their most notable was their foray into music with the release of the city pop-inspired single you are my star in May 2022. The song's upbeat nature and uplifting lyrics reflect their more aspirational goals. That theme also continues with their latest release, SUNSHINE, which actually serves as their debut single, as well as their take on hyperpop. "Our music describes who we are as individuals and as a group, we are ecstatic, energetic, different, and imperfect, which is why the Hyperpop genre interests us," explains Oliver.
The song is meant to symbolize perseverance and dedication to the ones you love, a theme mirrored in its music video directed by Bae Merola and Angel Andres. Each member had their own sunshine they drew inspiration from. Most notably, Regie used the moment shed a light on his Filipino heritage. Elements of his culture are seen in the video like the Philippine flag. For the young Filipino, being able to do that made for a touching moment.
"I was raised in the Philippines for half of my life and it's always been an interest of mine to try and incorporate my roots with music. In the music video for SUNSHINE, it was a special moment for me and the boys to shine a light on the country I grew up in and inspire my fellow Filipino friends and followers to embrace our culture and not be afraid of being different." The fact that he, as a Filipino immigrant, gets to do what he does means the world to him. "Honestly, this is a dream come true for me. I'm beyond grateful for this opportunity."
ONWARD AND UPWARD
NSB's goals are definitely admirable. But certain corners of the internet won't be as open as others. The fact that they are young men who are famous on social media already makes them a non-starter to some. Others also criticize the group as just another boy group not worth taking seriously. It's criticism Oliver surprisingly accepts. "Some may compare us to other groups and that's okay. We try our best to be true to who we are and we understand that we are not perfect, in fact, we take pride in being imperfect. Being authentic and unpolished is a way for others to better relate and be inspired by us."
This acceptance of who they are is something that Oliver also wants to see media do better at. Instead of leaning towards the centuries old stereotype of Asians as rigid and only interested in certain things, he wants to see Asian culture be portrayed as one of diversity. "An aspect of Asian culture that we want the media to re-envision is the stereotype that we must go into a specific profession or look and act a certain way to be deemed as successful. We want to show that you can be who you are, and whoever you want to be as a young Asian American. We want to show that your imperfections are what makes you perfect and inspire others that they too can achieve their dreams."
As the boys continue to aspire to give others hope and live their lives as young Asian-Americans, they share that they have a lot of exciting plans in the works. "You can expect more music from us as we continue to travel to more amazing places around the world to meet our Stars." In particular, they feel like "we have an open door to explore a new sound that hasn't yet been explored." And outside of music, "We are also launching our online Boba shop, Mu Tea. We're super excited for what's to come."
Social media has definitely launched its fair share of positive and negative influencers. But signs are pointing for NSB to be the former. While their style or content may not be for everybody, it certainly meets the moment. And as they continue to make a name for themselves, they just might open the doors for the next generation of Asian-American stars. "Follow your North Star and don't lose sight. We believe in you, keep going!"
Photography BRIAN MAMAWAN
Fashion and styling by BANG PINEDA

Continue Reading: Avantika Uncovered: How The Young Actress Is Striving For Better Representation In Hollywood