Let's cut to the chase: Nadine Lustre's got what it takes to be a fashion designer.
Sold-out shows may just be a thing of the past because of the pandemic, at least in the way that we used to know it. Don't you just miss the euphoric feeling of being in a crowd, vibing and taking every moment in? Sure, the metaverse sounds cool, but the energy of concerts will always be electrifying. Well, things have been looking up for the fans of Nadine Lustre who recently performed at the Expo 2020 in Dubai this weekend, because not only did she show up as a musician—but also as a designer!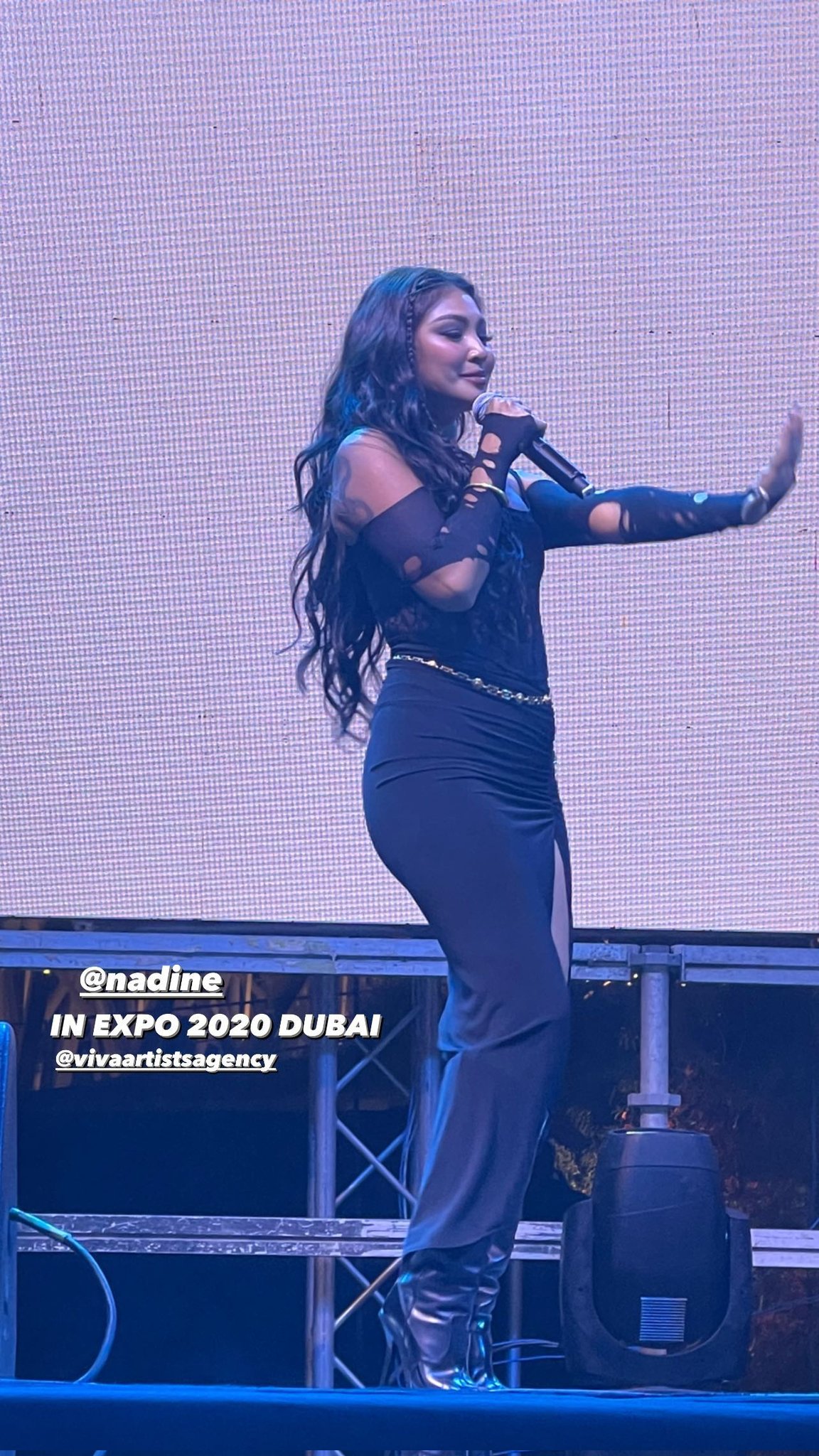 Looking like a bombshell, the crowd lost it when she made her way to the stage dressed in an all-black assemblage of a Dion Lee corset, a midi skirt, and Versace knee-high boots. Even better, the deconstructed sleeves were actually designed and made by Nadine Lustre right before the performance! It's a style hack that anyone can follow using only two things: a pair of scissors and stockings. See, if you're stuck in the black hole of fashion TikTok, users who do step-by-step tutorials how to rework your clothes are aplenty and Nadine obviously caught up. (The hashtag #subversivebasics will be your guide.)
READ MORE: Why Nadine Lustre's 'Wildest Dreams' Should Be A Blueprint of Fashion Shows in the Future
It didn't just end there, though. For her solo stage performance, she wore a pair of acid-washed pants with rhinestones by Neric Beltran while her top was also made by who else? Nadine Lustre, too! The look pretty much reminded us of Doja Cat, who the Careless singer's a big fan of, and is fond of deconstructed fashion equally. But this isn't the first time Nadine Lustre designed or reworked a few of her outfits. Remember that pink tulle gown she wore to the premiere of past 'serye This Time? She designed that and was brought to life by Mak Tumang.
We honestly can't wait 'til Nadine Lustre drops her own clothing line. Imagine a line of street yet sensual silhouettes that will bring out anyone's inner baddie.
CONTINUE READING: All The Times Nadine Lustre Supported Young Designers