With Permission To Dance On Stage: Seoul over, the euphoria over the return of BTS onstage in Seoul still lingers, and this includes post concert emotions from no less than RM himself.
A few hours after the three-day concert, the data has spoken. As of this writing, BTS has broken another record for earning $32.6 million for broadcasting the second day of their concert in 3711 cinemas worldwide. But as the analysts calculate the data, and while fans are still nursing their high over the concert, the words of RM, BTS' leader, still lingers.
At the tail-end of their Permission To Dance On Stage: Seoul performance, RM removed his BTS armor once again, and showed us Kim Namjoon, a 28-year-old boy from Ilsan who is worried about his future. "Sorry, it's because I really couldn't sleep at all. To be honest, we're all of one mind and one heart," the valiant leader says (as transcribed by NamjooningX0613 and translated by odetonamu on Twitter). "In my case, I kept feeling lacking in many ways. Ever since I started performing when I was 15, there were only two or three people in the audience, there were no cheers but I have never experienced a performance where no one could stand up."
He was of course talking about the strict protocols on safety as administered during the Permission To Dance On Stage: Seoul concert. While this was far from ideal, especially after being deprived of the euphoric energy of a live performance, this was the best compromise everyone was willing to subscribe to for the time being. It certainly felt considerably stifling, what with the message of liberty and identity, but unbeknownst to the audience, no one felt this hit more than the boys of BTS themselves. "Even when we were preparing for this concert, I felt a lot of shame. I couldn't sleep because I had a lot of fears. Because we haven't seen you in so long, and we wanted to show you our 100, and even 200% but we felt as if we couldn't show even 50%, 30% or even 20% of us. That fear overcame me. That's why I had a really tough time," continues RM of what was consuming him. "I was always really sensitive, and I'm the type that if something came up, I would always think of the worst outcome. But thanks to the people beside me who showed us such positivity and you who gave us such great energy, we were able to hold this concert."
Dear ARMY
The ARMY was quick to respond after, a deluge of gratitude and assurance that this homecoming show was just like a renewal of vows. But I cannot help but wonder, are the BTS members also experiencing a post concert depression like all of us? It must have been traumatic to see the through the crowd of ARMYs, all 15,000 unable to dance and sing along after two and a half years of separation from each other.
Jin, shared in their last Vlive last March 7, this show in Seoul was close to a financial loss for them and HYBE, their entertainment and lifestyle company. But nothing is more important to them that meeting their fans in Korea. On top of the instruction to not yell, sing along, and even stand, a near impossibility for a concert of that nature, due to COVID-19 restrictions, only a fraction Seoul Olympic Stadium's capacity is 65,000 was allowed to be filled up.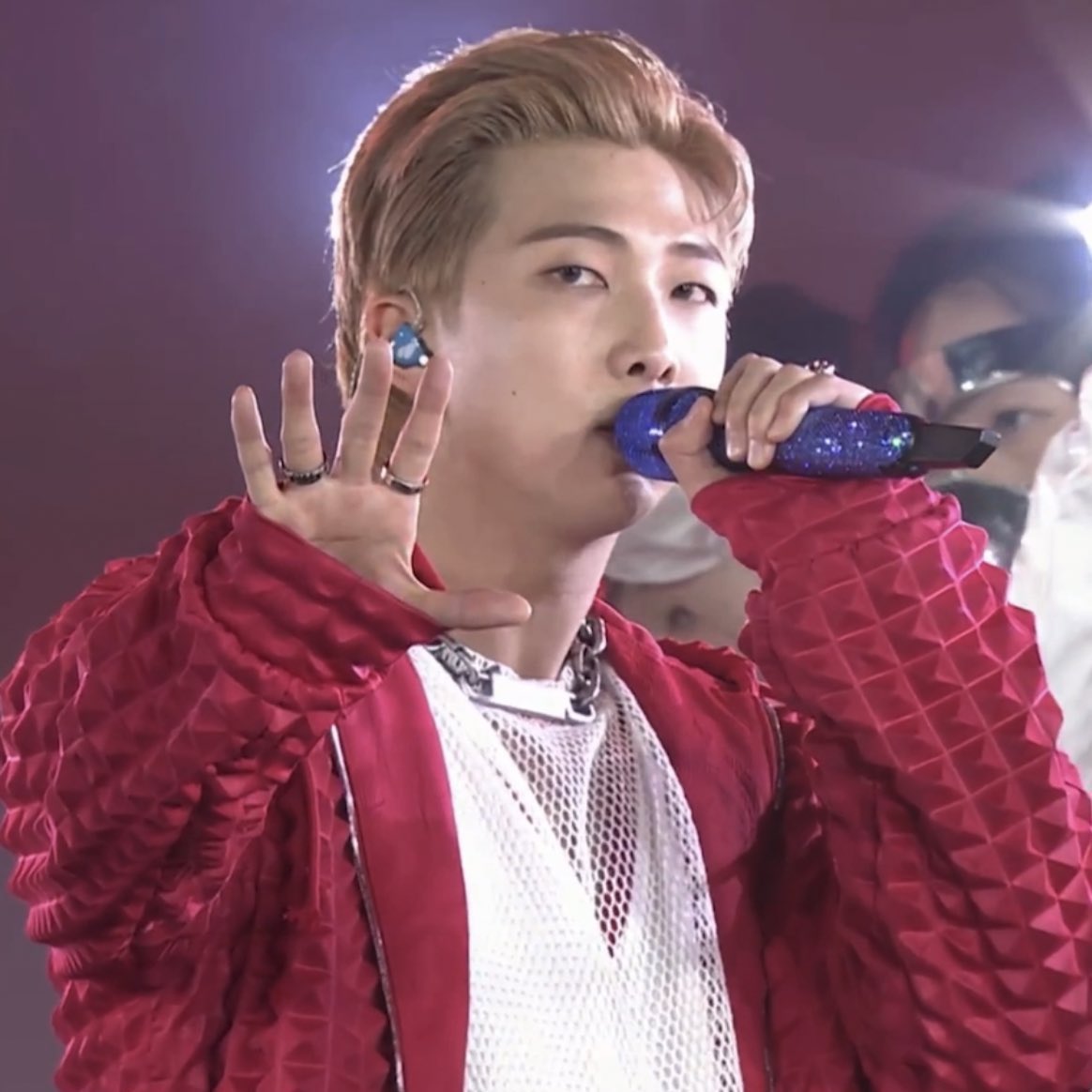 "We've seen what it's like to have our freedom taken away, there won't be anything worse than this! In fact, If anything else ever happens, we'll be able to face it with a more positive mindset, with the conviction that we'll be able to do anything," continues RM, baring his heart on behalf of BTS. "Well be able to look back at this day as fond memories, and I hope we'll be able to say that we would be able to test ourselves once again, challenge ourseles, and think of this as a good experience."
Permission To Dance On Stage: Seoul
Despite the cold weather in South Korea, BTS' homecoming concert was a great success, only because the members constantly put the welfare of their fans first. V and Suga reminded everyone to dress warmly against the weather. Overwhelmed by the support, Jungkook used his Instagram account to share his gratitude to everyone after the first night. The show was spectacular despite the rain on day two. Worried about the fans getting sick, Jimin jumped into Weverse right away, reminding the attendees to shower after the concert to keep sickness at bay.
Despite Jimin and Suga slipping onstage and RM yawning out of exhaustion during the concert, BTS sealed their show with word of thanks and promises of a strong come back. J-hope, the unofficial bearer of positivity even reassures the fandom to look forward to better days, and even drank beer to celebrate after the final concert night.
NOOOOOOO Suga hurt his elbow ?????? jimin slipped like thrice…it's raining…they should be really careful ?? pic.twitter.com/AJnB2t6yM2

— BtsArmyworld_borahae? (@BtsArmyWorld_97) March 12, 2022
To their supporters, these are a typical conversation with their idols who have been talking to them through social media since 2012. In an industry that is often fueled by scripted fan-service, BTS remains to be authentic, even fighting as brothers would onstage. And while the boys try to look at the brighter side of things—the ability to perform despite the pandemic and that they have social media to connect with their fans regardless of time and location, we all have to remember that these young men are carrying a world of pressure on their shoulders.
Limitless
"We've really missed you so much and we love you so much. A miracle-like three day concert has now come to an end," ruminates RM, making sense of his own post concert feels. Here, he recounts how five months ago, the band asked their fans to wait for them and also, they waited for their fans as well. "We'll always wait for you. When that time comes, we'll work as hard as we did today, and hope you'll come meet us then, too."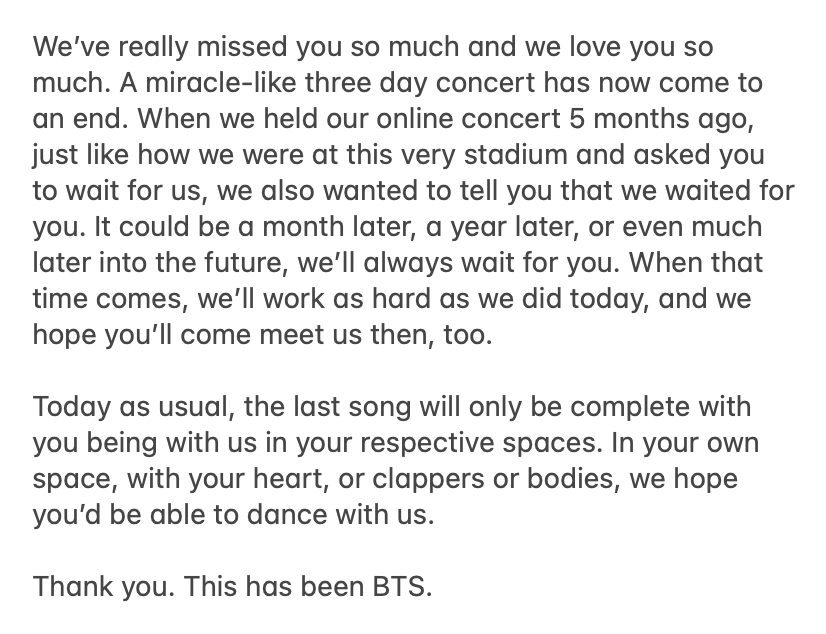 While none of them will ever know how each story of the ARMY began, it appears that theirs is not too different as well. In fact, if their support system feels something, the boys of BTS does too, if not greater than they let on. The reciprocal respect and love is a cycle that not only benefits this symbiotic relationship, but sustains it as time goes by. From breaking records and making music to soundtrack lives, this is how BTS and the ARMY will continue to dominate. Beyond the internet and the concert stage, the sky is definitely the limit.
With the last song played at Permission To Dance On Stage: Seoul and the last light stick flickered, the promise of the next chapter beckons for BTS and the ARMY. Thoughtfully, RM rounds out his thoughts with a heartwarming message. "In your own space, with your heart, or clappers or bodies, we hope you'd be able to dance with us."
And dance we will.
220313 PTD IN SEOUL FINAL, see you again @BTS_twt ?#PTD_ON_STAGE_SEOUL #PTD_ON_STAGE_SEOUL_day3 #BTS #방탄소년단 pic.twitter.com/oClGvBvfSU

— 맥신. (@maxinebts613) March 14, 2022
Additional text by ANGELO RAMIREZ DE CARTAGENA
CONTINUE READING: HOW BTS IS HELPING ME COPE WITH GRIEF AND POST CONCERT DEPRESSION IN 2021