Here are some of our favorite cute interactions we saw in person at the Vogue Philippines Launch Party.
Related: Extra, Extra, Read All About It: On Its Debut, Vogue Philippines Wants You To Know That Print Is Not Dead
What were you doing during the long weekend? For some of your fave stars, they made their way to XYLO At The Palace for the exclusive Vogue Philippine launch party to celebrate the official start of the country's own take on the fashion bible. The energy and excitement in the room was palpable as a diverse set of stars, names, and personalities partied the night away and doing so in the most Vogue PH fitting attire. As you can expect, when you put all these famous people in the same room for hours, you're bound to get some fun interactions. And luckily, we were on hand to catch these moments. Here are just some of the special moments we spotted among the guests.
BESTIE DUO DARREN ESPANTO AND KYLE ECHARRI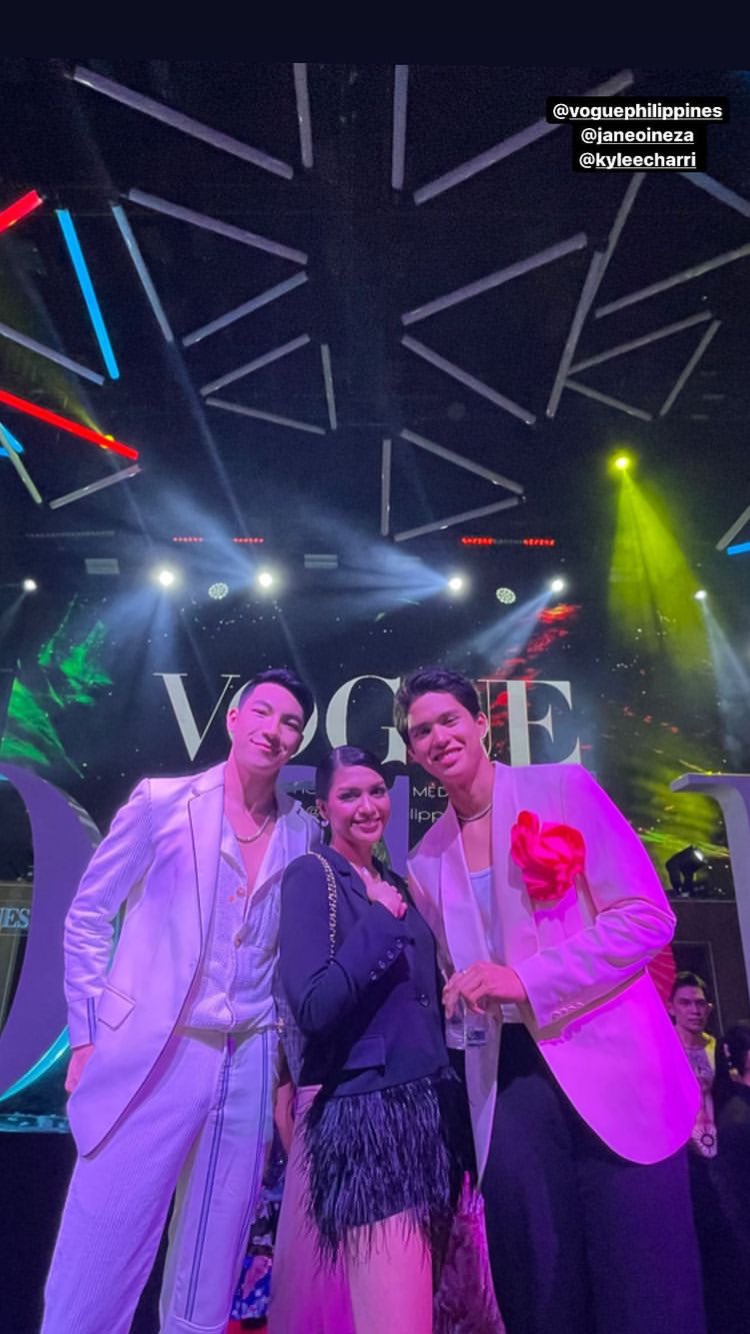 Kyle Echarri and Darren Espanto have been friends for years. So, when they showed up to the Vogue PH party, they were the bestie duo you wanted to be with. The two, along with fellow stars Jane Oineza and Markus Patterson were spotted hanging out together and taking to the dance floor like any friend group would.
LOVE TEAM ENERGY
The love team energy was strong at the Vogue PH party. And that's primarily thanks to Kyline Alcantara, Mavy Legaspi, Ruru Madrid, and Bianca Umali who were very much in a heated race for best dressed couple. Kyline and Mavy matched looks in shades of black and white that made them look so good. Ruru and Bianca, meanwhile, continued their streak of serving stunning couple's looks with their red-inspired fits. Seeing these two couples have their special moments throughout the night definitely made for a sweet evening. We even spotted Mavy, Darren, and Kyle have a fun moment where they jokingly made fun of each other for staying up so late in the night. Celebrities, they're just like us.
SOCIAL MEDIA STARS SHOW OUT
While there are those who dismiss social media personalities as just people who only make videos on the internet, they can do so much more than that. And one such talent is serve a look. TikTok stars Marvin Fojas, Pipay, Benedict Cua, and Evan Tan not only arrived at the party together, but they made sure to clean up with their fits. We very much wouldn't mind being part of this talented clique.
FROM THE COURT TO THE RUNWAY
Not only can Kianna Dy and Majoy Baron serve on the volleyball court, but they can also serve a look as well. And that's exactly what happened when the volleyball stars showed up together at the Vogue PH Party looking like models who just stepped off the runway. It was truly something else to see these two statuesque athletes walk past you. Yes, there really is such a thing as pretty best friends.
THE YOUTUBER GLOW
Individually, Bella Racelis and Ashley Sandrine Yap are top content creators known for their fun and relatable content. But together, their powers reach a whole new level as seen in this pics together at the Vogue Philippines party. When are we getting that collab girls?
SLAYING AS CONTENT CREATORS
With so many names and faces at the event, it wouldn't be surprising if we saw some link ups between our fave social media stars. And that's exactly what happened as seen in these pics Sofia Jahrls shared which saw her hangout with fellow creators like Rei Germar, Jeanette Ong, and Janeena Chan.
RACING BADDIES
The baddie energy in this pic is strong. Young racing prodigy Bianca Bustamante is currently in town and on her itinerary was to attend the Vogue Philippines launch party. She looked stunning in Burberry but what made it even better was that she got to meet Chie Filomeno. In case you didn't know, Chie is a bit of a car and racing enthusiast herself, so it just felt right they met.
THE COOL GIRLS CLIQUE
In case you didn't know, Yassi and Issa Pressman are pretty much sister goals. So, when they went to the Vogue PH party, they made sure to do so in style. They pretty much rolled up to the party like the cool girls of the club alongside their friends Elena Virata, Keiko Fox, and Jaz Reyes. And Yassi and Issa further maximized their joint slay by hanging out alongside Christi McGarry, Gabbi Garcia, and our very own Lyn Alumno.
KYLIE VERSOZA AND VICE GANDA, AN UNSTOPABBLE DUO
Gorgeous gorgeous girls go to the Vogue Philippines party. And two of those include Kylie Verzosa and Vice Ganda. The beauty queen and model and A-list actor stunned with their eye catching looks that were some of the best of the night. But of course, the night couldn't have been complete if they didn't have a moment together, which they did. The power these two hold together is immense. Also, spot Jasmine Curtis Smith with Vice Ganda, it's just serve after serve.
Continue Reading: Strike A Pose: Here's What Went Down At The Vogue Philippines Launch Party