From Bridgerton Season 2, Stranger Things season 4, Arcane, and more, there was something for every fan at Netflix's Tudum.
Related: 10 Movies And TV Series To Watch If You Enjoyed Squid Game On Netflix
Netflix just recently concluded Tudum, their first-ever global fan event. Named after the sound you hear when you watch a Netflix production, it was jam-packed with appearances from stars and celebrities as they talked about their upcoming projects. The event was also home to dozens of new reveals, trailers, and sneak peeks for some of Netflix's highly anticipated upcoming movies and shows. If you missed the show, here are all major announcements, trailers, and reveals from Tudum.
ARMY OF THIEVES
Serving as a prequel to Zack Snyder's Army of the Dead, Army of Thieves follows small-town bank teller Dieter who gets drawn into the adventure of a lifetime when a mysterious woman recruits him to join a crew of Interpol's most wanted criminals. Their mission: heist a sequence of legendary, impossible-to-crack safes across Europe. Catch this on Netflix this October 29, 2021.
BRIDGERTON SEASON 2
Return to the regency era for yet another scandalous social season at this first look at Bridgerton season two. The new season is set to follow another member of the much-talked about family. The teaser clip sees Anthony Bridgerton (Jonathan Bailey) meet with the new character Kate Sharma (Simone Ashley). The series is set to drop in early 2022.
STRANGER THINGS SEASON 4
In this latest sneak peek of Stranger Things Season four, we get our first look at the Creel House, a new and important location in the new season. Based on the teaser, it's giving us AHS: Murder House vibes, which may make for the scariest season yet. Stranger Things season four hits Netflix in 2022.
ULTRAMAN SEASON 2
Several years have passed since the events of Ultraman, with the legendary "Giant of Light" (光の巨人 Hikari no Kyojin) now a memory, as it is believed he returned home after fighting the many giant aliens that invaded the Earth. Shin Hayata's son Shinjiro seems to possess a strange ability, and it is this ability, along with his father's revelation that he was Ultraman, that leads Shinjiro to battle the new aliens invading the Earth as the new Ultraman. Season two is coming in 2022.
ARCANE
Based on the popular MOBA, League of Legends, Arcane is set in the utopian region of Piltover and the oppressed underground of Zaun. The story follows the origins of two iconic League champions-and the power that will tear them apart. This animated series marks Riot Games' first series for television. The series will be available to stream on Netflix this November 6, 2021.
HELLBOUND
Hellbound features supernatural beings suddenly appearing and condemning people to hell. In the midst of the chaos, a religious group called The New Truth gains prominence and influence while others seek the truth behind the supernatural events. Described as "your next must-binge Netflix series from Korea" following its screening at the 46th Toronto International Film Festival, Hellbound is receiving worldwide attention and has also been invited to the 26th Busan International Film Festival as well as the 65th BFI London Film Festival. The unique and thought-provoking series about condemnations to hell taking place in the middle of Seoul is based on a webtoon of the same name. The series drops on Netflix this November 2021.
SEX EDUCATION SEASON 4
If you binged watched through the recently released season three of Sex Education and wanted more, you're in luck. During Tudum, it was announced that Sex Education was getting a fourth season. No other details were revealed though so it may be a while before we get to see more of the new season.
COWBOY BEBOP
While no official trailer was revealed, we were treated to the show's title sequence opener, a homage to the animated series' iconic opening. The upcoming live-action adaptation of the beloved anime series follows a ragtag crew of bounty hunters chasing down the galaxy's most dangerous criminals. It stars John Cho as Spike Spiegel, Mustafa Shakir as Jet Black, and Daniella Pineda as Faye Valentine. The show premiers on Netflix this November 19, 2021.
NEW WORLD
New World is a variety show that follows six entertainers: Lee Seung-gi, Ji-won, Hee-chul, Bo-ah, Park Na-rae, and EXO's Kai in a utopia-esque simulation where unexpected events, survival missions, competitions, and twists take place. The series hits Netflix this November.
DON'T LOOK UP
We got another look at this star-studded film that follows two scientists played by Leonardo DiCaprio, Jennifer Lawrence who try to stop a giant comet from crashing into the earth. The clip sees DiCaprio and Lawrence's characters warn the president of the United States, played by Meryl Streep, of the incoming disaster. Don't Look Up hits Netflix on December 24, 2021.
THE CROWN SEASON 5
In a special message aired during Tudum, Imelda Stanton, who is playing the latest version of Queen Elizabeth II, announced that season 5 of The Crown just began filming. No other details were revealed but we do know the new season is coming in November 2022.
THE WITCHER SEASON 2
During Tudum, fans were treated to two brand new sneak peeks for season two, set to drop on December 17, 2021.
EMILY IN PARIS SEASON 2
Love it or hate it, Emily in Paris was a hit for Netflix so it was expected that they would be making another season. Well, season deux is right around the corner as we got our first look at the upcoming season. The new season follows the titular Emily as she continues her life as an influencer in Paris. Season two drops on Netflix on December 22, 2021.
MONEY HEIST PART 5 VOLUME 2
Get your first look at part 2 of volume 5 of Money Heist, set to drop this December.
THE SANDMAN
One of the more major announcements during Tudum, we got our first look at the highly-anticipated Netflix adaptation of Neil Gaiman's The Sandman. The official plot is as follows: The Lord of Dreams has been summoned, and captured, by mortal men. Once free from his captivity, this eternal ruler of Dreams will realize that his troubles are only just beginning. Neil Gaiman will serve as executive producer alongside Allan Heinberg, and David S. Goyer. No release date has been given so far.
EXTRACTION 2
In a surprise announcement during Tudum, Extraction is getting a sequel. Simply titled Extraction 2, the movie will continue to the story of Tyler Rake (Chris Hemsworth), a fearless black market mercenary who embarks on the deadliest mission of his. Considering that Extraction was one of the most popular original titles Netflix has ever created, a sequel wasn't all that hard to imagine coming. No release date has been given yet.
ENOLA HOLMES 2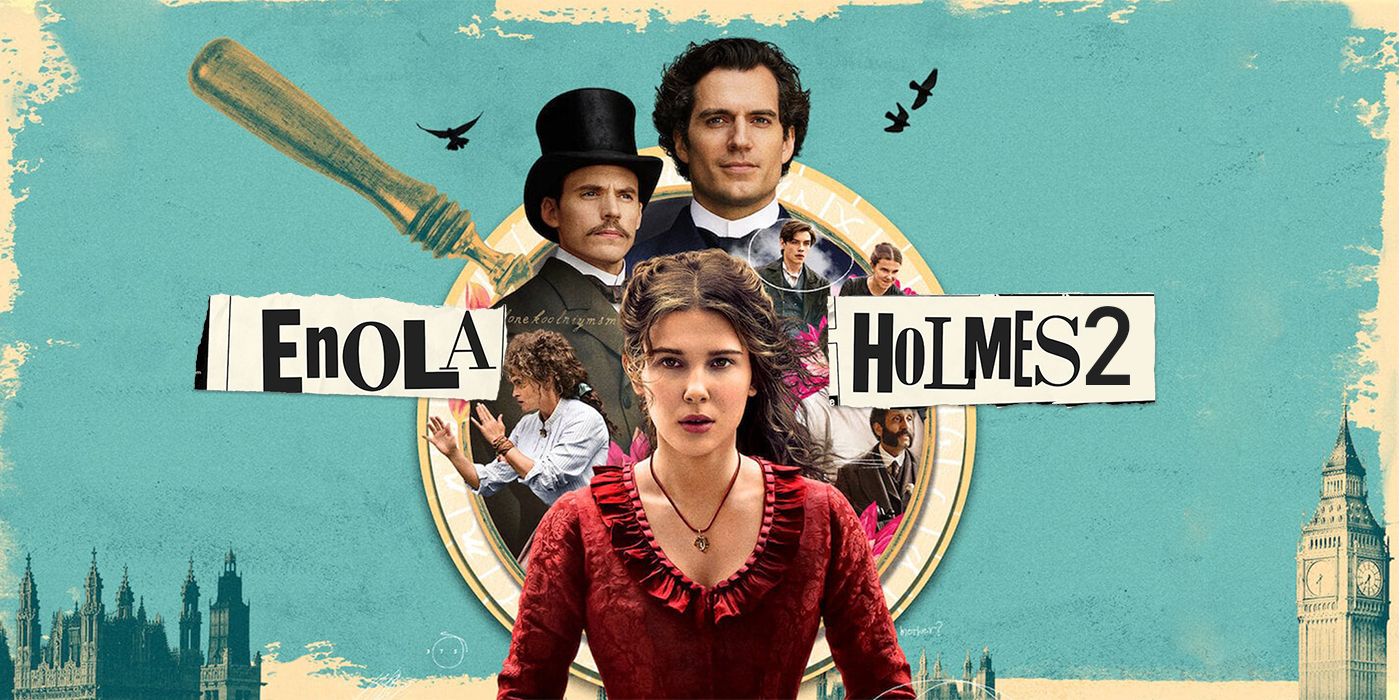 The youngest Holmes sibling is back in Enolma Holmes 2. This time, she's bringing company as she and Tewks have been reunited. Millie Bobby Brown, Henry Cavill, and Louis Partridge are all reprising their roles in the sequel. No release date was given.
TIGER KING SEASON 2
If you were obsessed with Tiger King when it first came out in February 2020, then here's some good news for you. During Tudum, it was announced Tiger King is getting a season two. And you don't have to wait long as it's coming to Netflix this November 17, 2021.
MY NAME
Staring Han So-hee, My Name is a Netflix series that tells the tale of Jiwoo who joins a crime ring to find her father's killer. She ends up taking on a new name and identity in order to join the police undercover, which leads her to discover the cruel truth. With realistic and gritty scenes, My Name is a new type of action noir that brings the characters' emotions to life and depicts raw action. You can stream the series on Netflix this October 15, 2021.
JEEN-YUHS
Jeen-Yuhs follows one of the most talk-about and controversial figures in music in recent years, Kanye West. Filmed over two decades, this documentary is described as an intimate and revealing portrait of Kanye's experience, showcasing both his formative days trying to break through and his life today as a global brand and artist. No release date was given.
COBRA KAI SEASON 4
Netflix's excellent Cobra Kai is coming back for a fourth season which will see it revolve around the All Valley Tournament. Catch the new season on December 31, 2021.
Continue Reading: Big Things Are Coming To Netflix As The Streaming Service Is Getting Into Video Games