Belle Mariano, Alexa Ilacad, Charlie Dizon, and Gillian Vicencio are the definition of sister goals as they've kept up their solid friendship long after Four Sisters Before The Wedding premiered.
Related: 8 Times Niana Guerrero And AC Bonifacio Were Best Friend Goals
As the prequel to one of the most iconic Filipino movies of the 2010s, Four Sisters Before The Wedding had a lot of hype and expectations to live up to. But by and large, the movie met those with a strong reason behind the film's success being the four lead actresses: Belle Mariano, Alexa Ilacad, Charlie Dizon, and Gillian Vicencio. If it felt like that portrayal of the young Salazar sisters felt real, that was because the bond between the four lead actresses was genuine.
They turned their sisterhood in the movie to real life as the four of them enjoy a friendship any friend group would envy. Even with how big all of them have become since shooting the movie, the connection between the four young stars remain as strong as ever. From exchanging gifts to almost getting matching tattoos, the quartet have an undeniably strong friendship. Here are just some of the moments where the love and bond between Belle, Alexa, Charlie, and Gillian was as strong as real sisters.
REUNION DINNER
Despite their busy schedules, they still haven't forgotten about each other. This is why it was nice when Belle, Alexa, Charlie, and Gillian found the time to meet up and have dinner together just recently. The cute snaps Alexa took of each of them should tell you how much they missed each other. This was the first time in a long time all four of them were together. Hopefully, they can have more bonding moments like this.
BESTIES WHO TAKE CUTE PICS TOGETHER, STAY TOGETHER
Any friend group isn't complete without those fun group pics. And Alexa was kind enough to share those as she posted a series of images on her Instagram that shows the four of them together and having a great time.
THEIR CONGRATULATION POSTS FOR THE MOVIE'S PREMIERE
All four of these young women put their heart and soul into the movie. So, by the time it came out in December 2020, Alexa used the moment to thank her fellow co-stars for all the hard work they poured into the making the movie. You can feel how proud Alexa is of them by just reading the caption. Charlie also got in on the action, sharing how proud she is of them and saying how happy she is that they became her on-screen sisters.
THEIR BIRTHDAY POSTS FOR EACH OTHER
If ever you need inspo for your birthday greeting for your bestie, look no further than the cast of Four Sisters Before The Wedding. Their birthday greetings are goals like when Charlie shared this post on Gillian's birthday, which was accompanied by the sweetest of captions. Not one to be outdone, Gillian is a pro when it comes greeting her co-stars a happy birthday. Her heartwarming posts during Charlie, Belle, and Alexa's birthdays with accompanying captions could make even the iciest thaw out just like that.
GILLIAN LOW-KEY INVITING THEM TO HER WEDDING
Weddings are a big theme in the Four Sisters movie, and as much as the Salazar sisters to show up to each other's weddings, so too are Belle, Alexa, Charlie, and Gillian. Or at least that what Gillian hopes. In January 2021, she shared this throwback pic of the four of them with actress Pinky Amador during a pivotal scene in the movie. Gillian then wrote how she hopes they would be there for each other when it's there time to walk down the aisle. Can you imagine them being each other's bridesmaids? It already brings a tear to the eye.
ALEXA REUNITING WITH CHARLIE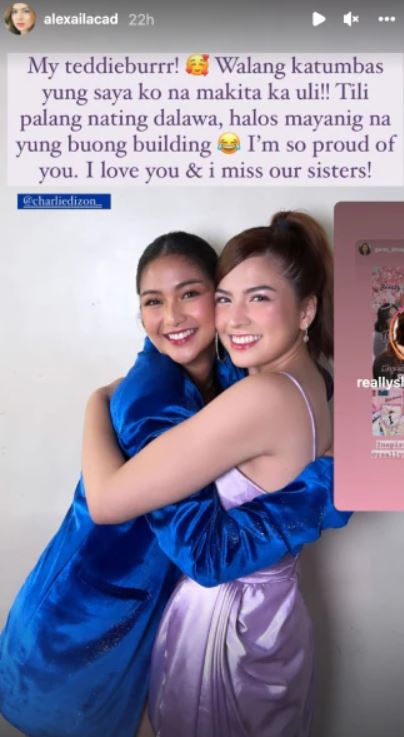 If you want to know just how much the cast of Four Sisters Before The Wedding miss seeing each other, check out this sweet reunion between Alexa and Charlie. In January 2022, Alexa got to reunite with Charlie and shared the heartwarming moment on her IG stories. They were so happy to see each other that their screams supposedly shook the whole building.
SISTERS BY HEART
Even before the movie came out, the bond between the four was already set. Case in point, in October 2020, Alexa shared a post that showed their first picture together and commented that it was their last day of shooting. She then expressed her love for them and how they've become sisters by heart and for life. Nearly two years later, that very much still stands.
WHEN ALEXA (AND KD) TREATED CHARLIE AND GILLIAN TO DINNER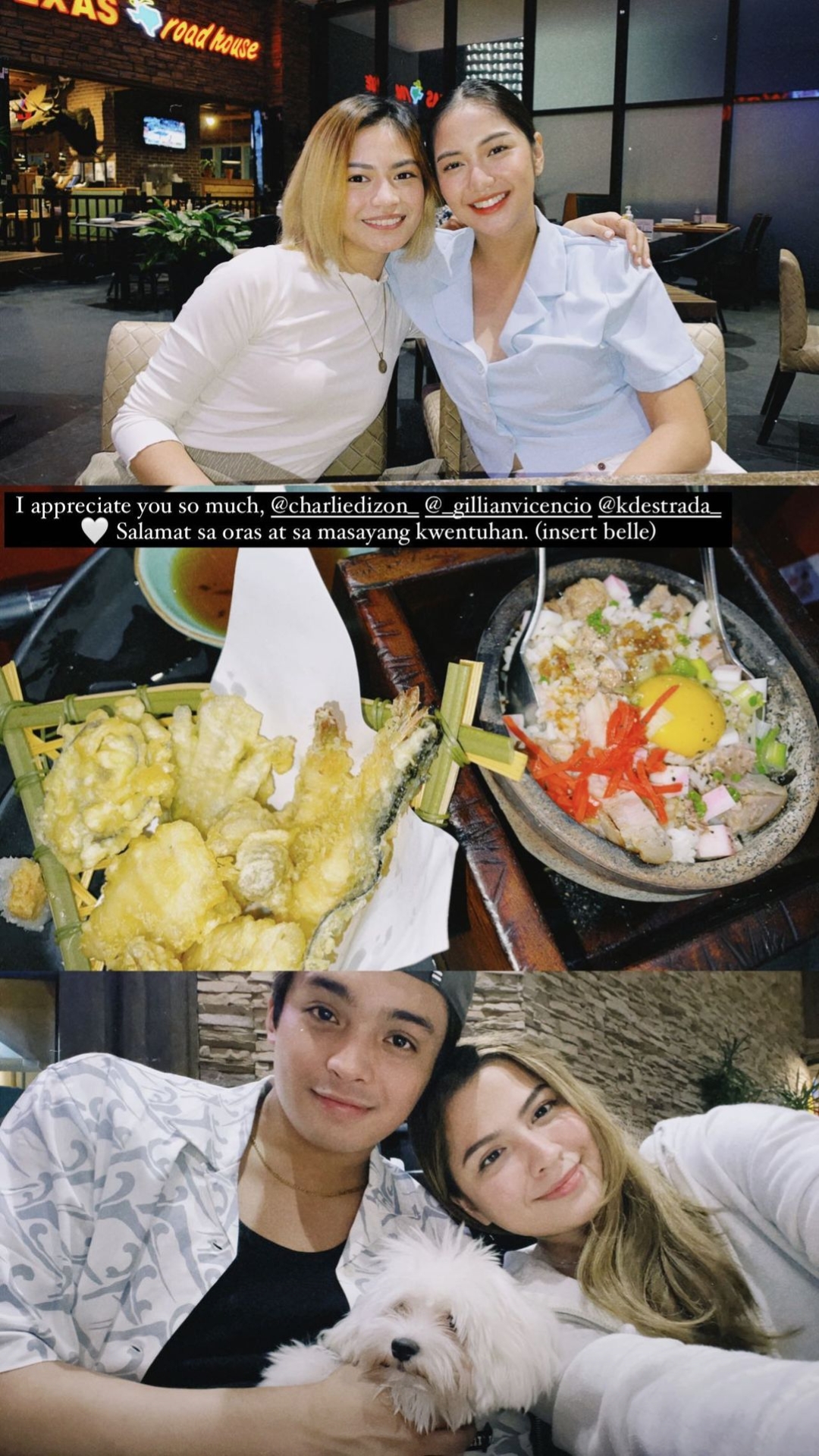 We love besties who treat their besties. Back in May, Alexa, along with KD, had dinner with Charlie and Gillian. The cute dinner was in celebration of their successful projects. And, as revealed by Charlie, the dinner was a treat from Alexa and KD. Alexa also shared the love via her IG stories where she thanked Charlie and Gillian for their time and fun stories.
TIKTOK BESTIES
Not only are the Salazar sisters achievers, but they can handle TikTok, too. The only thing that would have made this link up between Alexa, Charlie, and Gillian better was if Belle was there.
Continue Reading: We're Here For Joshua Garcia And Esnyr Ranollo's Unexpected Friendship