Spooky season is among us, which means your month just got a whole lot scarier with these Halloween-themed activities and events.
Related: 9 Horror Movies That Will Keep You Up All Night On Halloween
It's tradition, really. As early as now, we are already starting to see Christmas trees and decorations go up in public places like the streets, malls, and homes. But news flash, it's still October, which for those who subscribe to the customs of tricks and treats mean only one thing: Halloween. (We can spend the last two months of the year celebrating all things merry and festive.)
In the meantime, let's focus on the spooky season as we immerse ourselves in frights, terrors, things that go bump in the night, and of course, candy. If you're still racking your brain on what you can do this Halloween, we've got you covered. Get your to-do list ready for these activities that will have you screaming—literally and figuratively.
BINGE-WATCH HORROR MOVIES
Anytime is a good time to watch a horror movie. But watching frightening flicks during October hits differently. Invite a few friends over or brave it all by yourself with a horror movie marathon. 2022 alone already has a long list of scary movies that are worth the watch such as X, Nope, Incantation, The Black Phone, Fresh, and much more. If you want to keep things local, you can check out some Pinoy horror classics such as Sukob and Feng Shui. Shake, Rattle, & Roll series (free) marathon anyone?
Western, Asian, live action, or animated, the movie list is all up to you. If watching cinemas is more your thing, you can check out Ayala Malls Cinemas' Thrillfest running from October 26 – November 1. Films to be screened include the 1982 classic, Poltergeist, Korean horror film Urban Myths, and the finale to the modern Halloween trilogy, Halloween Ends. And to keep things on the theme, feel free to help yourself to some Halloween-themed snacks, such as Krispy Kreme's limited edition Spell Book Collection, which consists of six Halloween-themed doughnuts made with Glico's Pejoy biscuit sticks.
TALK A WALKING TOUR OF INTRAMUROS AT NIGHT
We all know that Intramuros is a historic location teeming with stories spanning over a hundred years. But during that time, this walled city has also experienced its fair share of dark moments. This is what WanderManila is set to explore as the alternative travel company is holding night walking tours at Intramuros this month. Sounds like a frighteningly fun time.
There are currently four tours you can avail of. The first two two are called One Night In Intramuros and will be on October 22 and 23. The third is One Night in Ermita, an exploration of the supposedly haunted Barangay on October 31. If you can't manage to book a slot for either tour, don't fret. WanderManila has also prepared a virtual tour that they will stream live for free on their Facebook page on October 30. And if you're really determined to get that night tour, Intramuros is offering a free guided night tour around For Santiago on October 31. Visitors can avail of the tour from 5 PM – 8 PM with no reservation needed. All you have to do is visit the Intramuros Visitors Center to join.
VISIT HAUNTED LOCATIONS
Do you know what's better than watching movies about haunted locations? Visiting real-life haunted places, that's what. And luckily, the Philippines is filled with its fair share of locations that reportedly have an otherworldly presence. Top destinations to go ghost hunting include The Diplomat Hotel in Baguio, Corregidor Island, and the Manila Film Center in Pasay.
If abandoned theme parks are your thing, you can check out Fantasy World in Batangas. It was meant to be a theme park, but was abandoned after the developers ran into financial trouble. These days, people can still take enter (for a fee) to take pictures, but it isn't exactly the Disney World of the Philippines. And of course, there's always Balete Drive in Quezon City.
GO TO A HALLOWEEN PARTY WITH K-POP STARS
If ever you wanted to brag to your friends that you partied with K-pop idols during Halloween, this concert will let you do that. PULP Live World is holding the first-ever K-pop-focused Halloween party in the Philippines. HALLYUWEEN is set to be held at the MOA Arena on October 29, Saturday. The concert features a diverse line-up of Korean music stars. There's the queen of the bad girls herself, CL, who's headlining the show.
She is joined by K-hip-hop group Epik High, boy group Pentagon, underrated co-ed group KARD, Korean musician Gaho and the rest of his members from Kave, and DJ Soda. And rounding up the list is the P-pop group BGYO. We can already imagine the Halloween costumes these idols are going to serve. You can get tickets to HALLYUWEEN here.
ROCK OUT ON HALLOWEEN
For those looking to satisfy that specific niche of rock music on Halloween, there are a couple events made just for you. On October 31 at Circuit Makati, enjoy 12 hours of music from the likes of Bamboo, Mayonnaise, Gloc 9, Shanti Dope, and more at Halloween Howlers. You can get your tickets here. Meanwhile, at 19East on the same day, acts like Sandwich, Moonstar88, 6Cyclemind, and more are coming together for the Oka Takot Soupstar Halloween Night. And there will also be a costume competition where the winner takes home a special prize.
ATTEND A DRAG HALLOWEEN PARTY
The Halloween season means an influx of Halloween parties. But if just dressing up in a costume and showing up to a party seems too basic for you, why not drag it up a bit? On October 28, some of the queens from Drag Race Philippines, as well as of a sickening selection of striking local queens, performers, and artists will be coming together for DRAGula: The HalloQUEEN Party at 500 Shaw Zentrum in Mandaluyong City.
Enjoy performances from queens like Marina Summers, Viñas Deluxe, and Lady Gagagita, get ready to serve in a sickening costume and even get a chance to win a 5000 peso cash prize. You can get your tickets here. Another party with the Drag Race PH queens to check out is Jungle Circuit Party's ULTRAVERSE Halloween Event. The party, which will also happen on October 28 at the Shooting Gallery Studios Makati, will feature Prince, Turing, and season one winner Precious Paula Nicole. You can get your tickets here.
SPICE UP YOUR HALLOWEEN PARTY AT THESE EVENTS
Sure, you can go to a plain old Halloween party. But where's the fun in that? Spice things up with these Halloween parties in the Metro that are guaranteed to be a scary good time. First, Futurist is known for their memorable Halloween parties and this year, their giving us not one, but two events. The first will be on October 29 with the Honey crew while on October 31, they will be having their official Dead Can Dance party with its name telling you all that you need to know about it. Local music collective UNKNWN will be having their Halloween extravaganza called Supernatural on October 29.
Sofar is making their return to live shows in two years with their Halloween party on October 29. And as tradition, the line-up is a secret. Finally, one of the hottest clubs in Manila, XYLO At The Palace, will be having a three, yes three, day Halloween celebration entitled Paradigm. October 28, 29, and 31 at XYLO will be filled with Halloween bliss and a killer DJ line-up. And for those who are looking for a more classic Halloween party, BGC High Street is bringing back its Spook Street event also on October 29. Shopping and sweet scares? What's to not love about that?
GO TO A HAUNTED HOUSE
Some might think been there, done that. But there's a reason why haunted houses remain so popular. It gives that instant adrenaline of horror we are looking for. If flying to Universal Studios to experience their famous Halloween Horror Nights (this year's theme is The Weekend's Dawn FM) isn't on the budget, you can always try Nightmares Manila. With multiple haunted house courses, escape rooms, and a shooting gallery, Nightmares Manila has a variety of attractions to please any horror fan. They even have a café in the place so that you can de-stress after experiencing those frights.
For something a little different, The Dessert Museum is having a special horror night-themed event on October 29-31. The museum will have eight rooms that will work like escape rooms where guests will be screaming, but not for the dessert. If you do manage to make it out though, you get a free treat.
HOLD A HALLOWEEN-THEMED POWERPOINT PARTY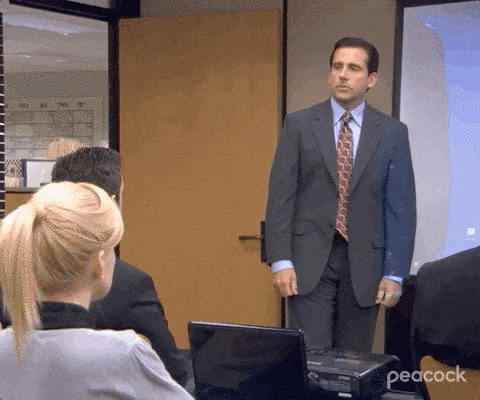 Have you ever come across those viral PowerPoint parties on social media? Well, here's your sign to have one with your friends this October. Show up in your best Halloween fit and have your PowerPoint themed around the holiday. It can be about your favorite final girls, the best slept-on horror movies, who in your friends would die first in a horror movie, and the like. The whole point is to just have fun with your friends and spice up that typical Halloween party.
Continue Reading: 5 Psychological Horror Movies To Watch On Your Spooky Nights