Even young stars like Francine Diaz, Kathryn Bernardo, Blythe, and more have tried their hand at acting in horror movies. Ready or not, give these Filipino horror movies a watch this Halloween.
Related: 9 Horror Movies That Will Keep You Up All Night On Halloween
For as popular as the genre is, horror usually gets a bad reputation as the place for B- and C-list movies. People sometimes assume that horror movies are just cheap entertainment and only unknown actors appear in them. But as can be seen in the last few years, horror can and has attracted some of the biggest stars in the world to appear in them. All over Asia, where the genre is really something else, and even in the Philippines, some of the brightest Gen Z stars have acted in horror movies to surprisingly great results. So, if you have nothing to watch this Halloween, here are some Filipino horror movies starring some of your fave celebs. Prepare to see them in a whole new different role.
BANAL (ADNREA BRILLANTES)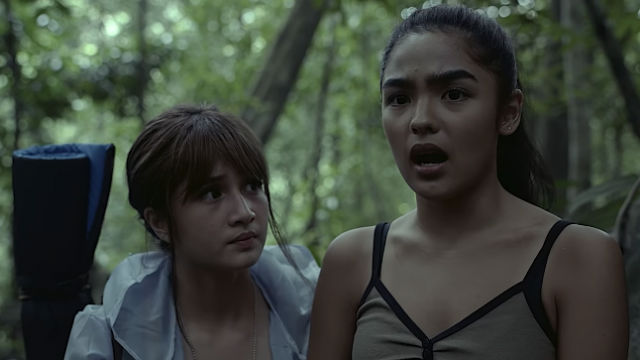 From director Peter Abana comes this psychological horror movie set in the woods supposedly based on true events. Banal revolves around five young friends who travel to sacred Mt. Awanggan for a weekend mountain trek. But when they get there, they are informed to not go up the mountain. The group doesn't listen and in their stubbornness, unleashes the sinister spirits that lurk in the mountain's deep forests. Banal stars Andrea Brillantes, Bianca Umali, and Miguel Taniflex, and is a movie that has a The Blair Witch Project vibe to it, minus the found-footage POV. If you're looking for a horror movie about a mountain trek gone wrong with a unique twist and unsettling vibes, then Banal just might be for you. Catch this on Netflix.
BLOCK Z (JULIA BARRETTO, JOSHUA GARCIA, AND MARIS RACAL)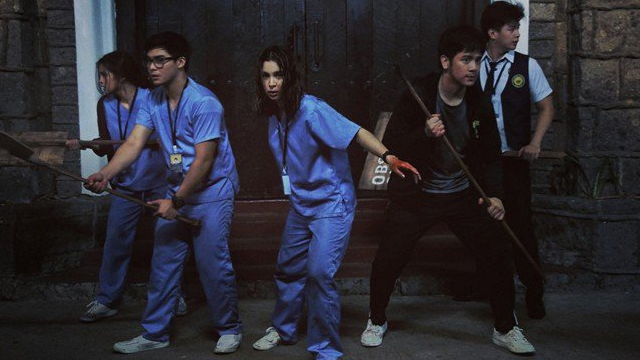 While zombie films are nothing new to the genre, it's not common to see Filipino horror movies get their own zombie flick. That was until Mikhail Red's Block Z arrived. This horror film centers on a group of pre-med students who are trapped in their university after it is quarantined during a zombie outbreak. Now, the group must band together to survive and make it out of campus. Block Z stars a who's who of young stars like Julia Barretto, Joshua Garcia, and Maris Racal and they all deliver great performances. Julia Barretto particularly stands out for her strong and badass performance as PJ. Check out this movie if you want to see zombie movies done the Pinoy way. You can stream this on iWant TFC.
HAUNTED MANSION (JANELLA SALVADOR)
Janella Salvador is no stranger to acting in Filipino horror movies. She was in Bloody Crayons, The Heiress, and even The Killer Bride. But Haunted Mansion may just be her best work so far. The film centers on a group of students who go on a retreat with their teacher to a remote house. As expected, the house harbors some dark spirits who start haunting the group. This is where Ella (Janella Salvador comes in. She can see evil ghosts and together with her friends must stop the spirits. Considering that this was her first project after wrapping up Be Careful with My Heart, it was a risky move, but one that paid off. Stream this on Netflix.
MALEDICTO (MILES OCAMPO)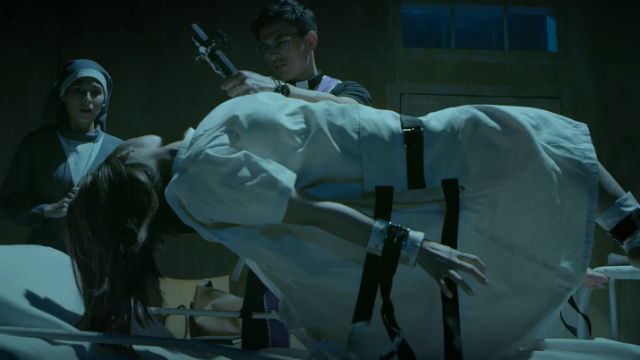 Maledicto stars Tom Rodriguez as Farther Xavi. At the beginning of the movie, he is a brilliant psychiatrist who after losing his sister to what seemed to be a possession, decides to become a priest and debunk possessions and exorcism. One day, a clairvoyant priestess named Sister Barbie (Jasmine Curtis-Smith) notices that one of her students, Agnes (Miles Ocampo), is experiencing signs of possession. She turns to Father Xavi for help and the two realize that they are dealing with more than just simple possession.
While on the surface, Maledicto might just be another The Excorcist rip-off, it is so much more than that. The movie can get genuinely scary at times. It has an interesting story, and it also focuses on the human aspect of things with how Father Xavi re-evaluates his life and beliefs. Definitely one of the more underrated Filipino horror movies of the late 2010s. You can watch this on Netflix.
PAGPAG: SIYAM NA BUHAY (DANIEL PADILLA AND KATHRYN BERNARDO)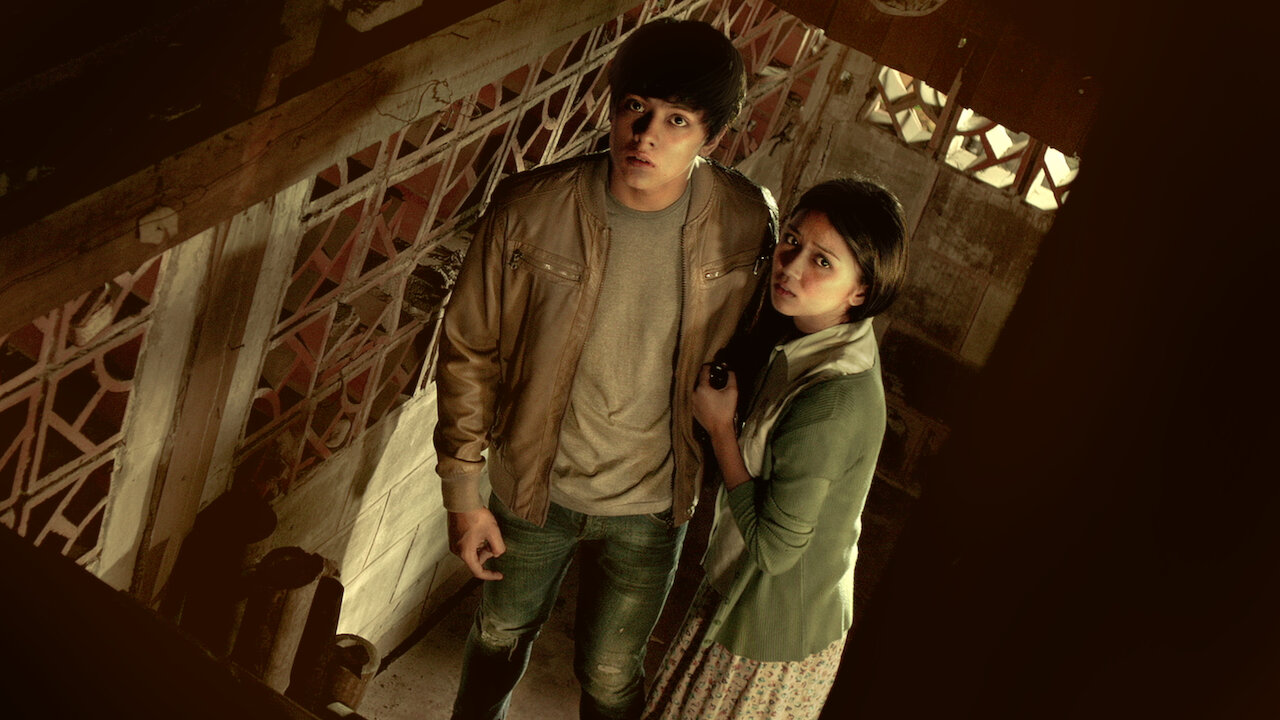 For some people, Pagpag can be considered an underrated classic especially in the filmography of KathNiel. This Filipino horror movie is based on the superstition that you shouldn't go home directly after a wake so the spirit of the deceased won't follow you home. A group of teenagers attend a wake but don't believe in the superstition. Because of this, the spirit of the deceased man hunts down and kills the nine people who refused to follow the belief. To date, this is the only horror movie KathNiel has ever done and in fact one of the few horror movies starring a major love team. Pagpag is sure to be a gem of a watch. Stream this horror movie on Netflix.
TENEMENT 66 (FRANCINE DIAZ)
Tenement 66 follows Teban (Francis Magundayo) a young man who just got bailed out of prison. He, along with his older brother Tony and cousin Ron-ron (Noel Comia Jr.) move into the titular residential building. Teban isn't looking to get back to a life of crime. He wants to help his older brother make some money and pay off their debt by getting a job. One day, Tony gets involved in an accident which leaves Teban with expensive medical bills.
He then meets a young woman named Lea (Francine Diaz), his neighbor who asks him to help her rob their neighbor, Old Man Nando (Lou Veloso). She tells him that she saw him steal a large sum of money and that they should steal it back and split it amongst themselves. They agree but their heist soon becomes their biggest nightmare when they realize that their neighbors are holding some dark secrets.
Director Rae Red's horror crime thriller is a bit like if Don't Breathe was set in the Philippines with a few twists and turns. Francine Diaz is mostly known for her sweet, innocent, or dramatic roles. But in Tenement 66, you see her in a whole new light as the jaded Lea and she really pulls it off. Tenement 66 should be your go-to Filipino horror movie if you're aiming for tension and suspense. You can watch this on iWant TFC.
THE DEBUTANTES (SUE RAMIREZ and MILES OCAMPO)
Director Prime Cruz has given us some amazing movies over the past few years. On one side of the spectrum, there is the underrated Filipino horror movie Ang Manananggal Sa Unit 23B, and on the other are emotional dramas like Sleepless and Isa Pa, with Feelings. The Debutantes is then probably one of is his more under appreciated works.
The teen horror film centers on shy and friendless student Kate (Sue Ramirez). She has the ability to have visions of her classmates' deaths as they turn eighteen. Lara (Miles Ocampo) tries her best to include Kate in her clique of mean girls. But problems arise as a deadly curse follows them ahead of their 18th birthday celebration. The Debutantes gives a slight Carrie vibes and even features a look inspired by the classic Italian horror film Suspiria. This movie should be on your list if you're looking for a debut gone wrong. Stream this thriller on Netflix.
CLICK, LIKE, SHARE SEASON 1 (KYLE ECHARRI, FRANCINE DIAZ, SETH FEDELIN, and ANDREA BRILLANTES)
While not a Filipino horror movie per se, CLICK LIKE SHARE is still a worthy watch given its unique premise. The anthology show is like if Black Mirror was set in the Philippines since every episode deals with abusing social media and technology. For season one, each episode starred each member of the Gold Squad. Kyle's episode, Reroute, sees his character get addicted to an app called Aria that ends up falling in love with him. Francine's episode, Cancelledt, is about her character experiencing social media fame but at a real-world cost.
Seth's episode, Trending, revolves around his character manipulating a video he posts online of an encounter he has with another driver that leads to some grave consequences. And Andrea's episode, Poser, is about her character using an app that removes all the imperfections in her face but in return causes a clone of hers to come to life and replace her. You can watch the series on iWant TFC.
LURKER – CLICK LIKE SHARE SEASON 2 (MAYMAY ENTRATA)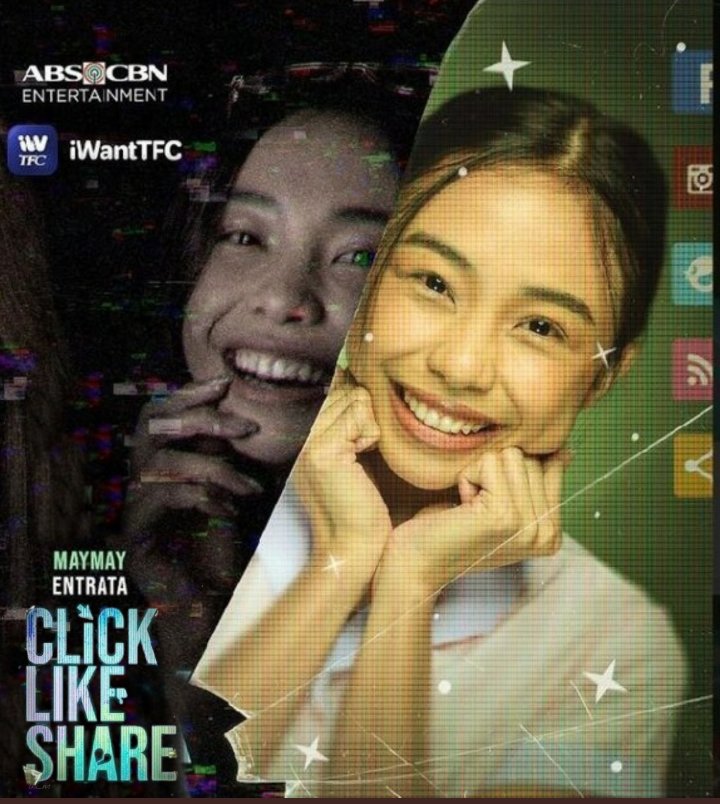 CLICK LIKE SHARE finds itself on this list again with an episode from its second and most recent season. Lurker stars Maymay Entrata who plays a hardworking waitress named Beng. She has a tendency to share a lot of her life online, even with things that she shouldn't. One day, a rich online influencer named Trish (Michelle Vito) embarrasses Beng at work. This then causes Beng to seek revenge by lurking on Trish's social media accounts in an attempt to ruin her life. But Beng will soon find out the dangers of oversharing on social media. Catch this on iWant TFC.
Continue Reading: 15 Last Minute Halloween Costumes That You Can Easily Recreate