Is Easter Sunday a good movie? No, not really. But some Filipinos out there will probably appreciate what the film is doing for Pinoy representation.
Related: Lingua Franca Shows The Importance Of Having Marginalized Voices In Media
When I first heard of Easter Sunday, I was intrigued, to say the least. The trailer screamed the perspective of a Filipino family though the eyes of a Fil-Am. But there isn't anything inherently wrong with that. And besides, Easter Sunday is the first ever film from a major studio that featured a main cast of Filipino actors.
As someone who loves watching movies, I pulled myself to watch this, along with my parents, because I was curious to see how Jo Koy and the rest were going to bring to the screen a story of a Filipino family in what is admittedly a historic moment for Pinoy representation in Hollywood. I came away though from this film realizing that I, a Filipino born and raised in the Philippines, was not part of the target audience. And it also doesn't help that the film itself is less than perfect.
FAMILY REUNION GETS CHAOTIC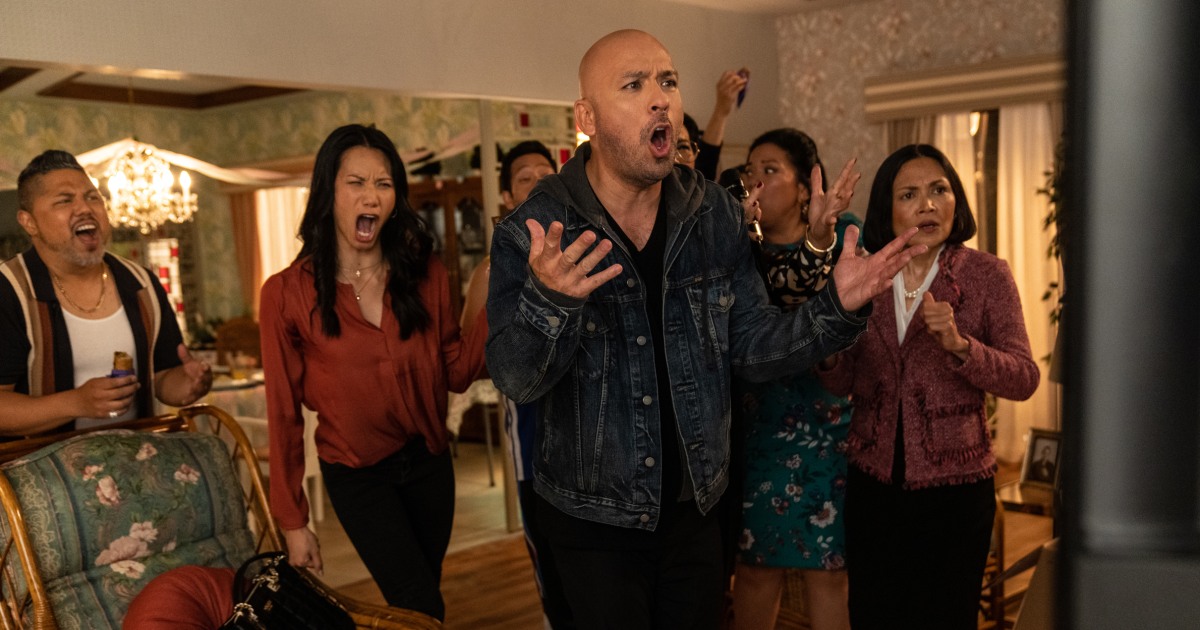 Easter Sunday stars Jo Koy as Joe Valencia, a comic in Los Angeles trying to find his next big break in Hollywood. That big break comes in the form of a potential role in a new series that Joe is on the verge of clinching. The problem though is that the producers want him to play the character with a stereotypical Filipino accent, something Joe is against. His problems don't get any better when his mom invites him to join the rest of the family in Daly City, the Pinoy mecca of California, for Easter Sunday.
Joe decides to bring with him his son Junior (Brandon Wardell), for the trip to that he can meet the family and spend more time with his son. While most of us love a good family reunion, that doesn't apply to the Valencia's as Joe's mom, Susan (Lydia Gaston), is in a cold war with her sister Teresa (Tia Carre). It also doesn't help that Joe's brother, Eugene (Eugene Cordero), gets into some money problems and needs to fix it with the help of Manny Pacquiao's gloves.
A TYPICAL STORY
Let's first start of with the things that were okay about Easter Sunday, because it does have its merits. Jo Koy's acting is good and he really shines when he has the screen to himself such as when he was giving a "sermon" during Easter mass. Lydia Gaston gives an attention-grabbing performance as the family matriarch, especially as she shares the struggles she had to go through as a single mother living in a new country. The rest of the cast is passable though not necessarily award worthy.
The film also tackles quite a few interesting topics. There's Joe's refusal to play up stereotypes in a TV show, Junior's feelings of alienation around a Filipino community and culture he isn't that connected to, simmering tension between Joe and Eugene, and the residual trauma that Joe and his mom have. The bubbling relationship between Junior and Ruth (played by the wonderful Eva Noblezada) was also nice to see. These plot points could have definitely made for an interesting film that had a lot to say. Sadly, it doesn't because it leaves all these potential plot threads with surface level answers.
That's one of the biggest sins of the movie is that it's feels very surface level. Yes, we finally have a Hollywood film that's centered on a Filipino family. But we aren't getting a story with substance. Instead, we got a pretty generic story that is not helped by a plot involving local gangsters and Manny Pacquiao's gloves. The film does talk about family, being an immigrant, and what it means to come together, but it feels very been-there-done-that. It's a so-so comedy with a formulaic story structure. Crazy Rich Asians this is not.
SURFACE LEVEL REPRESENTATION
As for the Filipino representation, which is at the heart of the film, it is there, and there is plenty of it. The problem though is that some of it feels quite stereotypical. Of course, there's food, religion, the Santo Niño, karaoke, and a member of the family who is a nurse, but we rarely see. That's typical Filipino culture 101. Don't get me wrong, it was nice to see people who look like me speak Tagalog in a Hollywood film. (Goodbye subtitles.) But the culture and display can sometimes feel very narrow or one-note.
If you grew up in the Philippines or around Pinoy culture, Easter Sunday won't necessarily light a fire in your heart. I wasn't pointing at the screen saying, "wow, that's my culture." The film feels better suited for Filipino-Americans or those who only have parts of their culture surrounding them. It didn't really hit someone like me on an emotional level. Pinoy representation in media is and should not be limited to mass, food, Manny Pacquiao, and nurses. The Pinoy experience is a colorful one that features many facets. (See Lingua Franca as a good example.) Easter Sunday shows just one slice of that pie, an often stereotypical one.
NOT THE BEST, BUT AT LEAST THE FIRST
Easter Sunday isn't the pinnacle of Filipinos in Hollywood, obviously. As just a movie in itself, the film is also lacking and could have been better in many parts. What Easter Sunday does do right though is open the gates for more Filipino stories to enter Hollywood. There's no denying the historic feat of having an all-Filipino main cast in a Hollywood production from a major studio. Jo Koy should also be commended for fighting to have the movie show in cinemas so Filipino can see themselves on screen. I'm also not going to knock those who appreciate the kind of representation that Easter Sunday shows.
If you like the story, the characters, or what it's trying to say, good for you. Hopefully, with Easter Sunday now out, it may inspire more creators and producers in Hollywood to make more Filipino-focused stories, and good ones at that. Should Filipinos rush to the cinema to see this movie? Unless you're a Jo Koy super fan, maybe just wait when it's streaming instead. Here's hoping that this is just the start to what could be a long list of diverse and well-told Filipino stories on a global stage.
Continue Reading: 11 Filipino Stars Who've Appeared In Hollywood Productions