From Maymay Entrata and Mimiyuuh being bestie goals to Nadine Lustre being low-key the belle of the party, here are some of our favorite interactions we saw at the Big Bold Brave Party.
Related: ICYMI, Here's What Went Down At The NYLON Manila Big Bold Brave Awards Night
The NYLON Manila Big Bold Brave Awards Night and party was more than just to fete our winners. It was also a night for the guests, stars, and friends to let loose and have fun. Many caught up with old friends while others finally met in person for the very first time. And when you have a club filled with that much energy ready to party on a Friday night, you know things are going to go down. With all that happened during the night, here are just some of the fun, cute, and wholesome interactions we spotted among the guests.
AWRA AND ARGIE ROQUERO ARE BESTIE BADDIES
If Big/Bold was the official theme of the night, for many stars that included radiating strong bestie energy (as you'll see later in this list). One such example was Awra and Argie Roquero. For starters, the two friends arrived together with Awra serving Rihanna in a see-through mini dress and Argie giving drama with a voluminous yellow dress. Making TikToks were also on the agenda as the two were pretty inseparable during much of the night.
NADINE LUSTRE BEING A BIG SISTER TO JOLIANNE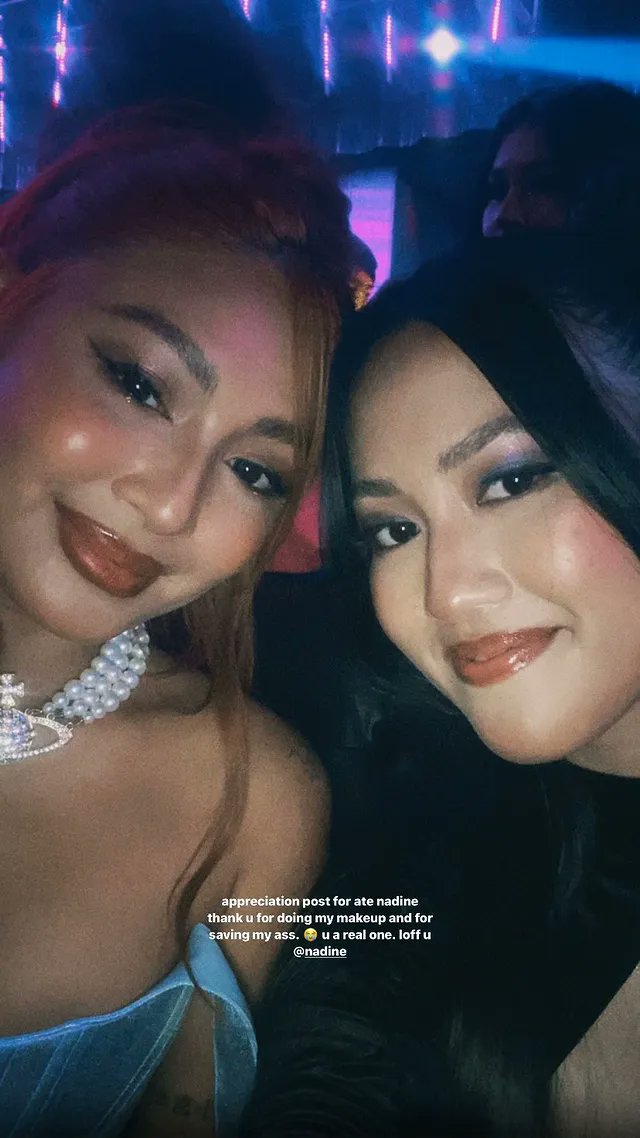 As a seasoned pro with a kind heart, Nadine Lustre is always ready to support the younger generation. And that was on display when she came to the rescue for fellow Careless artist Jolianne. Stumped on what to wear for the night, Nadine came in to help Jolianne with her look and even helped do her makeup. This wholesome encounter was very much giving big sister-little sister energy and we love to see it.
MAYMAY ENTRATA AND MIMIYUUUH = BFF GOALS
It's pretty much known that Maymay Entrata and Mimiyuuuh enjoy a strong friendship that any bffs would want. And everyone saw that once more during the awards night party. Fun fact: Maymay nor Mimiyuuuh didn't know that either was attending. So, when they saw each other at the House Manila lobby, the two let out what we could only describe as shrieks of joy. They were so excited to see each other that one of Mimiyuuuh's hair extensions fell. But as the best friend that she is, Maymay was there to attach it back onto her head.
AWRA AND NADINE, TWO QUEENS IN ONE PHOTO
What happens when you have so many young icons in the same room? Link up of course. This is why we're here for this snap between Awra and Nadine. The caption says it all and seeing these two unapologetic baddies in the same photo is giving us all the confidence we need.
TIKTOK STARS AYN BERNOS AND AARON MANIEGO LINK UP
Ayn Bernos and Aaron Maniego both became famous thanks to TikTok, Ayn with her uplifting and educational videos and Aaron for being one of the best comedians on the platform. So, when the two attended the party, it only felt right that these TikTok stars took this cute pic together.
THE PBB SEASON 10 TEENS LIVING THEIR BEST LIVES
PBB Season 10 teen housemates Rob, Maxine, Gabb, Luke, Stef, Ashton, and Eslam were very much ready to make the most out of the night. They had an entire table to themselves and interacted with the other guests. During the after party, they made their way to the dance floor to bust some moves. At one point, we even spotted Rob wearing Maxine's red shades. We loved watching them on TV and seeing how the bond they formed is still strong warms the heart.
SASSA GURL X P-POP IS THE COLLAB WE DIDN'T KNOW WE NEEDED
With so many stars from different backgrounds at the Big Bold Brave Party, even the most unexpected of link ups can happen. For example, Sassa Gurl interacting with some of the P-pop groups during the night. The internet star was spotted hanging out with LITZ alongside Awra and Argie Roquero as well as R Rules. Now that Sassa Gurl is releasing music, you can never close the door on the possibility of a Sassa and P-pop collab.
NADINE HUGS IT OUT WITH MIMIYUUUH
Winning two awards that night, Nadine Lustre is tied with SB19 as the most wins among the nominees in this year's Big Bold Brave Awards. But aside from adding even more trophies to her awards shelf, Nadine was also low-key one of the stars of the night with many celeb guests wanting to take pics with her. But honestly, do you blame them? Andi Abaya, Kobie Brown, LITZ, and Denise Julia were just some of the stars that we spotted with Nadine. But the Nadine interaction we loved the most was when she and Mimiyuuuh shared a warm hug during the after party. Sana all Mimiyuuuh.
P-POP BESTIES
We here at NYLON Manila love P-pop and there is even an entire sub-category dedicated to it for the Big Bold Brave Awards. So, it was only right that P-pop groups were well represented during the Awards Night Party. VXON, LITZ, R Rules, Boiz, and some members of MNL48 were all in attendance. We even spotted some of the P-pop idols interacting with the other guests in attendance like LITZ hitting the dance floor with the PBB season 10 teens. But the P-pop moment that got us talking was this sweet moment MNL48's Cole had with MNL48's Yzabel.
SASSA GURL, AWRA, AND MIMIYUUH BEING THE LGBTQIA+ HOLY TRINITY
The power this picture holds. Sassa, Awra, and Mimiyuuuh are trailblazers in the Filipino LGBTQIA+ community and they all so happen to be besties too. This, ladies and gentlemen, is how you maximize a joint slay.
PAST AND PRESENT WINNERS ANGIA LAUREL AND ROVIN MIZUSE
Angia Laurel and Rovin Mizuse aren't just talented makeup artists. They are also the two winners of the Favorite Makeup Transformation category. Rovin was the very first winner in 2021 and Angia won it this year. Both were in attendance and it felt correct that the first and current winners took this cute snap.
CARELESS MUSIC MANILA IS A WHOLE MOOD
It's fair to say that everyone at Big Bold Brave Awards Night Party had a great time. But Team Careless really knew how to have fun. Not only did most of them show up together, they also had an entire table to themselves. Their artists like Nadine, Massiah, Lesha, Issa Pressman, and Jolianne were in attendance ready to show up and show out. And when it was time for the after party, the Careless squad was the group you wanted to be around.
Continue Reading: Every Single Head-Turning Look At NYLON Manila's Big Bold Brave Awards Night