When you're Bretman Rock, holding a simple birthday party isn't on the agenda, which is why he went all out for his 24th, grand production and celeb guests included.
Related: Bretman Rock, Bella Poarch, And These Filipino Stars Took Over Coachella Weekend
Bretman Rock is never one to do things simple or by the book. As a singer, songwriter, actor, actress, athlete, activist, scientist on the side, the star of the crystal of the day, a coconut water connoisseur, mascara master, cereal critic, the newest MTV reality star, commercial model, and newest botanist in town, Bretman will always give you the most. So, when the social media superstar recently celebrated his 24th birthday last July 31, not only did he serve with his birthday shoot, he made sure to celebrate another year of his life with a bang.
PARTY UNDERNEATH THE HAWAIIAN SKY
Bretman's party was extra and epic in the best way possible. The party was held on Bretman's sprawling yard in front of his house in Hawaii. The whole place was decorated to look like the coolest outdoor picnic you'll ever go to. It had a Hawaiian/tropical vibe complete with tables, chairs, food trucks, local food stalls, and outdoor lights. The fact that it was set outside let guests see the gorgeous view of the Hawaiian sunset and Pacific Ocean. Noted Filipino-American DJ, Jay Ablan, was on hand to soundtrack the night. Meanwhile, it also had live music courtesy of Hawaiian singer Anuhea and local band Rebel SoulJahz.
Right outside the venue was a giant "DA BADDEST" sign covered in lights that made sure you knew that you were in the right place. To top it all off, when it was time for Bretman to blow out his lion-themed cake, a nod to him being a Leo, there was an accompanying pyrotechnics display, which just feels correct. As for the birthday king, he was spotted wearing multiple outfits during the evening because you can never serve too many looks at your birthday party. The theme looked to be animal print meets Hawaiian Coachella. This isn't the first time Bretman Rock has gone all out for his birthday. And we have a feeling this won't be the last either.
CELEBRITY GUEST LIST
What's a party without some guests right? And Bretman made sure to reach far and wide for his birthday bash. His family and close friends made their way to Hawaii for Bretman's celebration, and that also included James Reid and Liza Soberano. The duo, along with Careless Music CEO Jeffery Oh, all traveled to Hawaii to attend the bash. Of course, Bretman's fellow Pinoy superstar and cousin Bella Poarch was in attendance. And as further proof of the power of manifestation, all four of them snapped a pic together at the photo booth. The Pinoy power radiating from the pictures are immense.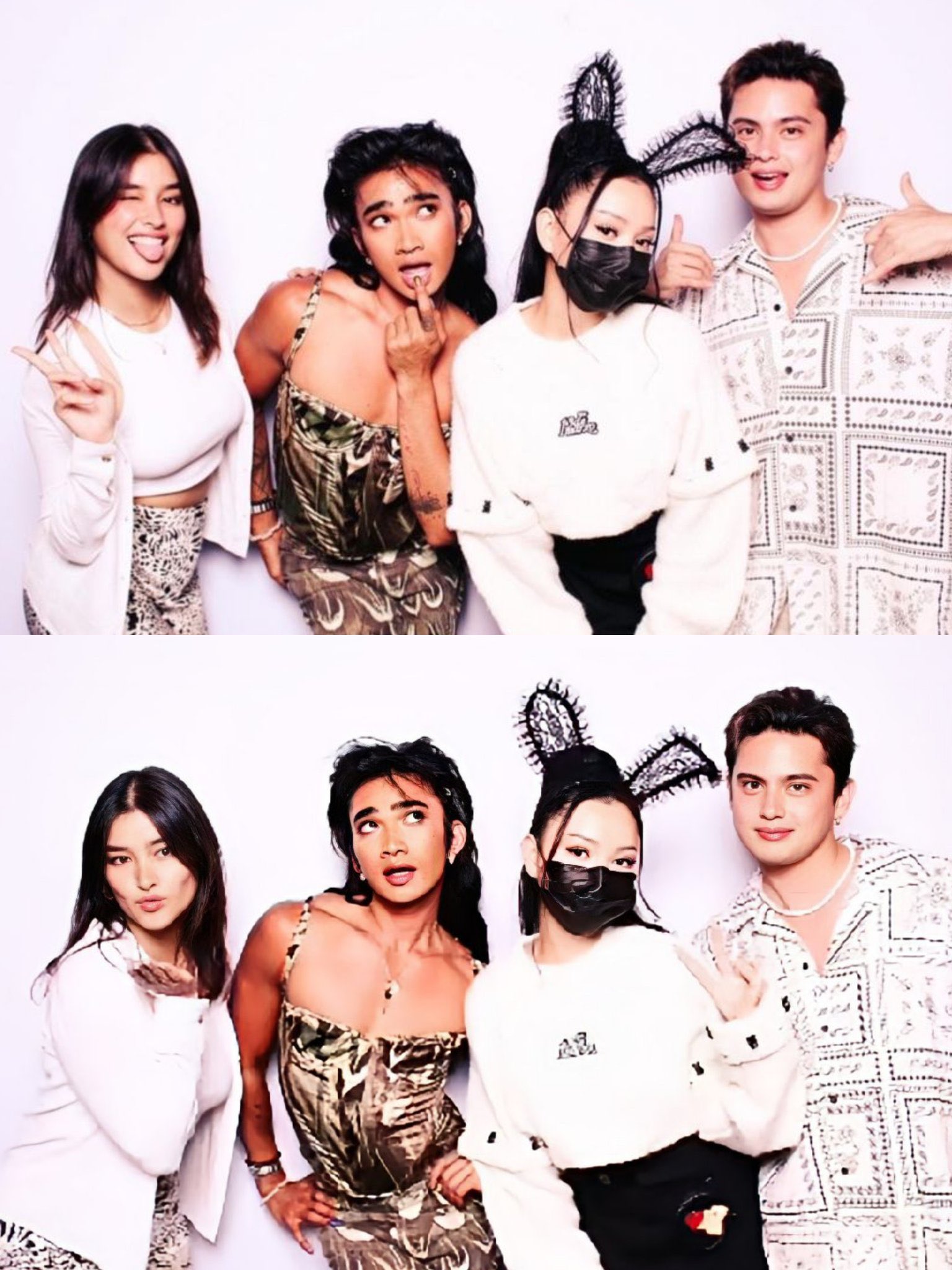 This isn't the first time James and Liza have met the two. Liza had dinner with Bretman and Bella for Philippine Independence Day in June. Bella, meanwhile, went to the Gold House Gala with James and Liza also in attendance. This is the first time though we've seen a public picture of the four of them together. If only we could have been a blade of grass at the party, so we could have known what they talked about. Other Filipino stars also in attendance at Bretman's celebration were AJ Rafael, who also sang at the event, and Alyssa Navarro who was kind enough to share this fun pic between him, James and Bretman. When Bretman Rock turns 25 next year, we're gonna be manifesting party invites in our email.
Continue Reading: 8 Jaw-Dropping Birthday Shoots For When You Need Some Inspo To Be Extra Cause Why Not?