As historic as the gold medal win of Hidilyn Diaz is for the Philippines, there is a lot more to it than we know. Here, we find out what this well-deserved triumph means for the living legend.
At some point when she was clearing her snatches in the 55kg women's weightlifting finals at the Tokyo Olympics 2020, her calloused hands with painted nails broke into a wound. No cause for alarm, reassured the commentator covering the games live at the Tokyo International Forum, fill it in with a bit of chalk and it'll be fine for the time being. If it wasn't caught on camera, it wouldn't have been noticed because apart from the passion and precision that was written all over the Filipino Olympian's face during the snatch, she was all smiles immediately after. Cool, calm, and collected, Hidilyn Diaz, already a bemedalled athlete, had every bearings of a champion amidst strong competition. With her chest out, every stance, step, and snatch conscious and considered, the lashing on her palms was a small and expected pain in her path to victory.
As historic as her clinching of the gold medal at the Tokyo Olympics was, it was something she manifested very early on. In an interview following her SEA Games gold with TV Patrol, Hidilyn Diaz said, "May SEA Games gold na ako, may Asian games gold medal na ako. So, Tokyo 2020, I claim it na maiuuwi ko ang gold medal." Shifting from unerring determination with hands firm on the bar to the deep-seated lunge that led to that one big lift in the end, one could already sense the tearful expression taunting to explode after clearing her final clean and jerk to score an impressive Olympic record of 127kg in the aforementioned focus, as well of the total 224kg in the weightlifting category. Even before she could drop the bar and weights, the emotions were already giving way with every visible tremble in her body, and the very second she knew for herself, Hidilyn Diaz broke down in tears.
Finally, a triumph not only for a country desperate for a win, but most importantly, a dream come true for one of the strongest women in the world, Hidilyn Diaz.
Related: HERE ARE ALL THE FILIPINO ATHLETES QUALIFIED FOR THE 2020 TOKYO OLYMPICS
More To The Win Than We Think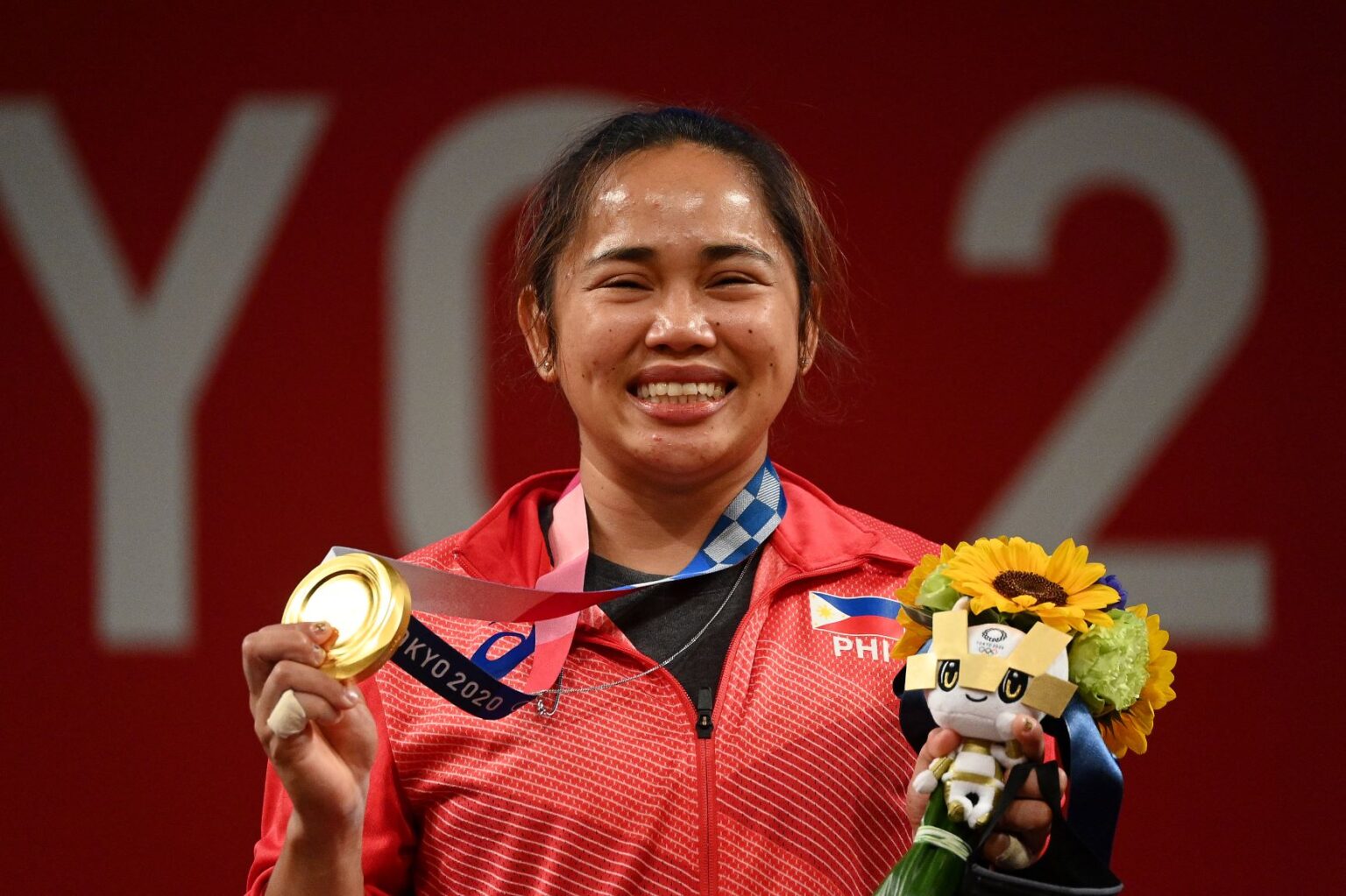 Right then and there, she lifted the spirits of a worn out and weary nation ailing from the unrelenting pandemic and the unceasing incompetency of the government who once red-tagged the athlete in an oust-Duterte matrix, a severely misinformed and misguided move that almost derailed her chances in the Olympics. However, despite all that heaved on her shoulders, the first words recorded from her literally seconds after the gold medal win was a very selfless, "Mabuhay ang Pilipinas, mabuhay!"
In the summer games, heroes are born on the daily, but from this seasoned assemblage, only a handful are immortalized into the league of legends. Following a journey that took four trips to the international sporting event, a pandemic, and being stuck in Malaysia for close to two years where they had spent time training non-stop, as well as of a herculean combination of sacrifice, isolation, and hardships, this is by no means an easy feat nor a stroke of luck for the Olympian. A realization of hard work bookended by passion and purpose, there is a whole lot more to the Tokyo Olympics 2020 win of Hidilyn Diaz. "Sa lahat ng pinagdaaanan ko, pine-prepare ako ni God to be strong today," she expressed in a post-game chat with Gretchen Ho. "Sa totoo lang, ang dami kong pinagdaanan. After winning the Olympics, ang hirap mag sustain…nagkaroon ng matrix, 'di ba?"
But despite it all, Hidilyn is simply grateful, lifting her victory to God, her team, and an entire country rallying behind her. "Hindi ako makapaniwala. Nasorpesa ako, kakaiba si God. Sa lahat ng prayer warriors ko sa Pilipinas, thank you so much. Sa Team HD at sa lahat ng sumuporta sa akin, thank you so much for believing in me. When the times na gusto ko nang sumuko dahil sa dami ng pagsubok na pinagdaanan, kaya natin, kaya nating mga Pilipino," she said. "'Wag tayong sumuko, kahit anong challenges and trials 'yan, manalangin tayo kay God, maga-guide siya sa atin."
Hidilyn Diaz At The Olympics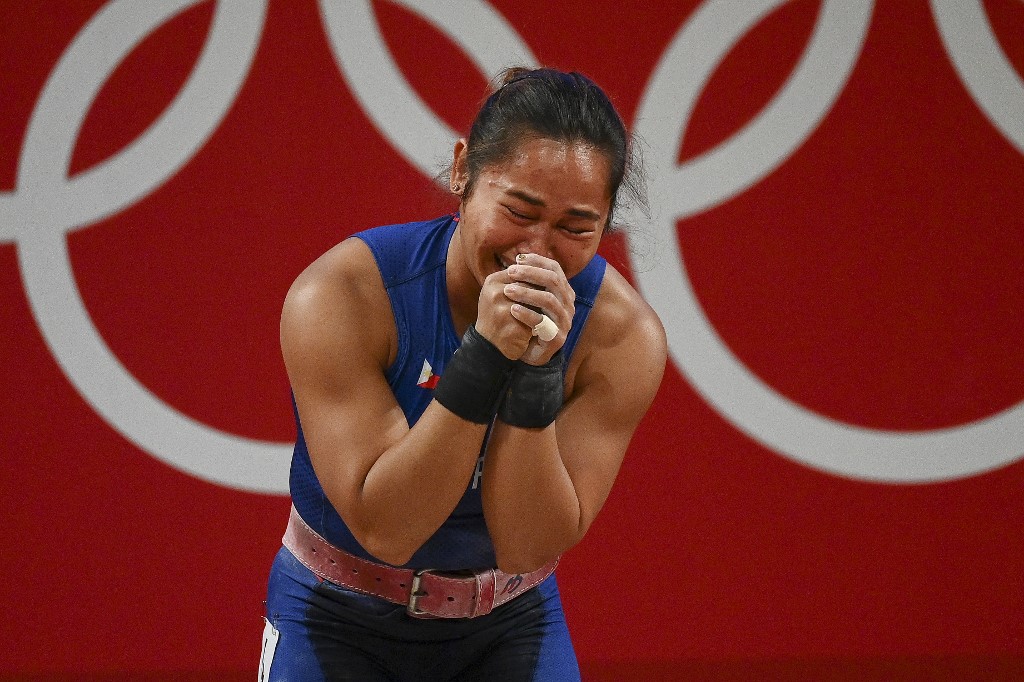 In the swell of her milestone of a victory, one that is celebrated all over the world, there is a lot of respect to be accorded the record-making and record-breaking athlete. From bringing the Philippines to a podium finish after a 20-year drought, earning the country its first ever gold medal in the Asian games, and now, obliterating a 97 year wait for the elusive gold at the Tokyo Olympics 2020, let it be known that Hidilyn Diaz, a woman, did that.
No longer eclipsed by the machismo and misogyny that continues to plague the country in so many ways, especially in sports, Hidilyn Diaz, along with female athletes, have proven that a woman can and a woman will. Armed with steely grit and a refreshing sense of grace in the strength-based sport, the professional athlete took the responsibility with ease and lifted it to a well-deserved victory that only got sweeter in exponential increments thereafter. And to think that the winning weight at the Tokyo Olympics 2020 was the first time Hidilyn Diaz successfully raised the bar to completion.
"Nata-try ko na siya sa training, pero hindi ko nagagawa. Every time na try ko 'yun, di ko nagagawa, nafru-frustrate ako, umiiyak ako. 'Di ko in-expect na mabuhat ko 'yun kahapon. Siguro si God 'yun and all the people who prayed kahapon…sobrang thankful ako sa lahat nagdasal and nag-novena," she shared to Dyan Castillejo in a press conference today. "Hindi po madali ang pagpapapanalo ko nito, ng gold medal. Naging madali kasi may mga taong behind me, the private sponsors, the government, and POC for you know, giving us the opportunity to be here in the Olympics. Hindi ko inakala na makapasok ang Team HD nandito sila and napakalaking bagay. Gusto kong sabihin sa lahat ng mga Pilipino, walang imposible. Alam ko marami tayong pinagdadaanan ngayon dahil sa pandemic, pero tingnan niyo, kahit nasa pandemic, nakaya natin, na-survive ko, nasurvive ng Team HD, na-survive ng Pilipinas, ng Philippine team."
And Rightfully So
Prior to the Tokyo Olympics 2020, rumors had it that Hidilyn Diaz was considering retiring from the sport completely. Pressure aside, it's no secret that her path to this conquest wasn't paved as many would want to believe. Stacked on top of the frustrating swirl of blood, sweat, and tears was a lack of financial support and a tepid consideration for the sport at best. Not one to give up easily, she persisted and prevailed despite the odds being against her. Little did she know that all this would lead up to a fulfillment of all that she has dreamed of ever since picking up the weighted bars.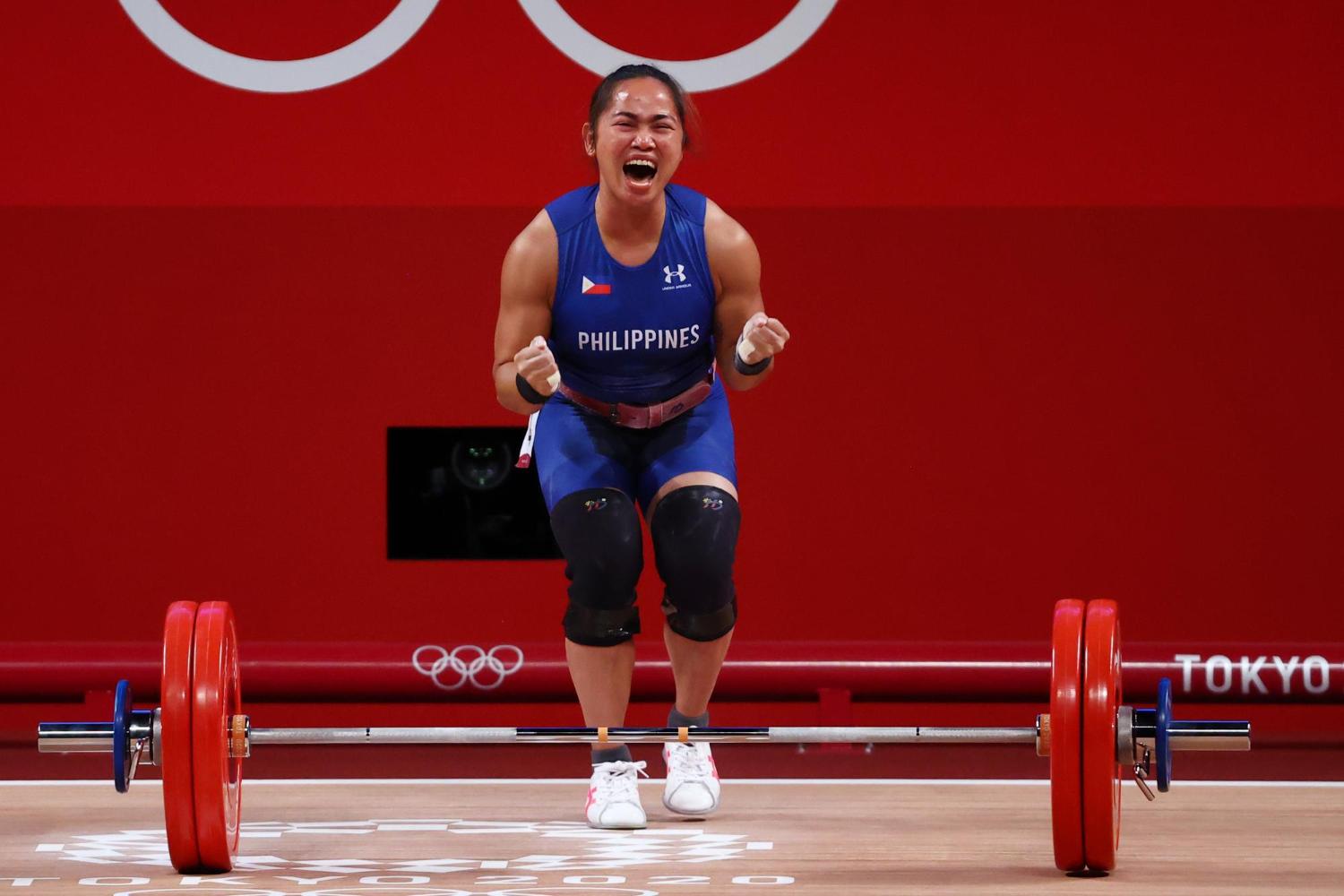 While the emotions and euphoria of this historic have yet to settle at the Tokyo Olympics 2020, the 35 million peso richer (an average as of last count) Hidilyn Diaz is already looking to focus on three things: a feast including cheesecake and bubble tea, the SEA Games, and a world championship. "Hindi ako magsa-stop kasi kaya ko pa. Nakita ko yung galing ko and alam ko may ibibigay pa ako sa Pilipinas, together with Team HD and POC," she asserted. "Hindi pwedeng after winning, susuko na ako. Alam niyo naman na I still need to continue to inspire the young generation to still dream. Ang standard ng sports baka bababa so kailangan tuloy-tuloy hanggang sa may susunod sa akin."
Jabbed by the Filipino sports media on the virtual call, she was asked, "How about Paris 2024?"
"Natatakot ako for Paris pero for tinitignan," she said, obviously overwhelmed. "Kung ang lakas po nandun, tuloy tuloy."
With a fair amount of time away, there is no doubt that if there is anyone who can pull this off, it is Hidilyn Diaz, the first Filipino gold medalist at the Olympics. This time, nothing is going to stop her, not even a callous bursting open or the weight of the country on her shoulders. A mere flinch and smile away, it looks like we'll be talking about this for a while, and rightfully so.
CONTINUE READING: 9 TIMES MARGIELYN DIDAL WAS A WHOLE MOOD AT THE 2020 TOKYO OLYMPICS