Can anyone please tell us why no one, not a single cosmetic brand ever came up with a Totally Spies collection yet? WE. NEED. ANSWERS.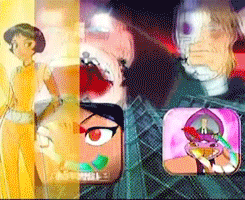 It's not just the boys that deserve the cool weapons. In the early 2000s, The Totally Spies were three high school besties Clover, Alex, and Sam who fought crime and worked as undercover spies all while dealing with their own issues as teenagers. They were the epitome of women empowerment alongside The Powerpuff Girls and Kim Possible. Oh, and they had the coolest gadgets, too.
For the longest time, only the male protagonists get to keep the arsenal of the coolest gizmos, but the girls of Totally Spies proved that they were woman enough to get the job done despite society saying otherwise. The gadgets were not only pink—they were powerful and often disguised as makeup. Take for example the unforgettable Compowder (a powder puff used as a communication device to contact Jerry), the Laser Lipstick (a mini light saber disguised as a lippie), and their Scanner Hairbrush (used to trace and scan DNA).
Out of the many make up gadgets that the Totally Spies have, we're still wondering how come no one's ever made an actual, legit line and not just toys for kids? While we wait, we've rounded up a few local beauty gadgets we saw that resemble what the girls have used to save the day. (Hello, spies need some skincare, too.)
RELATED: It's All About the Eyes: Here's The New Mask-On Beauty Look For 2021
HAIR-REMOVAL HANDSET
If hair removal and hot wax is something that terrifies you, this device is so much better than having to shave or pluck those strands one by one.
(Price: P3,599.00)
ICE GLOBE MASSAGERS
Move over jade rollers, there's a new HBIC. These ice globe massagers are best used when chilled (not frozen!) five minutes before massaging the skin. They help reduce puffiness, soothe facial nerves and muscles all while leaving a radiant glow.
(Price: P850-P999)
LED LIGHT MASK
Let's face it, getting facials aren't easy as it used to be. But getting an LED Light Mask isn't such a bad idea either, especially if you're conscious about your face being touched. The mask has seven different treatments and changes color whether it's blemish removal, to revitalize skin, treat acne scars or minimize pores.
(Price: P10,999.00)
FACIAL CONTOUR DEVICE
We know, those chewable facial devices they use to train the jaw are kinda scary. But the facial contour is not only non-invasive, it helps relax the facial muscles upon gliding to achieve a more defined shape and lift the under-eyes.
(Price: P1,550.00)
THE EYE FAIRY
Not only does the Eye Fairy lighten dark spots and circles, it helps regenerate the skin and uses red-light therapy that gets rid of those eyebags.
(Price: P2,299.00)
SONIC CLEANSING BRUSH
Don't forget to exfoliate! This is one of the most important steps in your routine. Facial cleansing brushes could do more harm than good when the bristles aren't as soft. The LED lights gently unclogs pores, removes dead skin cells, and has a built-in warm massage system.
(Price: P2,500.00)
ROSE QUARTZ EYE MASK
Admit it, you've always wanted to know how it feels like to supercharge your face with crystals. In the meantime, this pretty little thing makes our dreams come true. The rose quartz crystal eye mask regulates circulation on the skin and has the healing powers that balance your chakra, helping you get more sleep at night.
(Price: P4,200.00)
(Photos courtesy of Totally Spies Fandom)