It took two whole years, but I, and the rest of Batch 2020, finally got to experience that in-person graduation that the pandemic robbed from us.
Related: How This 22-Year-Old Fresh Graduate Achieved Her Dream Of Living In New York City
I have spent over 16 years of my life in Ateneo de Manila University. But looking back, when the pandemic cut short the last three months or so of my senior year in college, it was some of the deepest pain I felt as a student. I didn't necessarily miss the classes, I'm glad those are now gone. What I missed was that proper goodbye and send-off before beginning our careers in the "real world."
As the first batch to graduate during the pandemic, we got an online graduation with our medals and awards mailed to us. Obviously, it wasn't the end of the world for me, nor was this something to lose sleep over. But for the longest time, that in-person graduation was always one of my life's biggest what ifs. That what if though became a reality when I got an email from Ateneo earlier this year saying that they will be holding a make up in-person graduation for batches 2020 and 2021. And after experiencing the physical graduation rites last August 28, it was definitely a moment in my life that struck me in more ways than one.
BACK ON THE HILL
The last time I was on campus, it was when I was still a student and when most of us thought that COVID-19 was just a virus that wouldn't literally stop the world in its tracks. I thought I wouldn't recognize the school once I came back. But seconds in, all my school memories came flooding back. All the experiences, struggles, moments, food trips, library sleep sessions, and more during my time in Ateneo suddenly became fresh to me.
It was like a homecoming I never knew I needed. That reunion vibe was a big theme of the day, as minutes after setting foot in the venue, I saw my blockmate who I haven't seen in years since he moved to Germany during the pandemic. It truly was just like old times. "Two years later, we finally had a proper graduation," enthusiastically shared one of my friends. "Even though it's been a while, I feel like it's just been a month since school ended. It feels surprisingly fresh to me." That reality, of it not feeling that long, was something I felt, too. Really, it was the good 'ol times all over again.
It was really nice seeing my classmates and blockmates. When I got to reunite with them after so long as we lined up for the ceremony, it didn't feel like we were alumni who are part of the working class. To me, it felt like I was just with my friends with no time gone by. Most of them do not look so different from when I last saw them in person two years ago, which is a good thing.
It was interesting to learn though what they've been up to since college. I found out that most ended up getting jobs that I saw for them, while a few ended up taking on new opportunities given the new environment the pandemic caused. "We're finally back on the hill," said one of my blockmates. "Ateneo definitely taught me a lot, this is the place where I grew up and discovered who I was. It's nice to have it come full circle."
TWO YEARS IN THE MAKING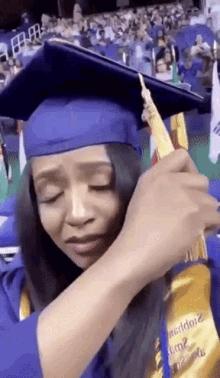 Soon, the ceremony began and we marched to the covered courts where IT would be held. Because of the unique situation we were in, we had the truncated graduation rites. For starters, not everyone from Batch 2020 was there for a variety of reasons. Gone too was the valedictorian speech and the commencement speaker. Instead, it was mostly just us walking on stage as they called our names as we bowed in front of our fellow graduates, faculty, staff, and guests. It was also hot in the covered courts. (Stay the same Ateneo.) Still, I didn't really mind all that. Someone joked that our graduation ceremony was just an alumni homecoming celebrating their second anniversary and TBH, they aren't wrong.
But to me, the event felt much more special than that. I didn't realize that I wanted that closure and a part of me even didn't want to go. But I pushed through, put on that toga, which I loved wearing, and did the thing—as did everyone else. And I loved it, making the experience more precious than I thought it would. While I was sweating through my toga, it didn't matter that much. I was actually sitting there, going through my graduation rites. How I felt during the ceremony was summed by my classmate who told me, "The last two years were full of transitions and adventures. But really, I don't feel that much has changed since I last saw you guys."
A FULL CIRLCE MOMENT
To me, the college graduation ceremony is a core part of any college journey. The fact that I got to go up on stage, do it, and flex those hard earned medals, it signaled to me that "Hey, you finally did it." If I never got to do my college graduation, I don't think I would have been the end of the world for me. But now that I actually did it, it was something I never knew I needed in my life.
Of course, this celebration is not just about me or my fellow graduates. It's also for the faculty and parents. The teachers tirelessly worked to make sure we got the right education and prepared us as much as they could for the real world. As for our parents, they hoped and prayed for the moment to see their children finish college and become adults. They endured, hoped, and even struggled alongside us all these years, pandemic included. There's a reason why the faculty, parents, and guests had a moment during the ceremony where they stood up to get recognized. A major part of this long journey also involved them too.
Before the ceremony started, I got to reunite with a former professor who I consider one of the best prof I had in Ateneo. It touched my heart knowing that she still remembered me. As for my parents, it put a smile to my face seeing them happy for my long-awaited graduation. The moment was a poignant reminder that I would not be where I am today if it weren't for these people.
I can't speak for all of my fellow batchmates, as well as those in Batch 2021 who had their in-person graduation after a year, but I felt that going through it unloaded a bit of a weight heaved on my shoulders for a while. Batch 2020 really went through the most. But those who have weathered through can say, we made it to the end and finally saw that graduation we thought might not come. As my blockmate perfectly punctuated, "Thank you for the closure, Ateneo."
Continue Reading: 9 Stars And Personalities Who Are Members Of The Graduating Class Of 2022