In short, there's nothing to worry about with Bang PD resigning as CEO. In fact, it might actually be a good thing and the start of a new, exciting chapter.
Related: How BTS Is Helping Me Cope With Grief And Post Concert Depression In 2021
If you consider yourself an ARMY or just a K-pop fan in general, you may know who Bang Si-hyuk is. Commonly referred to as Bang PD, he's the founder of Big Hit Entertainment and is most known for forming BTS and building their careers since Day 1. What was once seen as a small company with unknown artists turned into a global powerhouse. Today, BTS is one of the biggest artists in the world while Bang PD has risen to be a CEO of a multi-million dollar global company. He literally built an empire from the ground up that not only deals with music, but movies, TV shows, merchandise, video games, and more. You could say he's on top of the K-Pop world so it came as a shock to many when news broke that Bang PD was stepping down as CEO of HYBE. But while this may look concerning, it's anything but, especially when you see what his next endeavor is.
On July 1, HYBE announced that Bang PD was stepping down as CEO of the company. Replacing him as CEO will be Park Ji-won, the former CEO of video game publisher Nexon Korea and current HYBE HQ (Headquarters and Management) CEO. But Bang PD isn't leaving the company, far from it. He'll still remain as chairman of the board of directors of HYBE and a major stakeholder in the company (meaning he has a lot of money invested in the company), but will instead focus more of his time on music production.
BANG PD STARTED HIS CAREER AS A PRODUCER
First, don't worry. Bang PD is still in HYBE and any major company decision will go through him. It's just that now, he'll focus more on the music-making side of the company than the business side. It's important to note that Bang PD got his start in the industry as a composer. In the mid-1990s, he met JYP himself, Park Jin-young, and the two partnered to become a songwriting duo. When JYP Entertainment was founded, Bang PD joined the company as a producer, composer, and arranger. Some of the artists he worked with include g.o.d., Rain, Wonder Girls, 2AM, and Teen Top. Bang PD was so good at making songs that he received the nickname of Hitman because of all the hits he made. In 2005, he left JYPE and founded his own company, Big Hit, and the rest, as they say, is history.
BACK TO HIS PASSION
His resignation as CEO doesn't mean HYBE or Bang himself is struggling. In fact, it is far from it. He just reached a point in his life where he felt secure about his company and brand and felt that it was time to move on to the thing he was initially known for, being a producer. It's actually quite brave of him to do this since he stepped down from being the CEO of a global company to pursue his original passion and something that still matters to him. It shows that he still cares for the music-making side of things and is ready to work more closely with his artists.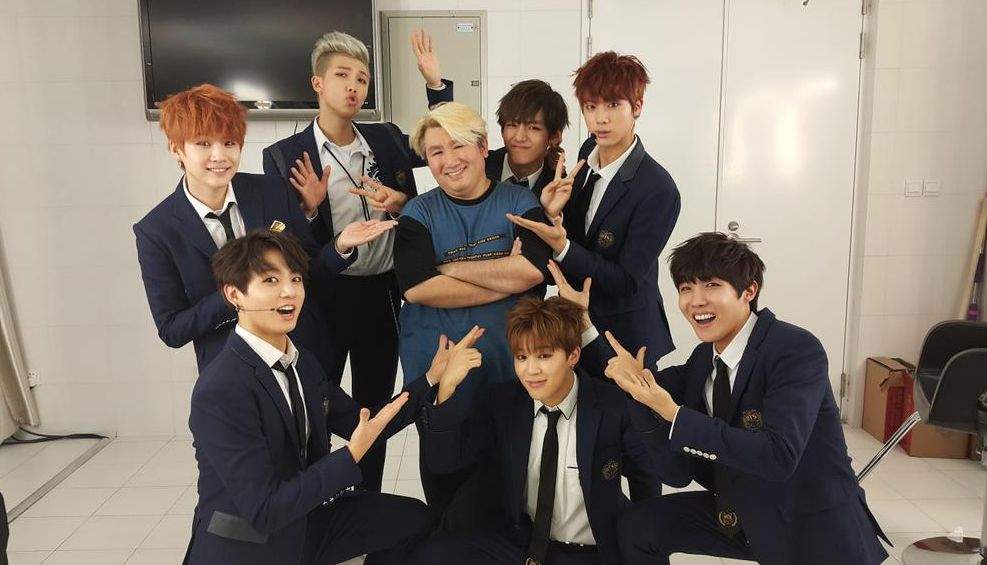 Now the fortunes of BTS aren't going to change as well. In fact, we may see even more BTS tracks written or produced by Bang PD. There may be more interactions between the boys and Bang in the recording studio or when they're making music. This might also mean that Bang PD will also work with other artists under Big Hit and the HYBE umbrella like TXT and SEVENTEEN. As someone who has had decades of experience making music, we're sure Bang PD has a lot more to share with both established and new artists. After all, the motto of Big Hit is "Music & Artists for Healing" while for HYBE is "We Believe In Music," so Bang PD wants to put those into action.
A NEW CHAPTER
I remember this particular meeting of BTS with Bang PD, "you should find a way to be happy. If you keep going like this, I worry that you might feel miserable. Music is what makes you happy, so you started all of this" pic.twitter.com/Arzqhu4myj

— ? (@mygbebe) July 1, 2021
While it is sad to see Bang PD step down, it's also understandable. Barring any unforeseen circumstances, HYBE will continue to thrive and Bang PD can now focus his time on his passion. Like BTS, Bang PD loves music and is willing to make the big decisions to focus on that love. It's not all about fame, money, or power. Bang PD started all this because of his passion for music. He and BTS built an empire and now he wants to focus on what he loves. So at the end of the day, this isn't the end of Bang PD. As a matter of fact, it may be the start of a new exciting chapter for him, BTS, and HYBE as a whole. In any case, we wish Bang PD luck on his next ventures and we're looking forward to hearing new hit music made by him soon.
Continue Reading: The Big Problem Of Calling BTS Biot