AC Soriano spills the tea on his viral Rusicals, the "your daughter" remix, and impersonating from a place of love.
Related: Hannah Balanay Turned Her Love Of Dancing Into A 17 Million Strong Following On TikTok
Over the past week, you may have come across the phrase, "Papunta pa lang tayo sa exciting part" on social media. That line, as distinctly and deliciously uttered in The Broken Marriage Vow by Jodi Sta. Maria's Dr. Jill Illustre, comes from one of the most pivotal scenes from the show. But it's virality, especially on Twitter and TikTok, doesn't come from the scene alone. Instead, you have content creator, YouTuber, host, and social media personality AC Soriano to thank for that.
To the delight of over 12,000 viewers that included Jodi Sta. Maria herself, AC Soriano staged his one-man Jodi Sta. Maria: The Unauthorized Rusical over Easter Sunday. And with the help of an addicting remix that has since gone viral, a pop culture cornerstone was made. But for those who have only started following AC now, know that there is so much more to the content creator than just memes and bob cut wigs. His impressions, parodies, memes, and edits have transcended not just to a wider audience on social media, but even real life. Underneath it all is hard work, effort, and impressions with a purpose.
HONED FOR THE STAGE
Having the ability to entertain people isn't natural for many people. You need to have a real talent for it and for AC Soriano, he could probably thank TV for that. "When I was a growing baby beks and had a lot of time, I would lock myself in my room, watch PBB, tapos tumatayo ako sa harap ng TV and would replicate the hosts of the show, how they throw their spiels," AC says in an interview with NYLON Manila.
It was because this that he wanted to become a host, something that he has been putting to good use these past weeks. He also credits the fact that he is a Digital Filmmaking graduate from College of St. Benilde for helping hone his acting skills. "I had the time to nourish it in a way that I wanted to [and] learn how to act to relay the direction to my actors. My comedy naman I think, kasi sobrang in touch ako with my reality, lalo na the ones that are unspeakable, kaya siguro nakakatawa."
SABAY SABAY!
For anyone who has been following AC Soriano for a while knows that his recent viral character impressions aren't his first claim to fame. Prior to that, he also was a YouTuber, content creator, and co-host of a popular podcast with Yani Villarosa called Gabi ng Bading. (As for when new episodes are coming, "secret" is all he had to say.) Even before, he already did a slew of character impressions. But these past few months, his character impressions of Toni Gonzaga and Jodi Sta. Maria really resonated with netizens, both for practical and political reasons.
His Toni impression, fondly called Otin G, took a life of its own from a viral video of Toni giving a performance at a political rally that gave more aluminum foil and less titanium. AC's parody quickly caught fire and became a signature of AC's repertoire, as well as the subject of his first Rusical. He has even deployed the character on numerous political rallies and sorties. "The camp-ness of all of it," expresses AC on why his recent impressions have resonated with fans. "Both were born because I adore both people, even Toni, which is why I know them so much that I can make them funny even if they are not. I think of every single IG live as a Snatch Game performance. Nagkakaiba of course sa fact na Jodi's Rusical was created to celebrate, and of course, Otin G's Rusical was created to express my political stand in a satirical way."
Sending you all my love..?✌️ pic.twitter.com/Ql17eAFo9P

— AC (@ItsACsLife) April 1, 2022
does it ever drive you crazy just how fast the night changes pic.twitter.com/E8RfmwfvbQ

— AC (@ItsACsLife) April 22, 2022
He goes on to add, "Naniniwala kasi ako sa kapangyarihan ng comedy bilang isang genre, kung saan maaari mong buksan ang puso ng isang tao sa kanilang pagtawa sa iyo, saka mo sila bibigyan ng mga bagay na gusto mong ma-realize nila pagkatapos. I may not be as serious on the performances, but I treat it as my artwork." While some may see these parodies as insults, it actually comes from a place of love. Both serve their own purposes, but you can't give a good Toni Gonzaga or Jodi Sta. Maria impression if you don't understand them.
CATEGORY IS: 1000 NIGHTS OF JODI STA. MARIA
AC has been impersonating the acclaimed actress for a couple of months prior to the Rusical, but things went into overdrive when during an IG Live, in character as Dr. Jill Illustre, he "threatened" to kidnap Gio, Dr. Illustre's son, if Jodi didn't watch his upcoming Rusical about the actress. She caught wind of it and a few DMs later, Jodi was asking AC where she could watch the show. And just like that, Jodi Sta Maria: The Unauthorized Rusical was having the ultimate VIP viewer. But first of all, why a Rusical, one of the signature challenges from RuPaul's Drag Race? "As an avid viewer, I wondered if I can do the same, because at the same time, it is a good way to celebrate my favorite actresses' iconic eras."
A self-described Jodi Sta. Maria stan since 2012, AC planned the Rusical as if he was a Pinoy teleserye viewer. "Which Jodi characters resonated to them, kung sino ang may pinaka-malalang recall. I could have started with Tabing Ilog, but I chose to start it with Maya, the nanny that touched the hearts of moany. Next was Amor Powers, because everyone knows her. Jodi had more roles after Pangako Sa'yo, but I wanted to follow Amor with Marissa Pineda, Jodi's character from Ang Sa Iyo Ay Akin, one of the saviors of ABS-CBN's pandemic era, since I wanted to show that even though Amor and Marissa has similarities, may pagkakaiba pa rin talaga, and that is how versatile Jodi is. And of course, I had to end it with the iconic Doc Jill."
JODI STA. MARIA: THE UNATHORIZED RUSICAL
When we describe his Jodi Sta. Maria Rusical as a one-man show, that's because it is. From planning, props, audio, graphics, character prep, and the show itself, it was all AC. "A Rusical for me kasi is a culmination of the character I created in my head, so I am also coming from a journey. It was all me! The music, the direction, the acting, the character study–I take pride on saying that that was all me."
AC's planning process for the Rusical went as followed "I work on the character study first, kung ano yung nuances nila, pagkakaiba nila sa isa't-isa. And then I go on to picking which song to use for that "era", because by then I already know the character, which song ang babagay sa kanila. Third, how do I make it camp? How do I make it funny? Which part do I have to inject a joke? This part naman, hanggang sa live na nangyayari because I like the rawness of the jokes. I never want to lay down every single thing naman, because that would look so polished, so magiging boring. Haha! Lastly, I build the looks.". And speaking of the looks, if you've ever been curious, he gets his outfits from "god's gift to hipsters– ukay" and his wigs from marketplace.
Yaya Maya look pic.twitter.com/02P6nP7BKI

— ? (@marssilog) April 17, 2022
Amor powers look pic.twitter.com/U0TsKOZk3J

— ? (@marssilog) April 17, 2022
"your daughter is sleeping with my husband" look pic.twitter.com/x7wNZCvk7y

— ? (@marssilog) April 17, 2022
add ko nalang to HAHAHAHA I love you AC pic.twitter.com/K4zS08dllS

— ? (@marssilog) April 17, 2022
YOUR DAUGHTER *HEAD BOPS* IS SLEEPING WITH MY HUSBAND
Among all that happened during the Rusical though, what really stood out to many was AC's now viral remix of the "your daughter" line with Benny Benassi's Satisfaction. The line, which was said during the iconic dinner scene where Jill reveals to Lexy's parents that her and David slept with each other and had her baby aborted in the US, was already seen as an iconic moment in modern Pinoy teleseryes. It was a climactic scene in past adaptions of the show and the Pinoy version did not disappoint. But the 27-year-old brought it to another level. He knew that it was going to be a highlight from the show. But he didn't realize how viral it would become.
The remix spread across social media and spawned numerous memes and edits, including one where Jodi's face is edited onto AC's body. "Papunta palang tayo sa exciting part" became the phrase of the week. Even Jodi herself tried her hand at doing the remix. It has even gone a bit international. You would be forgiven if you didn't know that less than a minute after the remix, AC then went on to perform BLACKPINK's Kill This Love in character as Dr. Jill. "I just thought of remixing the line with a beat na pwedeng sayawan. Gusto ko kasi ng surprises, because The Broken Marriage Vow is heavy drama, how can I make it funny? I can do my thing naman, like replicating Jodi's emotions, pero how can I make it camp? Something that Doc Jill won't do, but my Doc Jill would? Thus, the remix was born."
Papunta palang tayo sa exciting part ??????

— Jodi Sta.Maria (@JodiStaMaria) April 23, 2022
Despite all the planning, the show wasn't without its hitches. AC had to restart the live many times and he admitted that he felt nervous during the show. But seeing how viewers and Jodi herself, who stayed up past her bedtime and actively commented during the show, reacted to it made it all worth it for him. "I wasn't able to sleep properly for two nights. Even the night after the Rusical, I was just checking my phone, because I was curious kung ano ang initial reaction ng mga tao. Nakakatuwa, to be honest! Pero pinaka-rewarding talaga was Ms. Jodi's reactions."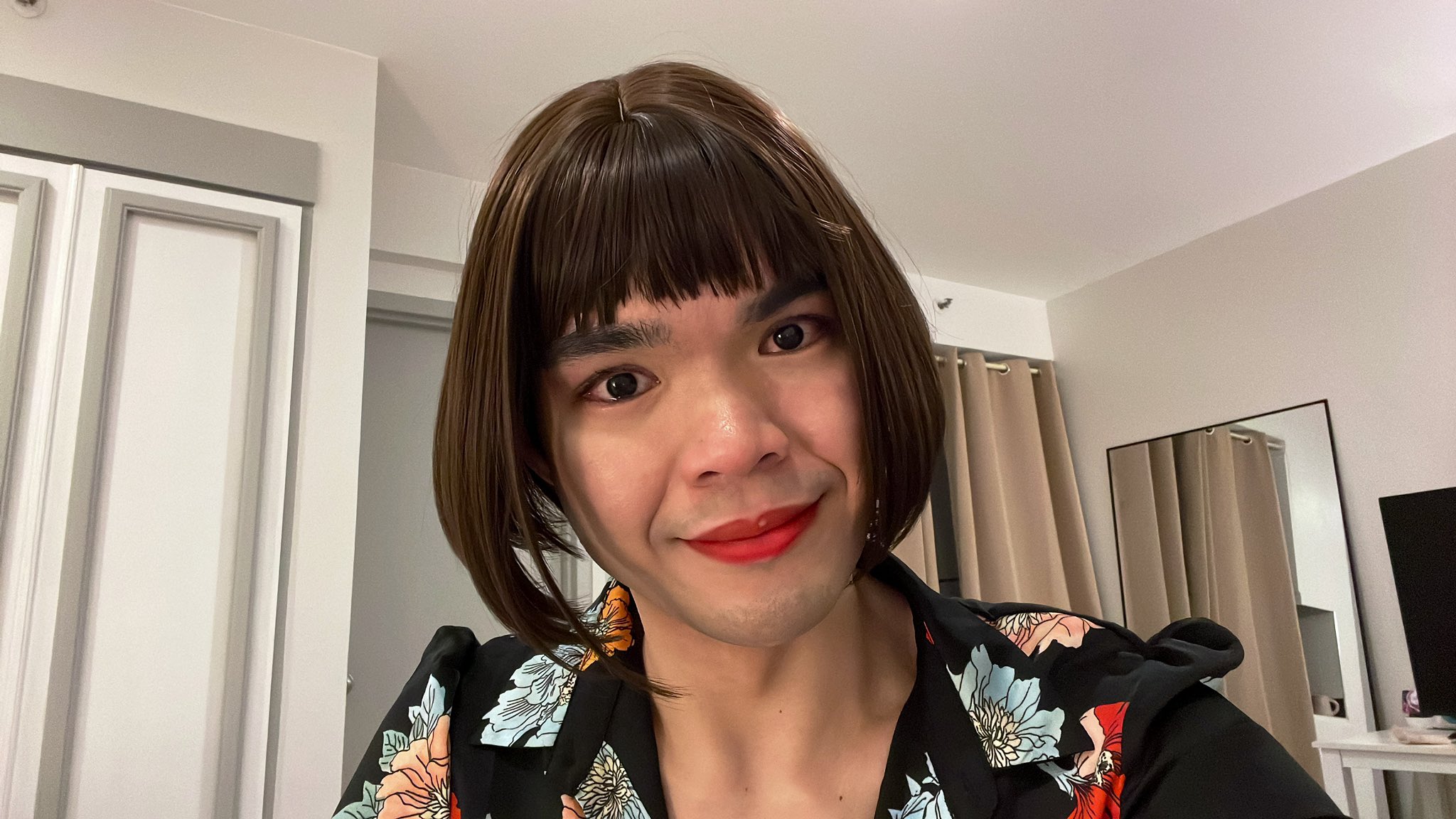 It's safe to say then that AC Soriano and Jodi Sta. Maria are currently in their besties era with how warmly she has talked about AC in interviews and even complimenting his looks. For the content creator, it's a humbling experience. "I love her more than ever! I feel like I'm a surrogate already. Earlier today, she messaged me, still congratulating me about the Rusical."
MEME KING AC SORIANO
Thanks to the success of his recent impressions, AC has received a renewed push in the spotlight with more fans, followers, and attention. His impressions have even jumped into the real world, whether it's AC himself as Otin G in rallies or his memes serving as placards for rally goers. He even has a new nickname, "The Ultimate Multidogshow Superstar," something that AC takes pride in, despite what the name may suggest. "Since my new moniker is 'The Ultimate Multidogshow Superstar,' I taught myself not to be so sensitive. I was before! But since I'm 'dogshow-ing' din, dapat lang din naman na hindi ako mapikon. I've also discovered that that is how they show their love.".
ANG GAGALING NIYONG MAGEDIT PLS ??? @ItsACsLife pic.twitter.com/LIuUMR1nLV

— stacy ? (@thestacyyy) April 21, 2022
That unique way of showing love can also be seen in the Facebook group AC's Multiverse Of Madness. Originally created by AC as his way for him to communicate with his fans, the group has quickly morphed into a primary source for hilarious AC memes, edits, and even photocards. Most of the memes often compare AC to someone else, usually to his comical detriment.
the only bp ph remake that i'll accept HAHAHAHAHAHA pic.twitter.com/LWKKq4V2qU

— rio? (@ashinynight) April 14, 2022
The private FB group has since gotten a public spin-off called Elementary School were the dog show of AC continues. But he doesn't mind the memes. "I just wanted to create a group to communicate with people and know their reactions sa mga ginagawa ko, hanggang sa naging ganon na sya. Hahaha! Nasanay nalang ako.". In fact, he has a favorite, this one. "Many had them printed on tarps and brought them to the Pasay rally."
PAPUNTA PALANG TAYO SA EXCITING PART
So, what's next for AC Soriano? Aside from using his character impressions and wit to entertain people and bring about positive change, he is already eyeing his next Rusical. So far, it's a split between three showbiz icons and his idols, Angel Locsin, Vice Ganda, and Marian Rivera. Whichever he decides, he's probably gonna kill it though we would pay to see AC's take on Darna.
As for the secret to a good character impression, AC says that it all has to come from a place of love. "You should come from the place of adoration first and foremost. Maski sa Toni G. ko, I came from a place of love, kaya kilalang-kilala ko sya. Pangalawa ay alamin mo kung ano 'yung pwedeng i-exaggerate dahil pwedeng nakakatawa ang reality na ito. Pangatlo, let loose and put a bit of yourself in it sa mata ng isang fan." With a lot more to look forward to, Doc Jill was right, papunta pa lang tayo sa exciting na part.
Continue Reading: Esnyr Ranollo's TikTok Videos Are Here To Remind You Of The Happy Times Going To School