How are the gutsy likes of Bretman Rock, Harry Styles, and Olivia Rodrigo separating themselves from the pack? Well, by digging through the fashion archives of the greatest, of course. First up, the Y2K files.
"Are you wearing the Ch—" mutters Emily in disbelief, her jaw hanging mid-word the moment she manages to give Andy Sachs, fresh from her Cinderella-esque makeover. Without missing a beat, she replies, "the Chanel boots? Yeah, I am," stunning the strictly fashion girls to a shame of silence. Being the memorable scene that it was in the seminal classic, The Devil Wears Prada, it has since spawned, among many things, a casual name-dropping of big-name fashion brands, putting to memory many quotable quotes as deliciously delivered by Meryl Streep, Stanley Tucci, and Emily Blunt, and finally, modern-day imprints of humor in the form of memes.
Permeating the consciousness of generations years after, there is no day that passes without at least once seeing a version of this now iconic encounter in film, functioning as commentaries that run the range of social and style, as well as even going as far as the personal and political. Fifteen years later, here we are, still paying homage to this film by reciting lines, recreating scenes, and rationing snippets of, including that chilling head-to-toe by Miss Miranda Priestley herself. Most recently, its profound impact, at least in the fashion sense, has been realized in the memefication of style statements being turned out by young stars on everything from the red carpet, magazine covers, and even an appearance at the White House.
What is the particular connection you ask? Well, in the scope of sustainability and uniqueness, particular interests of the youth, the digital historians have taken to both The Devil Wears Prada and memes to celebrate the resurgence of vintage, particularly the digging through the archives of canonical names in fashion.
From The Fashion Archives
More than just a sartorial throwback, this retroactive appreciation for fashion is both entertaining and educational for the onlooker. Whether one is obsessed or cavalier about fashion, as well as of its heritage and history, it becomes more than just the style. Skewing the superficial, what one wears becomes a conversation, a story, and a true extension of one's spirit as realized in fabric, silhouette, and embellishments that have stood the tempestuous test of time.
While the love for vintage isn't anything new in fashion, the pandemic has finessed the concept of designer archives, bringing it to the more mainstream with dedicated image architects making sure that the look, as it is the currency of stars across mediums, is one-of-a-kind. Sure, fresh off the runway or custom is always a fashion flex, but to be able to be accorded access to the all-too precious and protected archives of designers, that is something else. Not only does guarantee a statement-making turn on the red carpet, television or social media, but it will also elevate the personality to the higher rungs of the snooty and exclusive-obsessed, because clearly, they know their stuff.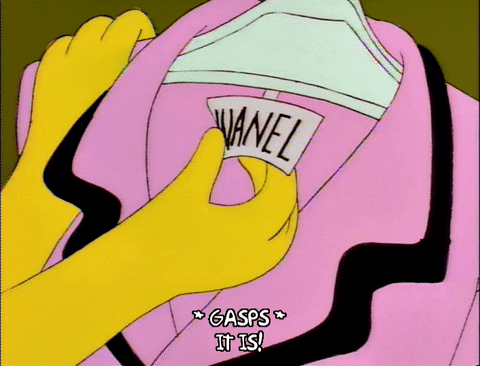 And especially in the landscape that is fixated with the new, the now, and the next, going against the grain will guarantee you at least a double take, a thumb-stop, and a moment. "Living in an era where social media has monetized every outfit, celebrities are turning to vintage as a way to individualize their style," rationalizes Alice Hebrard Lemaire, Vestiaire Collective's Head of Vintage to Fashionista. "When you wear vintage, chances are that no one is stealing your look."
The Business Of Vintage
Not everyone can lay claim to being able to sort through the archives of designers and brands, especially when they are left mostly to be filed in the hallowed halls of their houses for posterity. It isn't a mere swathing in the fineries with stories to tell, because not only does one have to be relevant enough, it incurs a certain sense of respect and responsibility to be able to carry these historical threads.
Wearable works of art and history aside, being able to score something from a designer's archives means a certain level or fashion acumen, as well as of an awareness of the impact it has on sustainability especially. As conscious of a choice as fashion already is in our day-to-day, the resurgence of archive and vintage fashion means really living out what it means to be mindful in this day and age.
"I think that celebrities have had an incredibly positive impact on the popularity of pre-owned/archive pieces," says Celenie Seidel, Senior Womenswear Editor to the Fashionista. "Their influence has significant power in swaying consumer trends, and the popularity of vintage items [particularly bags] among celebrities has undeniably inspired many consumers to take an interest in 'pre-owned' as a new way to shop."  While celebrities get the more concentrated end of the deal, the movement swings to the consumer level by an increase of interest in secondhand, re-issue, and pre-loved, which definitely adds more wind to the  resuscitation of archive fashion.
Y2K Supremacy
Since the turn of new millennium, there has been a steady increase of the archive fashion culture, with the likes of Julia Roberts in Valentino, Cardi B in Mugler, Kim Kardashian in Alaia, Bella Hadid in Jean Paul Gaultier, and of course, Zendaya in Versace showing a lot of love for the pre-loved. But over the course of the pandemic, which has driven the world to be more focused on their practices of consumption, young stars such as Olivia Rodrigo, Bella Poarch, Bretman Rock, Ariana Grande, and Harry Styles have not only been major forces in the resurgence of vintage style, but when and where it matters, taking to the archives for their big fashion moments. They take their vintage seriously, okay.
While there certainly will be no end with the way society will obsess about the future, the renewed affection for what already exists, especially by the greats, turns the tradition of impression on its head. Now, there is really nothing wrong with wearing something borrowed and something old. And if the whispers amount to anything, we hear that everyone is scrambling for their chance to score a fashion archive. You see, we love anything shiny and new, but when it comes down to it, one can never bring a good classic down.
So, yes, Emily, they are wearing Chanel…and Gaultier, Versace, and Tom Ford's Gucci. Time to pick up that jaw and rescind the scoff, because Serena said it right, they look good. What? They do.
More than just an ode to the Y2K, these young stars are showing a lot of love for the pre-loved with their stunning style statements in archive fashion:
Ariana Grande in Versace S/S 2003
Bella Poarch in Gucci by Tom Ford S/S 2001
Bretman Rock in Roberto Cavalli F/W 2000
Harry Styles in Jean Paul Gaultier F/W 2002 and John Galliano S/2 2004
Olivia Rodrigo in Versace S/S 2001
CONTINUE READING: THESE REWORKED AND REISSUED DESIGNER PIECES PROVE THAT VINTAGE IS THE FUTURE