From a colorful musical about a teenage drag queen to a nostalgic workplace comedy series about a video rental store, this weekend watchlist will save you this weekend.
Related: Weekend Watchlist: 10 Movies And Shows For Your Spooky Weekend
It's the first weekend of the month. You did it. Another week's worth of stress to forget and a time for rest to look forward to. Also, we can already feel the cold breeze. Jose Mari Chan is waving around the corner and we can't help but be enamored by his infectious smile that signals the nearing holiday season. It's about time.
But in the meantime, while you can spend your weekend in art through these soul-nourishing exhibits, you can also recharge at home with your favorite streaming platform and laugh, cry, and get kilig through the entertainment it gives. This week sees the release of new movies and shows that will give just the right escape for you. Here are some of them.
MY POLICEMAN
First off, how about some nostalgic romance and perhaps a bit of heartache? Based on a British book of the same name, My Policeman follows a tale of forbidden romance between a policeman Tom Burgess (Harry Styles/Linus Roache) and museum curator Patrick Hazelwood (David Dawson/Rupert Everett). Forty years later, with Tom married to schoolteacher Marion Taylor (Emma Corrin/Gina McKee), their seismic secret once again comes to the fore, threatening their relationships. My Policeman premiered in Toronto International Film Festival this year where the ensemble cast garnered a collective acting award. See it now on Amazon Prime.
SEE HOW THEY RUN
Expect a light and engaging watch with this charmingly gorgeous whodunnit. Set in 1950s London, See How They Run follows the drunk and weary Inspector Stoppard (Oscar winner Sam Rockwell) and the energetic rookie Constable Stalker (Oscar nominee Saoirse Ronan) as they solve a homicide case that has happened inside a theater where a popular whodunnit play is being shown. Prepare to be puzzled with this detective story that features a strong cast including Academy Award winner Adrien Brody as the ill-fated victim, Harris Dickinson, Ruth Wilson, David Oyelowo, and Shirley Henderson as the queen of whodunits herself, Agatha Christie. It's streaming on HBO and Amazon.
ON THE JOB: THE MISSING 8
Erik Matti's sequel to his critically-acclaimed and award-winning On The Job, On The Job: The Missing 8 is a crime procedural story that follows a corrupt journalist Sisoy Salas (John Arcilla) who seeks justice for the disappearance of his colleagues, and Roman Rubio (Dennis Trillo), a convict who is regularly brought out of prison as a hired assassin. Their world gets violently upended as Sisoy becomes Roman's next target.
The film first premiered in Venice Film Festival last year where Arcilla bagged the historic best actor award. It's also playing on HBO Go where the two movies are reedited as a six-episode miniseries. Boasting a star-studded cast that includes Joey Marquez, Christopher de Leon, Dante Rivero, Leo Martinez, and Lotlot De Leon among others, On The Job: The Missing 8, which is the Philippines' entry to the Oscars' Best International Feature Film category, will also have a limited run in select cinemas this weekend. Don't miss it!
BLOCKBUSTER
Released on November 3, this Netflix original series is a workplace comedy that will take you back to when renting DVDs reigns supreme. Created by Brooklyn Nine-Nine writer Vanessa Ramos, Blockbuster follows Timmy Yoon (Randall Park), a passionate and hardworking manager of the last remaining Blockbuster, who will stop at nothing to keep his video store open. Also starring Melissa Fumero (Brooklyn Nine-Nine), Olga Merediz (In The Heights), Tyler Alvarez (Never Have I Ever), and Madeleine Arthur (To All The Boys I've Loved Before), Blockbuster overflows with nostalgia and irreverent wit that you can't resist.
CAUSEWAY
Witness Oscar winner Jennifer Lawrence's comeback in the psychological drama, Causeway. J-Law plays Linsey, a military engineer who struggles to adjust in her hometown in New Orleans following a traumatic brain injury. While struggling with post-traumatic stress disorder and waiting for redeployment, she meets and forges an unexpected bond with the good-natured mechanic James (Brian Tyree Henry) who, like her, is also struggling with a traumatic past. Causeway premiered in Toronto Film Festival to critical acclaim, much of it are praises for Lawrence and Henry's heartrending performances. If you need to release some pent-up emotions this weekend, Causeway is the way to go. It streams on Apple TV+.
CRIMES OF THE FUTURE
If you're feeling freaky this weekend then indulge yourself with some science-fiction body horror goodness from the king of body horror himself, David Cronenberg. At some unspecified period in the future, biotechnological advancements have made human bodies adaptive to the synthetic environment and develop new organs and bodily mutations. Crimes of the Future centers on Saul Tenser (Oscar nominee Viggo Mortensen) who, together with his partner-lover Caprice (Léa Seydoux), publicly showcases the metamorphosis of his organs in avant-garde performances.
Investigator Timlin (Oscar nominee Kristen Stewart) obsessively probes the duo's movements only to reveal the next phase of human evolution. In Crimes of the Future, surgery is the new sex. The storyline might be too eccentric for some, but it gives a uniquely palpable human experience unlike anything before. It's now showing on Hulu and is also part of this year's QCinema lineup.
EVERYBODY'S TALKING ABOUT JAMIE
"Out of the darkness, into the spotlight. There is a new star shining so bright." If you haven't watched this vibrant and vivacious musical coming-of-age film yet then now is the time. The talk of the town is Jamie (Max Harwood), a 16-year-old English schoolboy who defies prejudice and bullying to step out of the darkness and reach his dream of being a drag queen.
Directed by Jonathan Butterell, Everybody's Talking About Jamie is based on a highly successful stage musical of the same name and is inspired by the British television documentary Jamie: Drag Queen at 16. With a lineup of songs that are a total bop and a storyline that tickles and tugs at your heartstrings, you'll ultimately fall in love with this fabulous dramedy. It now streams on Amazon Prime. You're welcome.
ERO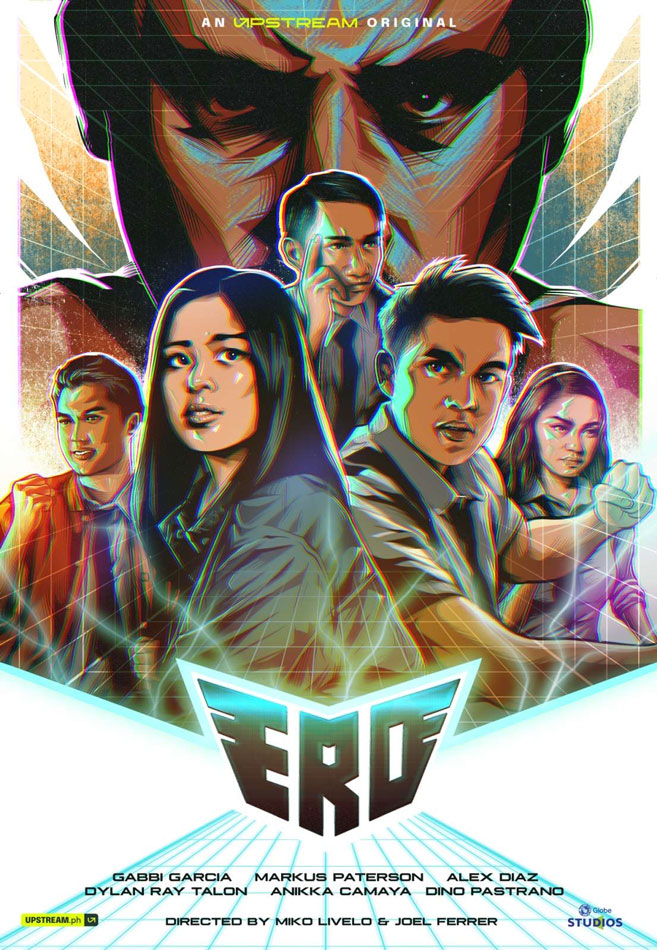 A band of high school misfits discovers their "useless" powers and becomes unlikely heroes in ANIMA's digital series, Ero. Created by Joel Ferrer and Miko Livelo, Ero follows Malaya (Gabbi Garcia), Asher (Alex Diaz), Titan (Markus Paterson), Hazel (Anikka Camaya), and BBoy (Dylan Talon) as they undergo training at Myna Egret High School, an exclusive institution for superpowered youth. Together, they'll figure out how to use their distinct super abilities for the greater good. Watch them become the heroes of their own story as Ero streams on ANIMA's YouTube channel.
AMSTERDAM
A comedy and thriller in one, David O. Russel's Amsterdam is based on the Business Plot, a 1933 political conspiracy in the US, where three friends—a doctor, a nurse, and an attorney—figure in a murder of a retired US general. With a story that's considered as one of the most outrageous conspiracies in North American history, Amsterdam abounds with mayhem and madness that will energize your weekend. It stars Oscar winner Christian Bale as doctor and war veteran Burt Berendsen, Oscar nominee Margot Robbie as nurse Valerie Voze, and John David Washington as lawyer Harold Woodsman. Oh, and also look out for that meme-worthy scene with none other than Taylor Swift. Amsterdam is now showing in local cinemas.
THIS IS GOING TO HURT
For sure a lot of Filipinos can relate to this British medical comedy-drama series about the depressing reality experienced by medical professionals who work in an under supported, but overworked obstetrics and gynecology ward at a public hospital. Created by Adam Kay and based on his memoir of the same name, This Is Going To Hurt follows the eternally stressed doctor Adam (fantastic Ben Whishaw) who struggles to become a good doctor and superior to junior doctor Shruti (revelatory Ambika Mod) in a system that feels perpetually against them. Be warned, because as the show's title rightfully foreshadows, it is really going to hurt. Don't miss this hilarious and heartbreaking miniseries as it streams on Amazon Prime.
Continue Reading: Weekend Watchlist: 13 Binge-Worthy Shows For Your Weekend