Neon, Valorant's first ever playable Filipino agent, is set to electrify the battlefield with her electricity-based powers and abilities.
Related: 9 Filipino-Made Video Games That Are Worth The Download
If you're into the gaming scene, then you know that one of the hottest games that you can play is Valorant. Riot Games, the creators of League Of Legends, scored another hit on their hands with their first person hero multiplayer shooter. It's been a popular game ever since it was released in 2020 and has proven to be a go-to for many around the world, including players in the Philippines. Valorant has a sizable fanbase in the country and that was proven, among other things, by how it was the eight most googled video game in the Philippines in 2021. And the local Valorant community has another reason to get excited as a new agent is set to hit the roster and the best part is that she's Pinoy.
MEET NEON
On January 6, 2022, Riot Games officially dropped the cinematic trailer introducing Neon, Valorant's first-ever playable Filipina agent. The new agent has blue hair with yellow streaks and wears a predominantly blue bodysuit with purple accents. The trailer shows Neon entering her room as she is settling into Valorant Protocol. While she is setting up her room, the trailer is spliced with short clips of gameplay showing off her electricity based abilities.
The entire trailer is soundtracked to Ylona Garcia's newest single, Entertain Me. Ylona revealed that she partnered with Valorant to release the song and Neon even hangs a poster of Ylona in her bedroom. The synth-pop anthem about female empowerment is meant to complement Neon and her personality.
PINOY ROOTS
The cinematic trailer includes many references to Neon's Filipino roots. Aside from the fact that she speaks Tagalog in the trailer, Neon decorates her room with a notable tropical vibe. There is also a picture of her on the beach with a bangka and an aspin. She also hangs a framed Gilas jersey with the number 5, a number worn by notable players such as LA Tenorio, Gabe Norwood, and Isaac Go.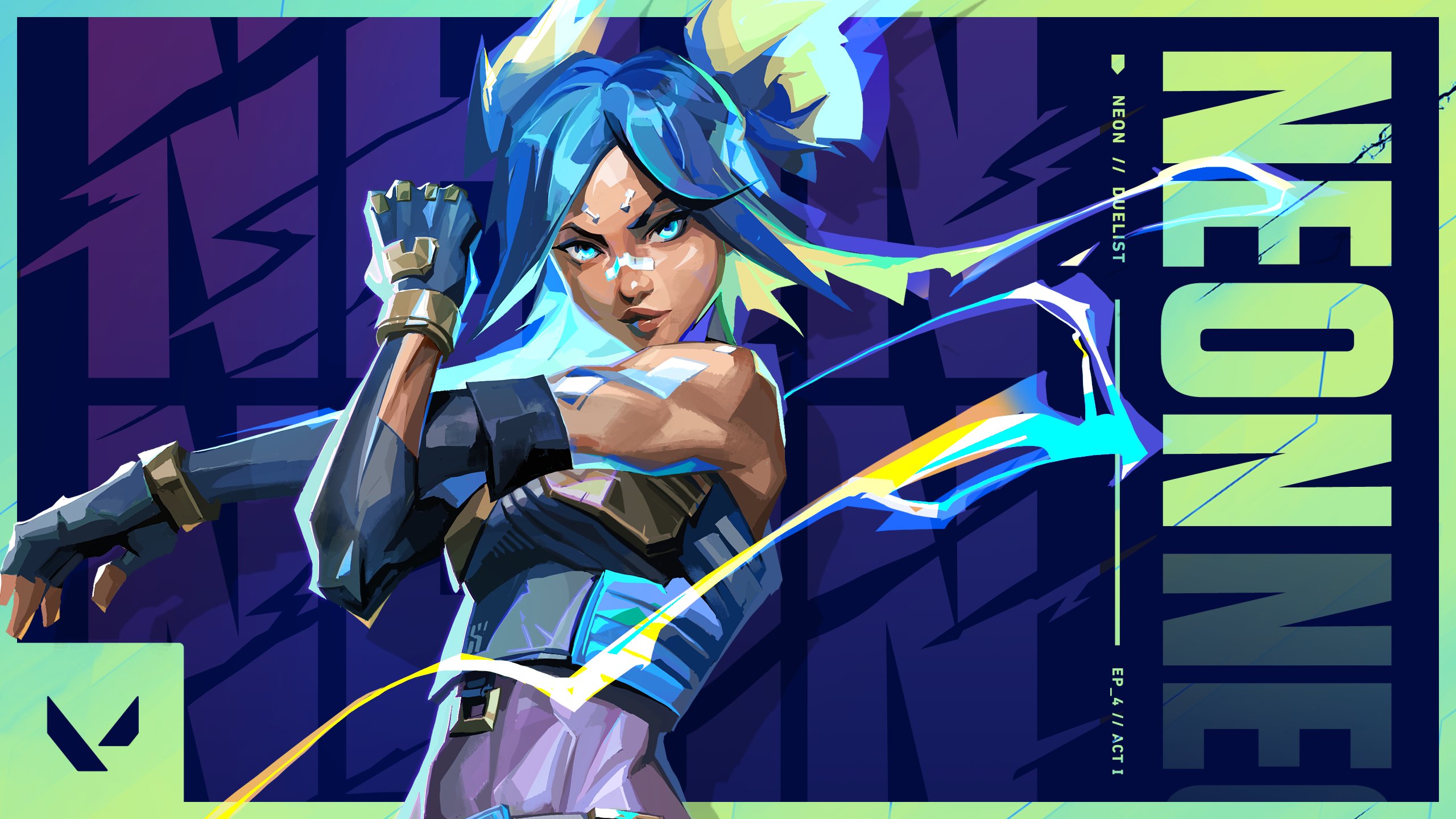 The introduction of Neon, which makes her the 19th agent in the game and the latest in months, brings with it a few firsts. The young agent from Manila is the first ever playable agent from the Philippines and one of a handful of times a mainstream game has had Filipino representation. Neon is also the first agent who's abilities mainly revolve around electricity and the first agent who can sprint and slide. Vanille Velasquez will voice Neon and the Filipina voice actress took to Twitter to express her excitement for the role.
Riot Games has actually been teasing Neon for a while now. In December, a blog post on Valorant's official website gave fans their first look at her shoes. It also hinted at her abilities since a streak of lightning could be seen beneath one of the soles. A day before the release of the reveal trailer, Riot Games released a voice trailer of Neon, which has her dialing her parents.
SPEED MEETS ELECTRICITY ABILITIES
While Riot Games has yet to officially detail what abilities Neon will have, the trailer gives us a few hints. It looks like Neon will be taking on the duelist role, as well as that of a fast paced character for those looking for a speedy agent. Riot has described her as someone "who can outpace the rest of the roster, shocking the competition, and sliding straight into the fight."
Based on the trailer, it looks like Neon's primary ability will be to stow her weapons and move quickly around the map in a sprint. Additionally, Neon has the ability to slide on her knees to make for quick turns. She can also slide with her weapon ready right after a sprint, which makes for some fast-paced gameplay.
The cinematic trailer also shows Neon throwing what looks like an electrified charge that can bounce of walls and leaves a crater where it hits. It then detonates, which stuns nearby enemies caught in the radius. Neon can also create two walls of electricity, an ability similar to that of Phoenix's fire walls, that she can sprint and slide through. Her ultimate ability, meanwhile, lets her shoot a lighting beam from her fingertips while also being able to sprint and slide.
You can get your chance to play as Neon when Episode 4: Disruption, as well as a new battle pass arrives in Valorant this January.
Continue Reading: Pinoy Artist Manix Abrera Just Illustrated His First Comic For DC