You know what's better than learning about Philippine history? Learning Philippine history with SB19 and Jessica Lee, that's what.
Related: They Did That: A'TIN Turned SB19's Latest Wish Bus Performance Into Their Own Mini-Concert
Arguably one of the most exciting things many students look forward to is the class field trip. Waking up very early, taking a trip with your friends and classmates, and learning outside the walls of the classroom is a highlight for many. And even if you're long past your student days, that doesn't mean you can't take educational yet entertaining trips. Just take a look at what SB19 did in the latest episode of their School Buddies series. Taking on the roles of students in a fictional school, each episode sees SB19 interact with special guests all while learning something new. And with the latest episode of school buddies, the five member boy group decides to take a historical field trip, and they are joined by YouTuber and former K-pop idol trainee Jessica Lee.
AN EXCHANGE STUDENT FROM KOREA WALKS INTO A CLASSROOM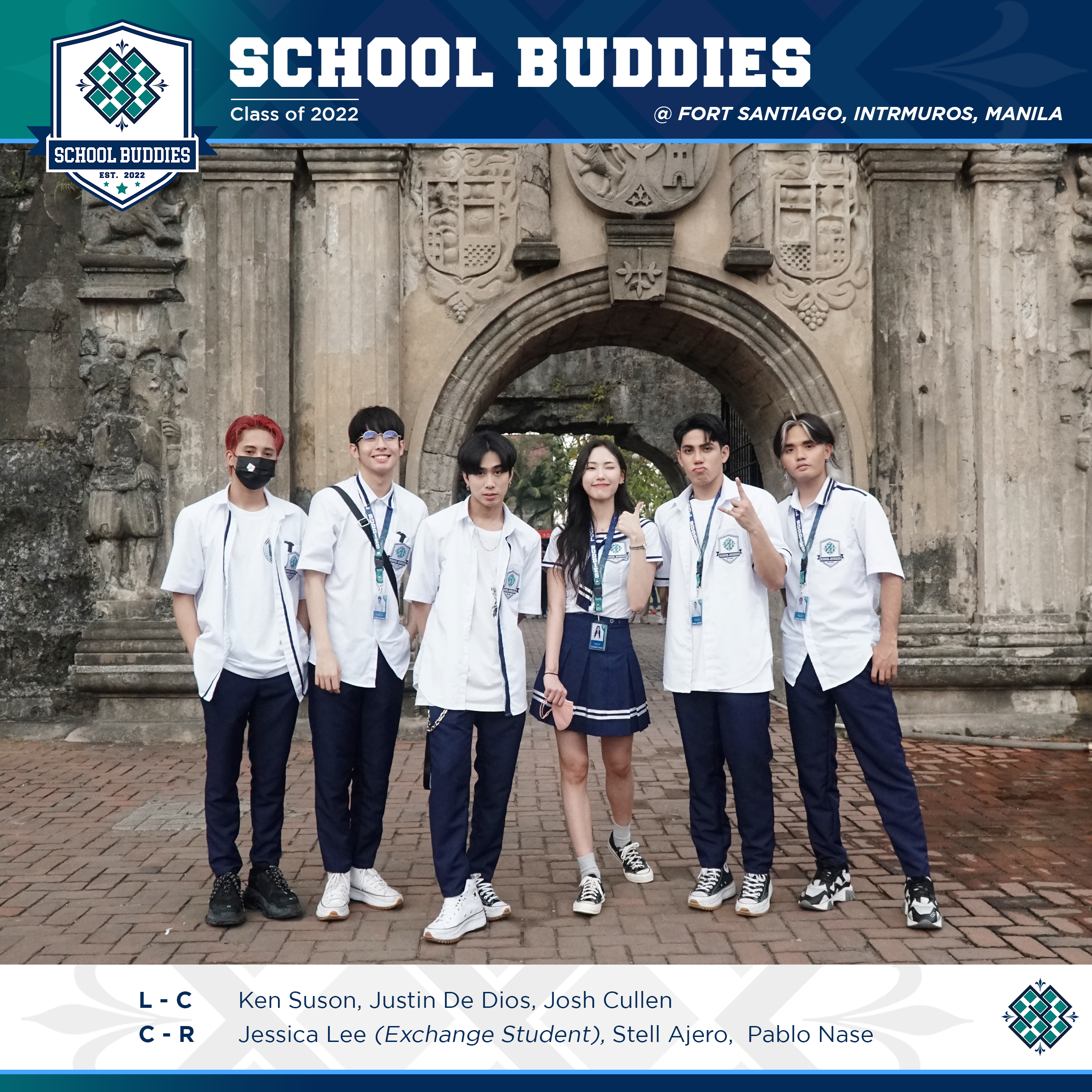 The episode starts out with Jessica arriving in the classroom where she plays the role of an exchange student. Fun fact: She's actually wearing the school uniform she wore during her idol days. After their introductions, they then proceed to play a game of PANTS, which is where you have to write down a place, animal, name, and thing that starts with the letter chosen by the host. Stell served as the host of the game and proved once again that aside from his exceptional singing and dancing skills, he's also naturally funny and entertaining. Since there was no teacher in that day, the group was informed that there would be no class. But instead of a free day, they would instead travel to Intramuros to learn about history.
There, SB19 and Jessica learned about the history of Fort Santiago, its surrounding, as well as important historical figures like Jose Rizal with the help of their tour guide JB. Intramuros and it surroundings has always been a go-to destination for many students, but it's just nice to see that a group like SB19 use their platform to spotlight the importance of learning Philippine history. It was most likely a learning moment for SB19 and Jessica Lee and even for the viewers, especially those who haven't been to Intramuros yet. The group then ended the day by treating themselves to some fine Pinoy street food like kwek-kwek and squid balls.
STELL'S FOOD GAME IS STRONG
But the learning didn't stop there. On her YouTube channel, Jessica posted a video detailing the behind-the-scenes process of the shoot and we got to learn a few interesting tidbits from the group. One interesting thing was that Pablo, when he was in college, decided to work at a call center because he had the time. But it didn't last long because the work was toxic and not fun. The discussion then moved towards food as Jessica shared her love for Angel's Burger when they passed by one on the street.
We got to learn just how much Stell can eat as he said that he can eat six burgers from Angel's Burger in one sitting. He also shared that his record in Mang Inasal is over 16 servings of rice in one sitting. Mang Inasal was actually a favorite spot for the group after their training where they would eat a lot. We know it takes a lot of energy to practice the kind of choreo that SB19 does, so eating six or more cups of rice in one sitting is understandable. So, how does Stell manage to do it? According to him, chicken skin with soy sauce and calamansi is already worth three cups of rice. Tbh, we might try this out.
Speaking of the famed restaurant, Stell's revelation actually got their attention and they tweeted about it. Stell as the newest ambassador for Mang Inasal? We actually can see it. Watch episode two of School Buddies below.
Continue Reading: Beat The Summer Heat With These Refreshing Cold Drinks And Desserts