The idea that the MOA Globe was stolen was more exciting than the actual movie itself.
Related: Taste The Air Of Time: A Dune Review
November 12 through 15 will go down in pop culture history as one of the most memorable weekends of 2021, and that's saying a lot. Among other things, Taylor Swift dropped Red (Taylor's Version) and gave most of the internet a collective heartache. Also, Britney Spears is finally a free woman after her conservatorship was officially terminated. But one of the most talked-about events of the weekend was when news broke that the MOA Globe was stolen just past midnight of November 14. The news got a lot of people talking, launched many memes, and even got IKEA Philippines involved with rumors that they were replacing the globe with a giant meatball.
But on November 15, it was revealed that it was just a marketing stunt by Netflix PH to promote their latest blockbuster Red Notice. In the words of Manila Luzon "Oh, that's it?" So, with all the noise that this PR stunt made just to promote Red Notice, was it worth it for the movie? The short answer is no. While the novelty of having three of the biggest actors in the world in one movie is nice, the movie itself treads very much been-there-done-that territory.
A SO-SO HEIST MOVIE
If the marketing stunt didn't give it away, Red Notice is a heist movie. The movie follows FBI agent John Hartley (Dwayne Johnson) on the hunt for the world's second-best art thief Nolan Booth (Ryan Reynolds) before he steals one of Cleopatra's three eggs. Hartley is set up though by the world's best art thief, The Bishop (Gal Gadot), and must now partner with Booth to stop her and clear his name. While Red Notice revolves around being a heist film, the actual portrayal of heisting in the movie is pretty simple. It's not bad, but other movies have done it way better. In fact, by the film's third act, it switches up into an Indiana Jones-style adventure, which makes for a lack of tonal cohesion.
The story itself is also nothing to celebrate. It's less interested in telling a wholly compelling plot and more just having Hartley and Booth go from big set-piece to big set-piece as they try to stop The Bishop who seems to always be one step ahead of them. The action scenes are passable though none really stand out or stick out to you after the movie is over. Red Notice does try to Hartley and Booth some depth, but it doesn't really matter by the movie's end.
GOOD CHEMISTRY BETWEEN THE LEADS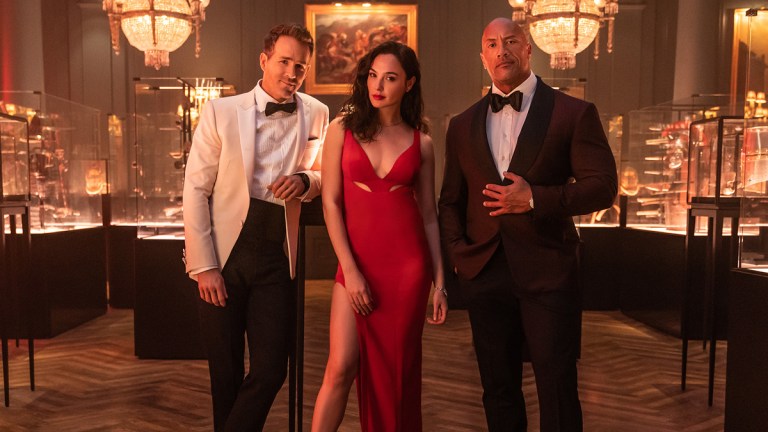 Director and writer Rawson Marshall Thurber has worked on movies like We're The Millers and Central Intelligence and he brings that mix of comedy and action into Red Notice. That's actually one of the best parts of the movie in that it may not be groundbreaking in any way nor is there much substance, but stylistically, it's enjoyable. And that's thanks in part to the chemistry between Johnson, Reynolds, and Gadot.
Johnson and Reynolds are paired together for most of the movie and they have this enjoyable serious cop and wisecracking thief dynamic. These are roles that these actors have played before, but at least they know how to do it well. The comedic bits between these two mostly land and lead to some laugh-out-loud moments. Gadot though stands out as the best between the three of them as she is so much fun to watch as the villain. It's rare to see Gal Gadot play the villain of the movie, which is why she seems to be enjoying herself every time she is on screen. All three combine to make a movie that rarely bores.
ALL THAT FOR SOMETHING SO BASIC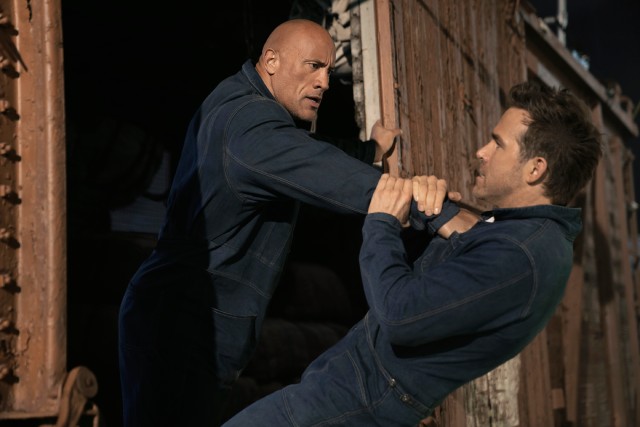 Red Notice is not a bad movie, but it is a disappointing one. To have three of the biggest stars in the world be in one movie could make for an unforgettable experience, but the end result is quite plain. What it does, it does okay, but it could have done it better. The so-so quality of the film doesn't do justice to the potential the talent of this movie has. Clearly, this is not a movie that you need to think about. This is a big-budget action movie that you enjoy on a weekend night. It doesn't take itself too seriously and that's how you should approach this film if you decide to watch it.
With a budget of over $200 million (or around 10 billion pesos), it's Netflix's most expensive original movie ever. But it's a pretty meh film. If Red Notice's marketing has gotten curious as to watch it, then know that it's a formulaic feel-good movie that plays it safe. This is not the second coming of Ocean's Eleven. If Netflix does decide to make a sequel, then maybe they really should try to steal the MOA Globe because that seems more exciting than what is happening in the movie.
Continue Reading: FYI: Your Name, All 6 Seasons Of Hunter X Hunter, And More Are Leaving Netflix This November