Proving that the woman's strength is unmatched, Nesthy Petecio won a silver medal in boxing and joins Hidilyn Diaz in making history as Filipinas scoring a medal in the Olympics so far.
Related: The Big Lift: What The Historic Tokyo Olympics 2020 Win Means For Hidilyn Diaz
Filipina athletes continue to make history at the 2020 Tokyo Olympics. After Margielyn Didal stole the hearts of thousands with her positivity and fun spirit, and Hidilyn Diaz became the first Filipino ever to win a gold medal at the Olympics, another Filipina athlete made history as well.
Nesthy Petecio won a silver medal at the 2020 Tokyo Olympics. Her winning streak first started when she defeated Colombian Yeni Marcela Arias Castaneda in the women's featherweight quarterfinal, a win that guaranteed her a bronze medal. During the quadrennial meet's featherweight event on Wednesday, July 28, 2021, Nesthy cleaned up and earned a unanimous decision win with a score of 30-27, 29-28, 29,28, 29-28, 30-27.
She then defeated Italy's Irma Testa during the women's featherweight semifinal via split decision on Saturday, July 31. The two actually have faced each other before and Nesthy lost to her in 2008. So you could say Nesthy beating her was poetic justice years in the making.
During the gold medal match on August 3, 2021, she faced off against Japan's Sena Irie, an opponent Nesthy has also faced off with in the past. Sena defeated Nesthy during the Asia and Oceania Olympic boxing qualifiers. Despite a strong effort from Nesthy, she lost to Sena via unanimous decision with a score of 29-28, 29-28, 29-28, 29-28, 30-27. This makes it the third time Nesthy lost to Sena in the four times they have faced each other.
NESTHY PETECIO'S HISTORY MAKING SUCCESS AT THE OLYMPICS
Despite not winning the gold, Nesthy still made history and broke multiple records. First, she became the first Filipino to win an Olympic medal in boxing in 25 years. The last Filipino athlete to achieve this feat was Onyok Velasco when he won a silver medal at the 1996 Olympic Games in Atlanta. Most importantly, she is the first Filipina in history to win a medal in boxing. Nesthy's win made her the first Filipino boxer to secure a spot at the podium in the 2020 Tokyo Olympics (followed soon by Eumir Marical and Carlo Paalam). She also became one of the first athletes in Olympic history to win a medal in women's featherweight as the category made its Olympics debut in Tokyo. And this is on top of the fact that she's going to get prizes, gifts, and benefits worth millions of pesos.
Nesthy Petecio's silver medal, as well as guaranteed at least bronze medals for Eumir Marical and Carlo Paalam marks the first time that the Philippines won more than one medal at a single Olympics in 89 years. The last time this happened was during the 1932 Olympic Games in Los Angeles where team Philippines bagged three bronze medals in swimming, boxing, and high jumping. This is actually the most medals the Philippines has ever won during a single Olympics.
FIRST FILIPINA OLYMPIC BOXING MEDALIST#PHI's Nesthy Petecio gets emotional at the podium as she brings home the #silver in the women's featherweight class. Petecio matches the silver-medal finish of Onyok Velasco in 1996. ?Reuters #Tokyo2020 #Olympics https://t.co/azkhB2NpaX pic.twitter.com/AVMsNhpt4K

— Rappler Sports (@RapplerSports) August 3, 2021
The Olympic medal is the latest in accolades that the Davao del Sur native has achieved. She won the 2019 women's boxing world championship and earned a gold medal at the 2019 Southeast Asian Games.
MORE CHANCES TO MAKE HISTORY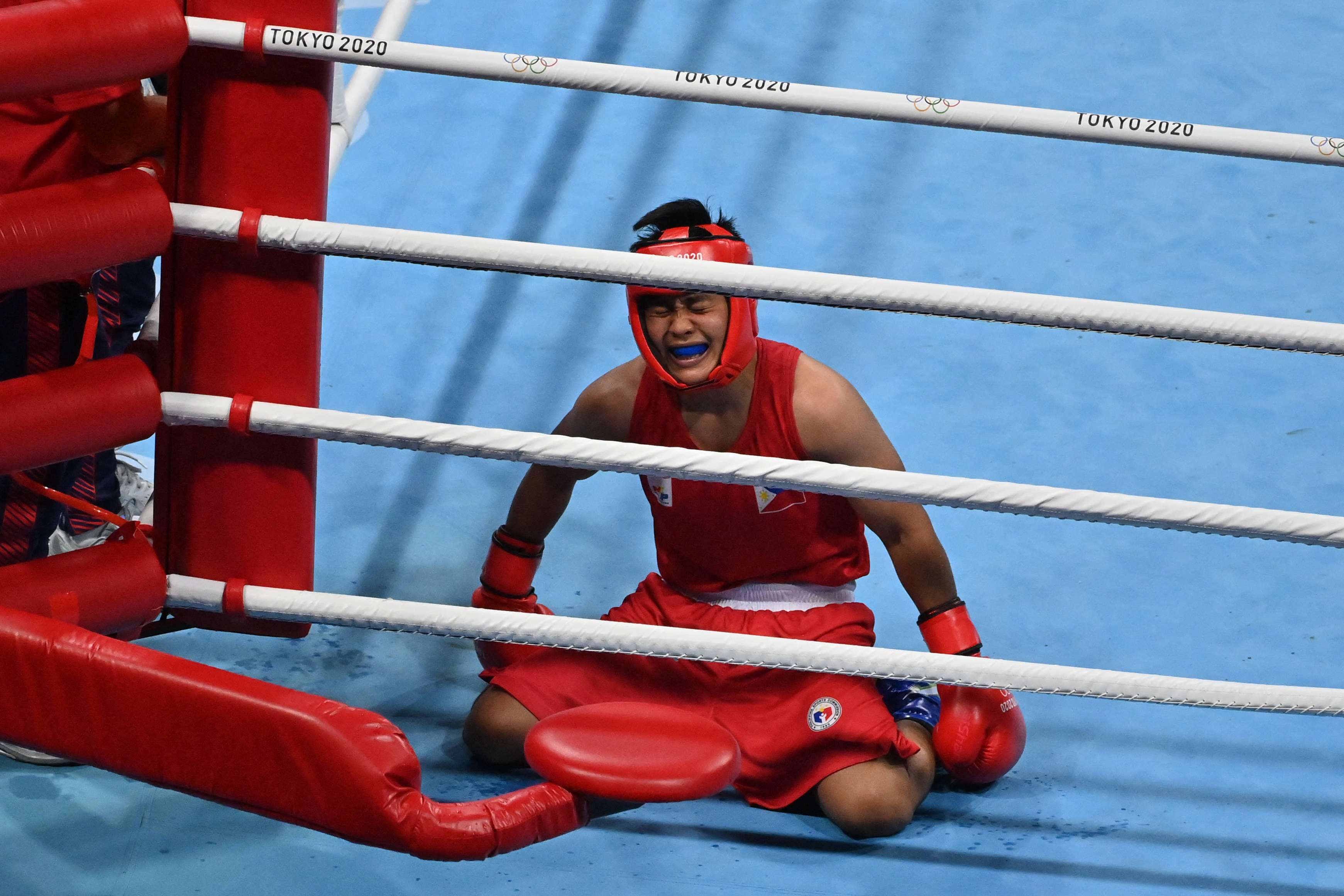 There are also more opportunities for Filipina athletes to make history at the 2020 Olympics. Yuka Saso and Bianca Pagdanganan will compete in golf on August 4. Will all that is happening right now, it's so uplifting to see Filipino athletes do well in the Tokyo Olympics, even if they didn't win medals. Congratulations to Nesthy Petecio and let's also continue to cheer on the remaining Filipino athletes in the 2020 Tokyo Olympics.
Continue Reading: 9 Times Margielyn Didal Was A Whole Mood At The 2020 Tokyo Olympics