Over 2000 medical frontliners were some of the first people to enjoy the McDonald's BTS Meal in the Philippines.
For anyone who has followed BTS's career, you know that love, acceptance, and compassion are some of the main pillars they live by. If you notice and listen closely, it's a recurring theme in their songs and the boys constantly talk about how they want their music to inspire people and make them feel better. This is why they partnered with UNICEF for an anti-bullying campaign and named a whole series of albums Love Yourself. That concept of love, support, and compassion manifested itself right before the launch of BTS meal in the Philippines.
Related: Our 9 Favorite Moments From BTS Muster 2021 Sowoozoo
Surprising Health Care Frontliners
While thousands wait in anticipation to actually get their hands on the meal, the first people to try it in the Philippines were people who arguably deserved it the most, medical frontliners.
McDonald's Philippines, along with its in-house charity, Ronald McDonald House Charities (RMHC), gave over 2000 health care workers the BTS meal on June 16. The meals were distributed across several hospitals and vaccination hubs like the Paranaque Vaccination Center, Capitol Medical Center, Makati Medical Center, and the Veterans Medical Center through McDonald's Kindness Kitchen.
Attached to the BTS meal were notes thanking the frontliners with messages like "Thank you for all the comfort and healing especially in these trying times. Para sa inyo to.' Borahae!" and "We stan a hard-working hero like you. Here's a little treat from us."
McDonald's Kindness Kitchen shares the #BTSMealPH first to over 2,000 medical frontliners today, as our way to thank them for their work and sacrifice. Thank you as well to our @McDo_PH stores, crew, managers, and to everyone who made this possible. pic.twitter.com/81zXQtcvjg

— Kenneth S. Yang (@KennethSYang) June 16, 2021
In a statement, McDonald's Philippines explained that giving the BTS meal was a way for them to recognize the hard work and sacrifice of medical frontliners. "Our medical frontliners have been working tirelessly to keep everyone safe throughout the pandemic. With the launch of the BTS Meal and the overwhelming support McDonald's is getting from the public, we want them to be the first to enjoy the BTS Meal," said McDonald's Philippines President & CEO Kenneth S. Yang.
If you want to learn more on how you can help send meals to frontliners and communities in need, check out the charity's website.
Almost Here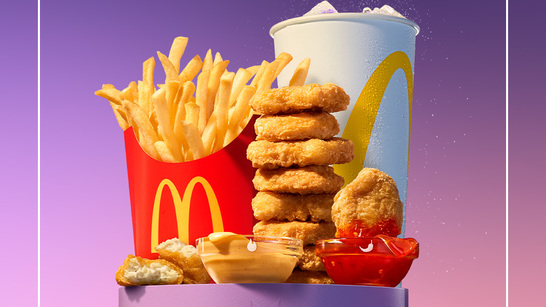 Of course, all of this is happening under the anticipation of the launch of the BTS meal in the country. People who availed of the pre-order promo will be able to get their meal on June 17. Meanwhile, everyone else can buy the meal starting June 18 until sometime in July without the need for a reservation. You can get it through McDelivery, drive-thru, take-out, and dine-in.
The BTS Meal will come with 10-piece Chicken McNuggets, medium fries, and a medium Coke. It will also come with Sweet Chili and Cajun sauces inspired by popular recipes from McDonald's South Korea. Ahead of the meal's launch, McDonald's Philippines has released a Q&A to inform customers of what to expect. It also serves as a reminder of safety protocols to avoid the long and crowded lines seen in other countries. There's also a BTS x McDonald's merch line currently available on BTS's Weverse shop.
Continue Reading: Get Ready To Celebrate BTS's Debut Anniversary Month With A Packed June