Combining the best of P-pop and K-pop, this new group from ABS-CBN and MLD Entertainment promises to have their sights set on the global stage.
Related: Meet The Top Five Trainees Of P-pop Reality Show, Top Class
At this point, it's undeniable that K-pop had a major impact in today's P-pop resurgence. While some just criticize P-pop as just a cheap copy of K-pop, in reality, the former takes what's best of the latter and combines it with Pinoy talent. After all, you will be hard pressed to say that today's P-pop idols are untalented. Even those in the world of K-pop are taking notice of P-pop's modern day revival and potential to go global. In fact, one K-pop company decided to partner with ABS-CBN to form a new P-pop group looking to dominate not just in the Philippines, but Korea and all over the world.
P-POP GOES GLOBAL
Among the news of LAPILLUS being in the country, their company, MLD Entertainment, also had some news to share. On September 5, ABS-CBN, MLD Entertainment, and KAMP Global announced that they were partnering together to form a new global P-pop boy group. To form that group, it will be through a new survival audition program called Dream Maker, which is set to air this November on ABS-CBN. And when they say global, they meant it. This P-pop group will not just debut in the Philippines, but also promote in other countries as well. "We're cooking something big. It's a reality competition that will be searching for a new male pop group that will be launched internationally, specifically to debut in Korea," said direk Lauren Dyogi during the announcement.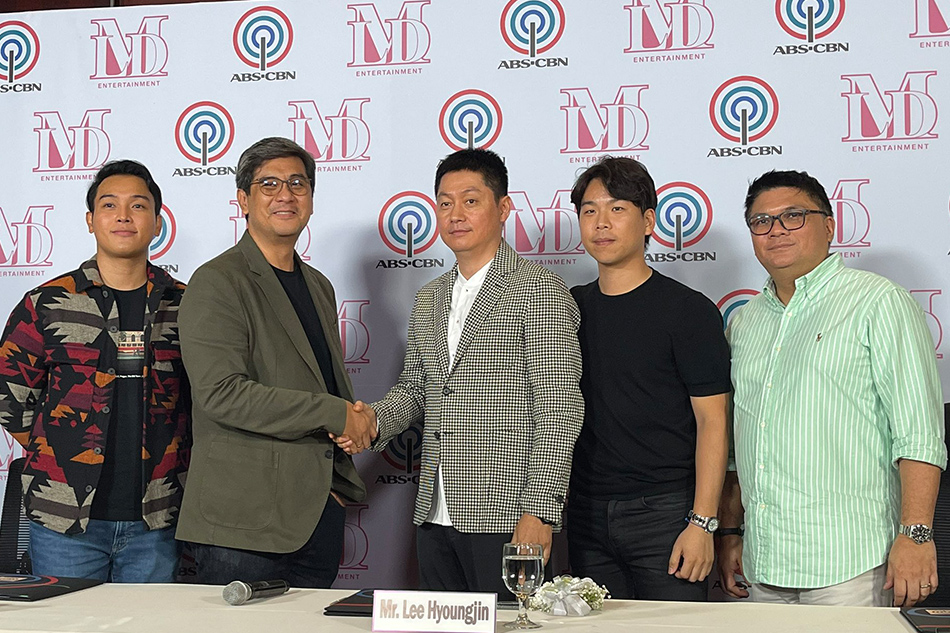 It's a known fact that there are many Filipinos out there who are talented in singing and dancing. This new group and program is a recognition of that and a boost for young Filipinos to have a chance of living their pop star dreams. The fact that this group will have the backing of a company like MLD Entertainment will also be able to help this new group reach new heights. This combination of P-pop and K-pop, specifically the use of the Korean idol training system in P-pop, is something MLD Entertainment CEO Lee Hyung-jin and KAMP Global CEO Tim Kim were adding to this group.
"We're looking to combine the K-pop training system with P-pop. Diligence is probably the first thing we're looking for. Second is pure talent and X-factor. We're looking for the biggest stars, so the X-factor and talent in both vocal and performance like choreography [are] definitely something we're looking for." They continue, "We are looking for a P-pop group, but we're looking for a global group. A global mindset and being a global citizen is another factor that we're looking for."
HOW TO AUDITION
Now, if all this sounds exciting to you or something you want to join, here's how you can audition. Auditions will begin from September 10 via the Star Hunt Academy caravan until September 30 in select cities around the Philippines. Males between the ages of 13-22 who can sing, dance, or rap can audition. The program will be looking for 77 trainees to be on the show before they are brought down to the final seven members who will then make their debut. And given ABS-CBN and MLD's participation, if you debut, you'll actually be labelmates with groups like BGYO, BINI, and MOMOLAND.
So, if you feel like you have what it takes, go to that audition. Check out the audition dates below.
SEPTEMBER 10: MARKET MARKET, TAGUIG CITY
SEPTEMBER 11: FAIRVEW TERRACES, QUEZON CITY
SEPTEMBER 18: CENTRIO MALL, CAGAYAN DE ORO, AYALA MALLS SOUTH PARK, MUNTINLUPA CITY
SEPTEMBER 25: ABREEZA MALL, DAVAO CITY, AYALA MALLS CLOVERFIELD, QUEZON CITY
SEPTEMBER 30: AYALA MALLS FELIZ, PASIG CITY
Continue Reading: BINI's Mikha, Stacey, And Jhoanna Just Made P-pop History With LAPILLUS